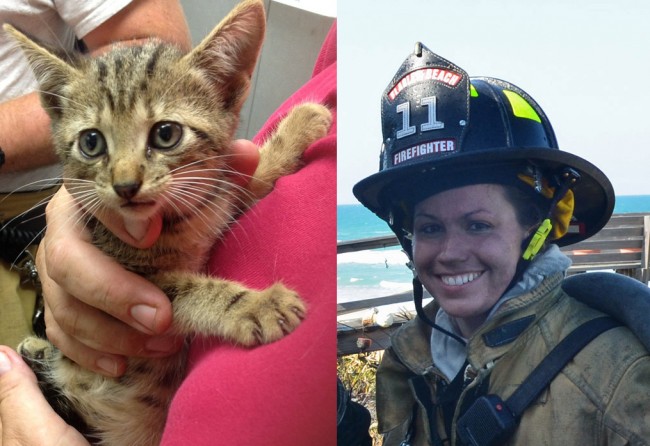 If the Flagler Beach City Commission wants to highlight something good about what's left of its fire department, it might want to keep in mind firefighter Morgan Walden when it next hands out a batch of commendations.
Tuesday evening, Walden—one of three firefighters who answered a distress call, for a kitten, at the Flagler Beach Publix on State Road 100—crawled half-way into a narrow, suffocating, 300-foot stormwater drain and rescued an 8-week-old kitten  that had been howling in there loud enough for a Publix customer to hear it.
According to Ashley Brumfield, a member of Publix's customer service staff, a customer walking to the store around 6 p.m. from the road in back of it heard the kitten "howling in the drain," and informed store staff. The fire department was dispatched, with firefighters Walden, Dusty Snyder and Jeremy Macklefresh responding. (The three firefighters had been at the department until 8 a.m. Wednesday, but could not yet be reached today.)
The cat, a male, was audibly scared, and deep inside the drain when Snyder positioned himself at one end of the pipe and Macklefresh at the other as Walden tried to go in after the kitten.
"She got down there with full gear and she realized she couldn't fit," Brumfield said, so she had to take off her oxygen tank, though Snyder recommended against it. Since the cat was breathing enough to howl, Walden figured there'd be enough air inside for both of them. "She was down there at least half an hour," Brumfield said.
The cat was terrorized, likely having had little contact with humans before: it was feisty even as Walden brought it out, making full use of its young claws and teeth as Snyder then one of Publix's employees took it up. Safari Rescue's Ruth Rupprecht was at the scene, examined the cat and estimated the age. Firefighters provided it with milk and placed it in a box.
"One of our employees decided he wanted to adopt him," Brumfield said.  He named the cat Morgan.
For the fire department, the kitten rescue was a welcome contrast with the pummeling the department has been taking in recent weeks and months, some of it because of its personnel's missteps, some of it because of careless decisions by the city administration and the city commission's remarkably high tolerance for blunders and misdemeanors.