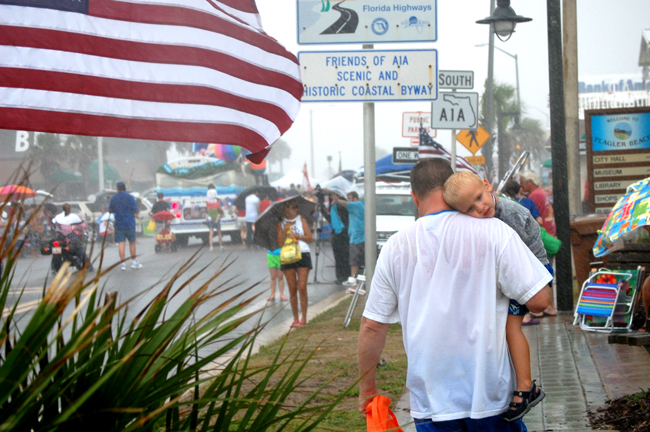 Maybe the gods (or the Founders: same thing) were sending a message. Maybe they were suggesting that July 4 was no day for an Independence Day parade. About 10 minutes into Flagler Beach's traditional salute to the nation's birthday in floats, horns, horses, and local heroes, clouds darker than menace started mobilizing offshore, their staging sky a flare's distance from the pier, where Ralph Santore and his crew were setting up the evening's fireworks.
Thirty minutes into it they were almost overhead, though hardly anyone was paying attention. Whatever the calendar said at that moment, the scene down A1A was all July 4th, a happy storm of reds and whites and blues latched on vintage cars, freshly minted Miss Flagler County winners, cop cars and cop bikes and cop horses, dancers, roller derby gals, veterans, celebrants of African-American culture, the usual string of politicians or political wannabes running for one thing or another, plus the obligatory tow trucks and other vehicles big on noise and flashing lights. At least there were no tanks, which would probably crumble what's left of A1A beneath them.
But what didn't crumble beneath crumbled above. Forty minutes into the parade, and with 20 minutes of revelers still making their way down from the staging grounds at Maria del Mar Catholic Church, the skies opened up. It was no drizzly rain. It was the definition of downpour, a slam of thick drops whipped up by an easterly wind that soaked everything and everyone in a matter of moments. The thousands (and there were thousands) who'd lined up A1A lunged for anything resembling shelter, filling up bars and restaurants and shops and any storefront with an awning, though a good number of people, children collecting candy thrown from floats and cars and trucks especially, braved through the remaining 20 minutes.
Enough words. Parades in print are all the same, but in images (and in reality), no two parades are ever alike, and that what you want to see. A picture gallery will post soon below.
[nggallery id=22]