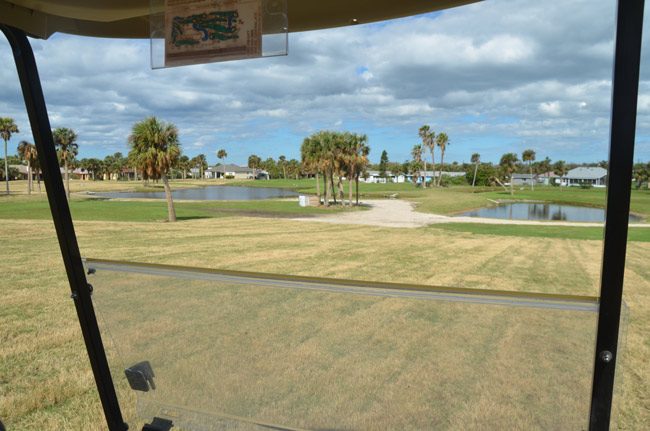 Flagler Beach City Commissioners Marshall Shupe and Jane Mealy were ready to be done with the management of the city-owned but privately-run Ocean Palms Golf Course Thursday evening. They wanted to end the lease and find new management. Their three colleagues, who'd been just as ready to do the same two weeks ago, stopped them, reluctantly.
Terry McManus, who holds the lease for the nine-hole golf course, was in the city manager's office that after noon, again turning in required paperwork—financial statements, profit and loss statements—at the very last minute. He then appeared before commissioners and asked that they not terminate the lease. They agreed, essentially placing him on probation for the next three months, by the end of which the next set of financial statements are due.
"I came in here pretty much mad enough to terminate," Commissioner Joy McGrew said. "If I choose not to vote to terminate this tonight, I would do that only on the grounds that if they didn't comply 30 days, 60 days—I don't say it's a six-month lease or a six month extension—I just know the reality is, it's going to be three to four months before anything really starts happening. But if we were to say by the next time this paperwork has to be turned in, if you don't have what you have, letter goes out and becomes final. I want it to succeed. I've always wanted it to succeed. I will tell you that we have learned a lot, you've learned a lot, shame on both of us first time around, shame on you second time around. You're out the door."
McGrew stressed: "we bought it as an investment, it is ours, we deserve to take care of it, we are responsible, we should take care of it. If you guys don't buck up and do it this time around, I will be the first to make the motion to have it terminated."
McGrew will not be on the commission to make that motion, however, when the next set of financial statements are due. She is resigning at the end of her term in March, and will be replaced by Commissioner-Elect Eric Cooley, who spoke Thursday evening: had he been on the commission, he'd have been the third vote to terminate the lease.
"I am a business owner here in Flagler Beach," Cooley said, objecting to accommodating McManus after numerous violations of the lease, and potentially still more. "I know that I would not be able to get away with that. I know that all of my other business partners and friends that I have on the beach would not be able to get away with that, and that sets a very dangerous precedent for the city."
The city commission leased the golf course to Flagler Golf Management in 2016, after a long search for a management company that produced only three interested parties, one of whom dropped out. Flagler Golf Management promised improvements and a profitable course, and was awarded the lease. But it's been a problematic relationship. After opening mid-year in 2016, the course was hurt by Hurricane Matthew, and in 2017, by the twin effects of the city's major stormwater project through the golf property, which tore up most of the fairways and eventually led to the course being shut down, and by Hurricane Irma and its aftermath.
The city had agreed to defray losses incurred by the stormwater project, paying Flagler Golf Management an average of $5,000 a month since summer. But a dispute arose between the two sides after Irma, when the golf company wanted to continue getting paid the subsidies even after shutting the course for months on end, starting in late September. The city balked, and raised the matter of violations of the lease: McManus was not providing the required paperwork. At a workshop designed to work out those issues, McManus promised to comply. But he didn't. That led to the commission two weeks ago saying it wanted to end the lease. Only its attorney, Drew Smith, stopped commissioners from ending the lease at that time. Smith said McManus had to be afford due process, to avoid opening the city up to liability.
So Thursday, McManus turned in the required paperwork, paid what he owed in back rent and utilities, acquired a certified public accountant, and made his case before city commissioners. He's also secured a new manager for the golf course's restaurant, and he and City Manager Larry newsom are working on getting a liquor license for the club.
Shupe and Mealy were not convinced. But in the end they withdrew their motion to end the lease and went along with the last-chance proposal floated by their colleagues.
That still leaves the question of subsidies in the air. McManus expects to receive several thousand dollars from the city.
That was not discussed Thursday evening. "I don't know that it's off the table totally, no," Commissioner Rick Belhumeur said.