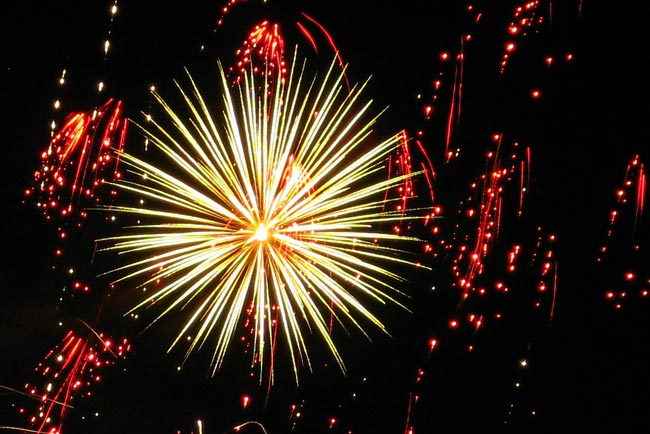 For the 2011 schedule of the Flagler Beach fireworks and parade, go here.
On July 10, 1955—several days late reporting from Flagler County, as its undying tradition requires—the News-Journal in Daytona Beach wrote that 2,000 people in Flagler Beach "swarmed the beach, filled all available motels and apartments and cleaned the local grocery stores to the bare shelves over the long Independence Day weekend." That was when the county's entire population was less than 4,500. The "climax of the three-day holiday," the paper went on, "was a brilliant display of fireworks set off by George E. Wickline and his assistants from the east end of the Pier."
So it's been for a quarter of the Republic's history: The July 4th fireworks are, to use Flagler Beach City Commissioner Joy McGrew's words, "as iconic as our pier, as our ocean." But no longer as unique.
Flagler Beach's fireworks evening draws 15,000 people. But it was a matter of time, in a county that grew as fast as it did and piled up boosters as much as it did since the 1980s, that one or a few of them would eventually give the Flagler Beach fireworks some competition. Or company, depending on whom you ask.
Flagler Beach will set off its fireworks on July 3rd. The following evening, there'll be another major display in Palm Coast's Central Park in Town Center. The dual displays (on adjoining dates) may, and likely will, become an annual tradition.
This year's display was spearheaded by the co-owned WNZF and Beach 92.7 FM, along with the Palm Coast Observer. The broadcaster and the paper tried to get the Palm Coast City Council to pay for the event and make it an annual thing, as a follow-up to Beach 92's Rock-n-Rib Fest last spring. But the city didn't have the original estimate of about $20,000 to spend, nor were council members too interested in drawing away from Flagler Beach's event. At least not this year. (They are intrigued about possibilities for coming years.) So WNZF and the Palm Coast Observer turned to the Flagler County Rotary, which picked up the fund-raising charge. As of today (June 21), the Rotary raised almost $12,000 of the needed $13,000, according to Bill Butler, the Rotary's vice president and point man on the fireworks event.
"I don't think this is a very good thing for the businesses of Flagler Beach," Flagler Beach City Commissioner Jane Mealy said earlier this month, when the Flagler Rotary's fund-raising had been announced, "and for another business oriented organization to take people away, I'm a little upset about that. But, they're doing it." She added later: "I guess another group has the right to do whatever they want to do, but July 4th has always been a Flagler Beach thing and in my mind should remain so."
Flagler Beach has little to worry about. Tonight, the Flagler Beach County Commission will approve a $15,000 contribution for the Flagler Beach fireworks, which the commission has done every year. The commission has no intention of stopping that contribution. Palm Coast is also contributing $1,500 to Flagler Beach. And, for that matter, WNZF and Beach 92 are contributing as well: the radio stations will be broadcasting all day from Flagler Beach on the 3rd, and promoting the town's iconic event up until then. The stations will also promote the Town Center fireworks, which they're planning as a big, two to three-hour tail-gate party (coolers allowed).
To make the point, the Flagler Beach Rotary's Kim Carney and the Flagler County Rotary's Butler cut a joint, 60-second radio ad, to be aired on WNZF and The Beach FM, promoting both fireworks displays (they each got 30 seconds).
---
WNZF's and Beach 92's David Ayers Talks Up the Year's Dual Fireworks Shows[media id=66 width=250 height=100]
"Nobody feels in the Rotary club and us that there will be any harm done to Flagler Beach on it, and if we did I wouldn't even be participating in it, but I feel like it's going to be good for Flagler Beach, and we're there for Flagler Beach, we're putting in 110 percent into Flagler Beach. It's not a competitive thing," WNZF General Manager David Ayers said. "If Flagler Beach says, OK, next year we're doing ours on the 4th, then the Rotary club says OK, we'll do ours on the 5th or we'll do ours on the 3rd. We'll take a different day. And that happens in communities all over the place. So it's not anything new. It's new for Flagler Beach, but it's not new in communities anywhere else."
Flagler Beach itself unwittingly opened the door to the Palm Coast initiative. Flagler Beach traditionally holds a two-day celebration around July 4th, with a parade one day and the fireworks the next. This year, the city combined the two events, ostensibly to save money, and is holding them on July 3rd rather than on the 4th, because the 4th is a Sunday, and the parade needs the parking lot at Santa Maria del Mar, the Catholic church, as a staging area. The lot isn't available on Sunday. So the whole thing was moved to Saturday.
"I understand that it's Sunday, but we've had July 4th on Sunday before, when I planned it, and we always worked through it," said Zoee Forehand, owner of Flagler Beach's Z Wave Surf Shop and one of the town's more active voices on behalf of local commerce. "But I really believe that our nation's birthday is celebrated on July 4th, and that's when the celebration should be."
Either way, Flagler Beach isn't about to lose one of its signature events. But as much as Palm Coast wants to continue supporting Flagler Beach's fireworks, Palm Coast also knows that it can nurture its own signature event.
"I'd hate to rain on their parade," Palm Coast City Council member Frank Meeker said, but he also suggested that combining efforts could be a possibility. Fellow-council member Mary DiStefano said: "Flagler Beach has had it for years. We've been building consensus with all of our municipalities and I just, OK, in another year we can think about it but right now I just think that we ought to support Flagler Beach. But the councilwoman also recommended that when Palm Coast draws up its plans for Town Center events in next year's budgets, it should outline various possibilities and pl;an for them ahead of time. Palm Coast's own Independence Day fireworks may well be part of that planning.
[This story was originally published on June 21. It is being reposted on the front page because of its relevance over the July 4 weekend.]