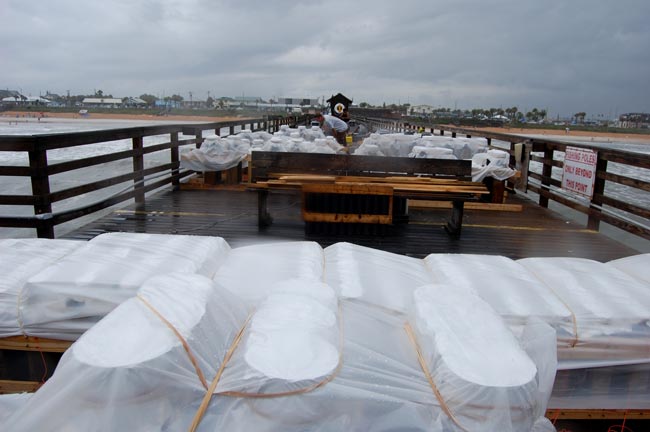 We're live in Flagler Beach, and as of now, the show is on. It's will start at 9 p.m. Expect a 20-minute show, says R.J. Santore, who's designing tonight's show.
No postponement planned: Ralph Santore just told FlaglerLive, at 8:53 p.m., that he and his crew were on their way to get the show started at 9 p.m. Flagler Beach's Independence Day fireworks are on tonight at 9 p.m.–not, as Flagler Beach's city website has it, for 9:30.
"It's definitely 9 o'clock, because that's the best window we have," Ralph Santore told FlaglerLive, owner of Fireworks By Santore, the company putting on tonight's show. Santore spoke to FlaglerLive at 7:50 this evening.
We just took a walk along the boardwalk, at 8:20 p.m. It's still mostly empty. Traffic is bumper-to-bumper on A1A, but nowhere near a standstill. The beaches are still sparse with people.
The final decision will be made jointly by Ralph Santore and Doug Baxter, the Flagler County Chamber of Commerce President. Here's how Baxter put it at 6 p.m. tonight: "If it's not raining, and it's less than 20 mph wind, the fireworks will go off. And there will be people here. They're coming over the bridge."
That still held as of 7:30 p.m.
---
Video: Behind the Scenes at Tonight's Fireworks With R.J. Santore[media id=72 width=250 height=250]
The last thing the chamber or Flagler Beach want to do is delay the fireworks until Sunday, for two reasons: Another fireworks show is scheduled to go off at 9 p.m. Sunday in Palm Coast's Town Center. That show is sponsored by the Flagler County Rotary and the co-owned WNZF-Beach FM radio stations. The Town Center show was not meant as competition with the Flagler Beach show, but as a way to double Independence Day activities and keep people around town.
Aside from having to compete for the skies on Sunday, Flagler Beach doesn't want to delay the show because it means the pier would be off limits for yet another day, reducing the revenue pier walkers and fishermen bring in.
A postponement might also be problematic for Santore, who's in charge of the Town Center show as well (not that his company can't handle twin shows).
Santore, whose company has been setting off Flagler Beach's fireworks since the 1970s, has never seen beaches as empty as they were today and this evening, especially so close to a show. It's not just the weather: it's also the fact that Flagler Beach decided to hold its traditional Independence Day fireworks and parade on July 3. This morning's hour-long parade went fine until, 20 minutes from the end, the skies opened up, soaking A1A and everything on it. People scurried off and watched what remained of the parade from beneath awnings and behind shop and restaurant windows.
The weather in Flagler Beach all afternoon and evening has been spotty: a sudden shower and gusts of wind haggling with periods of calm. The town's streets are navigable, parking spaces readily available, and the beaches are still mostly empty.