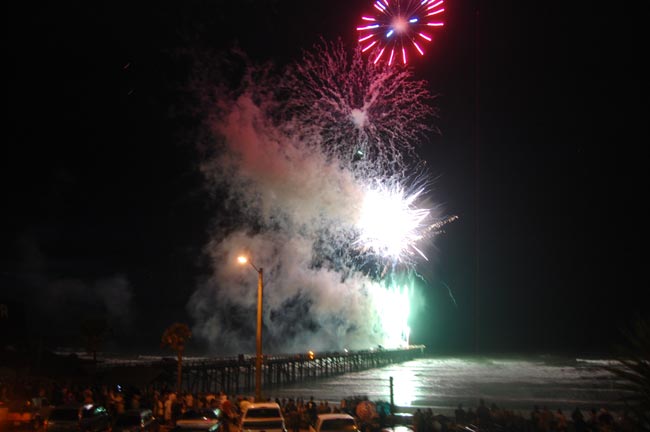 For the 2011 schedule of the Flagler Beach fireworks and parade, go here.
Weather be damned: for 20 magnificent minutes tonight, Flagler Beach's Independence Day fireworks show went off after a day of rain, wind and uncertainty – and a July 3rd date with the skies, rather than July 4th — that resulted in one of the lowest-attended shows in memory.
People showed up,  but as late as 8:30, traffic down A1A was nowhere near the paralysis of a July 4th, the boardwalk looked busy only as it would be on a weekend evening, filled more with teen-agers who are usually out this time of night rather than the families and children who stake out their vantage points hours ahead of time.
---
Video: Behind the Scenes at Tonight's Fireworks With R.J. Santore[media id=72 width=250 height=250]
For most of the day and half the evening the weather was miserable, rain and wind whipping the beaches and keeping Flagler Beach's streets less than bustling, as they would be over an Independence Day weekend. The last heavy rain fell between 6 and 7 p.m., with persistent drizzle after that.
Out on the pier, Ralph Santore and his crew kept busy for two days, preparing for the show. It was a different world on the pier for those two days as preparations that normally would take six hours ended up stretching over 36 as the weather kept interrupting.
The show was the design of R.J. Santore, 28, who's been doing this for 10 years. "Flagler is more of an old style show, one shell at a time, you get to admire it, go to the next shell," he said. "This one is not to music but when I pack it sometimes I'll think of segments in my head, if I find certain things,–oh, this will be a nice willow segment. Willows are shells that break, and they kind of hang down, come down to the ground almost. Sometimes I'll grab a bunch of heart shells in different sizes, I'll have a little heart segment. In Flagler I like to have a real loud noise segment at the end. It just gets the crowd real nuts at the end. All the work is worth it for the few minutes of chaos out there."
Shells tonight ranged from 3 to 8 inches. The larger the shell, the louder the boom. Santore set them all off from just 100 feet downwind (and it was downwind tonight), on the pier, an improvement over what he used to do.
"I used to light them all by hand, then I was nervous,"  Santore said. "That was about five or six years ago. It's so much safer electronically, because if something goes off, God forbid, we're a safe distance away." If something goes off in a way that's not planned, that is. "That's the nice thing about it too. When you're hand-lighting, you're never looking up. You're just looking at the next one you're going to fire. At least on this show you hit the button, you look up, you get to enjoy the show a little bit. I love this job. I could do it all year."
In case you're scoring at home, the shells are from China—still, after a few thousand years, the leading light in fireworks manufacturing. But the material is assembled by Ralph Santore and Sons, and they've been at it since 1890.