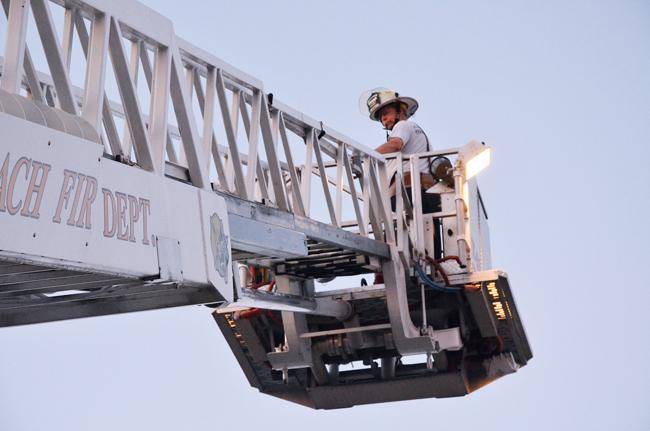 Robert Creal said Saturday he will not be Flagler Beach's Acting Fire Chief after all.
"I notified City Manager Bruce Campbell this morning that I have decided not to accept the acting fire chief position," Creal wrote in an email Saturday evening. "I had a health problem last night and decided it was in my best interest to not fill the position. I will remain active with the FBFD Fire Police Unit."
Creal, a volunteer with the department and a fire chief for 26 years in the city until his retirement in 2002, had briefly accepted to be the volunteer acting fire chief Thursday, to fill in for Bobby Pace, who was formally and criminally charged with obstruction of justice Thursday following accusations of destruction of evidence. Pace himself was the temporary fill-in for Martin Roberts, the previous fire chief, whom City Manager Bruce Campbell fired, along with other firefighters, after accusations that Roberts had responded to a fire call after drinking alcohol at last year's department Christmas party. Roberts was fired on administrative, not criminal, charges.
Creal's appointment was rife with controversy from the start, however. Creal had retired 11 years ago after he had himself been the subject of a city police investigation prompted by allegations of marijuana use (to which Creal admitted) and other issues involving the alcohol consumption by minors in Creal's presence. City commissioners and Campbell were not concerned by those issues. Campbell said he was not aware of them, and had not checked Creal's record, and commissioners who were aware of them said the matters were too distant.
But then emerged the more current and serious issue of Creal's certification as a firefighter. Creal said he has his certification, dating back to 1975, but he had not produced it to Campbell at the time of the appointment, and the state agency in charge of certifying and keeping the records of firefighters' certification has no record of Creal having any certification. Absent that certification, no firefighter is allowed in the "hot zone" of a fire emergency, let alone allowed to command a fire emergency, as Creal would have had to do as chief.
"It was admirable for Robbie to go along and step up to the plate and he was doing it for the sake of the department and wasn't expecting to be paid, and I hand that to him," Campbell said, but health matters can't be argued with, the city manager said. In a Facebook message, Creal Sunday morning cited "stress" as the reason for his withdrawal. Campbell said Creal's sugar spiked to dangerous levels on Friday.
Creal's decision to withdraw from the position means that the city will be left without a chief–acting or otherwise.
"We're not going to have per se an active chief," Campbell said Sunday morning.
The manager said he will assume administrative leadership of the department (including scheduling and coordination with the county), while three current firefighters–David Kennedy, Stephen Cox and Michael "Dusty" Snyder–will be shift commanders, assuming responsibility of each day's eight-hour shift. "These guys are capable, certified, and I've got their paperwork," he said, reading off their certification numbers, some of those certifications being as recent as last week. "They're perfectly capable of commanding a fire," Campbell said of the three paid firefighters now in the rotation of command. (The three are not paramedics, as was previously reported, but Emergency Medical Technicians. Flagler Beach does not have paramedics, for which it relies on the county.)
It's not clear yet how they will manage to do so with required time off, or who will be in their place when they cannot be. But Campbell said mutual aid agreements with the county will likely be the route at that point. That's when a nearby agency assumes responsibilities for a sister-agency that has manpower issues.
"This all came about yesterday late afternoon," Campbell said. "I plan to put it out in writing tomorrow morning, announcing the Robbie situation and what we're going to do in the meantime." He stressed that the city will be safe, and that the mutual-aid arrangements with neighboring agencies will keep it so.
The county has been offering to assume all sorts of responsibilities for the troubled Flagler Beach Fire Department, from lending some of its manpower to taking over parts of the department's responsibilities, or all of them, saving the city money and trouble. But a majority of city commissioners have been adamantly opposed.
City Commissioner Marshal Shupe is also a volunteer firefighter. He spends much of his time at the department–and advocates for it from his commission seat.
Campbell said he is "absolutely" confident he can handle the administrative matters at the fire department on top of his current duties as manager. "This isn't going to be forever," he said, as the city commission on Aug. 8 will approve a new salary schedule for reorganized fire and police departments, following which new positions of captains and lieutenants in both departments will be internally posted, then externally posted if internal candidates aren't enough to fill the positions.