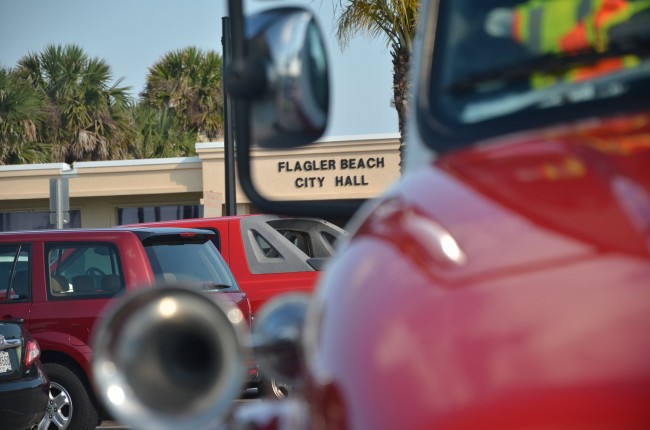 Flagler Beach City Manager Bruce Campbell wants to eliminate the positions of fire chief and police chief, install captains at the head of each department, and expect those captains to be working the streets, pulling hoses and writing tickets when necessary. The change, he said, is compelled by the small size of the city and the unsustainable growth in the two departments' budgets, which now account for 40 percent of the city's spending. The path is unsustainable without changes.
"I'm just going to be dead honest. Just along the lines of how I felt answering those questions," Campbell said, referring to a set of questions commissioners submitted about the viability of the fire department, "what kept coming through my skull, can we afford in the future to be in the fire department business, can we afford to be in the police department business?"
For now, Campbell's answer is a clear yes, but not without those changes. He asked the Flagler Beach City Commission to approve the plan. The commission provided its consensus to do so during a daylong budget workshop Tuesday, though Commissioner Joy McGrew specified: "Tentative is a nice word." The changes are more than administrative: they must still be written into the city's ordinances and therefore ratified by the city commission, following public hearings.
Neither change would result in significant savings, and at the police department, costs would rise next year, according to budget documents. In fact, the elimination of the top positions would pay for 3 percent raises for the ranks.
The police department is currently operating on a budget of $1.2 million. Police Chief Dan Cody is paid $70,000. There are three sergeants, a detective and 10 officers, plus two civilian employees. The proposal would eliminate the chief's position and replace it with a captain paid $58,000. But the rest of the department's structure would remain unchanged, though a proposed 3 percent raise for all the positions below the captain's mean that the payroll would increase by $6,311. In essence, the pay increase this year is being paid for with the $20,000 saving from the fire chief position's elimination.
Naturally, Cody, the fire chief, was not happy.
"I don't agree with it, but other than that—" Cody said, when asked about the change. "I've never heard of it. Of course we discussed it, and I didn't know it, but the city manager advised me that there were others in the state which surprised me. But I think when he came in and talked to me he said you're not going to agree with me. He was right." Campbell and Cody had spoken about the change on June 10.
Nor would the changes alter the fact that on some nights, at certain periods, only one police officer is on duty. That takes place in the early morning hours, when crime is at its lowest, Cody said.
"Do we usually have more than one officer on each evening?" Mayor Linda Provencher asked him.
"We usually have two on in the evening," Cody said. "When it gets later at night, we have one because of the shortage of officers we have. We have been working overtime on the critical days, at critical times and all, we're trying to get by with that. There were two officers on the other night, if you're referring to that article. There was—she had a training officer with her. She wasn't by herself." (Cody was referring to a FlaglerLive article on an alleged rape that took place after 3 a.m. the morning of May 14.)
Bobby Pace, the acting fire chief, was more amenable to the restructuring. "I don't have any issue with it," Pace said.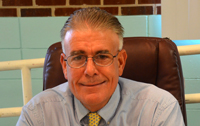 The restructuring at the fire department would eliminate a top position that was costing $78,000 ad replace it with a captain's salary of $58,000. The assistant fire chief position, which was costing $47,611, would be eliminated entirely. But lower ranks would also be restructured, with a hierarchy creating three lieutenants' positions, each paid $38,000. There would be three full-time firefighters, each paid $32,500, and one part-time firefighter position, paid $12,000. Currently, there are no lieutenants. There are six full-time firefighters with salaries ranging from $31,700 to $33,800, and three part-timers paid $6,500 each.
The current payroll is $304,000. With the change, payroll would fall to $281,500. As with the police department, Campbell is proposing a 3 percent raise for all positions, though the actual budget proposal shows all but one of the full-time firefighters' salaries declining slightly. If Pace is the hired captain, he would see his salary jump $25,000.
"I don't really see much of a difference there," Pace said of the proposed changes. "I think it's just a name, really." He spoke of the budget more generally, saying there'd been "some padded areas" in the past that have been sheared. "We want to exist, so if we've got to be down to bare bones and do that, we're doing what we need to do."
"You're saying there would be no diminishment of the public safety factor here," Settle said to Campbell, addressing the police and fire restructuring.
"Absolutely not," Campbell said.
"In your estimation, would this new system improve public safety in Flagler Beach?"
"I think it will," Campbell replied, with distinctly less conviction than his absolutism seconds earlier. "I mean, and again, a lot of these things that you plan for when you reorganize, it's got a lot to do with the individual that ends up being in the position. I believe if we have the right person, we find the right applicants, we find those that are applying get the right person in there, a working captain of our police agency, a working captain of our fire agency is exactly what Flagler Beach needs and desires. I know I've heard that complaint for years around town. 'Why can't the chiefs do anything? They don't do a thing, they're never out, you never see them, why can't they go to a fire, why can't they pull a hose, why can't they write tickets, why aren't they patrolling our streets,' that sort of thing. So there's a lot of advantages, I think, if we go about this correctly, for those reasons I stated. I really feel strongly about it. I think it's the right thing for Flagler Beach at this point."
"I know that there's a lot of paperwork associated with the administration of both the fire department and the police department," Commissioner Jane Mealy said. "If the captains are going to be out patrolling the streets or answering calls, upon whom does the paperwork fall?"
Campbell said the job description would allow for answering calls in certain situations. "That's not saying they're going to be out every day of the week, patrolling the streets," he said.
"Because," mealy continued, "I remember a city manager who said he's going to be out there all the time, he's not going to sit behind a desk, and you found out what the reality of the job is. Those nasty commissioners expect you to behind your desk when they come in."
"My vehicle, I never shut it off."
Campbell's proposal is the latest twist in a long, complicated and unresolved wrangle over the fate of the Flagler Beach Fire Department, whose internal struggles and scandals have doused the pages of local media seemingly more often than water on actual fires in the city in the past year and a half. One commissioner, Kim Carney, has been interested in consolidating the department with the county. Her idea has yet to gain broader support. If the police department has had its issues, they've been kept closer to the vest so far.
"If there are changes to be made within the fire department, this is the time to do it," Commission Chairman Steve Settle said at the workshop, launching Campbell's rationale.
"There's no question that safety is paramount to all our citizens, our residents, our visitors' welfare," Campbell explained as he laid out his plan. "But the thing I keep coming back to though is two things. Our city is only, as you know, 4,500 in population. I think when you look at a small city like that, we need to take that size into consideration. So with the smallness of the city, I believe there should be some corollaries between that and the size of agencies, the size of departments. Particularly in the police department." He specified the numbers: the $600,000 fire department, the $1.2 million police department. "If we don't start managing and find different ways of managing the cost structure of these two agencies, we will in time become uncompetitive, and it probably begs for the continual question of: are we going to be able to maintain that at our city as far as one of our services, or are we going to be forced because of economic reasons at some point to delivering that service."
That was one of the "big reasons" for his proposal. Another was the notion of working captains. "I believe that the fire captain ought to be out responding to fires at time," Campbell said. "The police captain should be filling in for maybe an officer that's sick, trying to reduce the amount of overtime if necessary, actually pulling road patrols and that sort of thing, being out in the community, being a working chief if you will, or a working captain." Finally, particularly in the fire department, he wants to provide more of a hierarchy that clearly delineates officers from lower ranks.
Campbell said there's nothing in law that requires a city to have either a fire chief or a police chief. He cited "a couple of cities" in Florida that follow the captain model. He spoke about it with Armando Martinez, the Bunnell city manager and a former police chief himself, with Drew Smith, the Flagler Beach city attorney, and Jim Manfre, the sheriff. "He didn't have any heartburn over it,"  Campbell said of the sheriff's reaction.