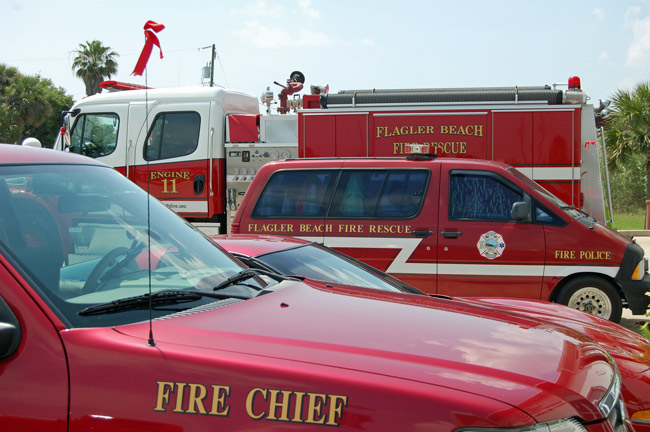 An independent investigation into allegations of drinking, driving and firefighting under the influence of alcohol at the Flagler Beach Fire Department concludes with a scathing indictment against not only the four firefighters involved, including Fire Chief Martin Roberts, but against virtually the entire department.
The investigation sustains allegations that the firefighters and the chief drank on the job. His future with the city is seriously in doubt for two reasons: this is only the second serious breach of authority in six months, though it is far more serious than last spring and summer's incident, when Roberts took out-of-town trips on behalf of the fire department that the city manager had not authorized.
But more critically for the department and the city as a whole, the investigative report reveals a severely dysfunctional fire department: it is divided by two cliques that appear to be at war with each other and causing "a high degree of intra-departmental discord." The department is lacking in clear lines of authority in the chief and assistant chief's absence. And it is riven by allegations and counter-allegations between firefighters, some possibly vindictive, others driven more by concern for the department. Among those is the potential falsification of records by Bobby Pace, the current acting chief. The investigation reveals that Pace is being investigated internally over the record falsification charge.
The investigation also and incidentally reveals that a Flagler County Sheriff's lieutenant, Greg Weston, had cooked a home-made, 100-proof alcoholic brew similar to, but not quite, moonshine, and sold it to to Jacob Bissonnette, one of Flagler Beach's firefighters, in the station's parking lot.
The investigation, conducted by Daniel Langley of Fishback Dominick, a Winter Park law firm, and concluded on Jan. 31, centers on Roberts, Assistant Chief Shane Wood, Captain Steve Wood (Shane's father), and Jacob Bissonnette. It finds that all four broke the city's zero-tolerance policy on drinking. Roberts and Steve Wood did so, according to the findings, by drinking at a party then responding to a fire, and driving city-owned equipment, including a tower truck in Wood's case. Roberts also violated a city ordinance by authorizing Wood to respond to the fire. Bissonnette and Shane Wood were found in violation for having possessed alcohol at the fire station, "on city compensated time," and drinking there. All four were found to conduct themselves in a way "unbecoming" of their position.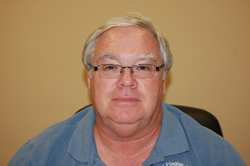 All four will appear before Campbell in four individual pre-disciplinary hearings Friday, when they can present evidence of their own. "Based on the findings of the investigator," Campbell wrote each of the four on Wednesday, "I am considering potential disciplinary action up to and including termination of your employment."
Roberts makes $70,779. Shane Wood makes $47,611. Bissonnette and Bobby Pace, $33,606, and Steve Wood, as a sanitation employee, makes $31,080.
Members of the Flagler Beach City Commission are gladly staying out of the fray, calling it Campbell's purview, as it involves personnel matters that commissioners are not, by charter, allowed to interfere with.
One of the key aspect of the investigation is incidental to its original purpose. "There is a high degree of intra-department discord between several full-time employees of the Fire Department," the investigation found. "There are generally two cliques or factions within the Fire Department's full time employment ranks — faction 1 — Shane Wood and Jacob Bissonnette, and faction 2 —Bobby Pace, Dusty Snyder, David Kennedy and Stephen Cox. []The intra-department discord described herein is a major problem affecting the operations of the Fire Department, and such shows a lack of organizational control within the Fire Department."
The factionalism may have had something to do with the leveling of charges. The investigator explains: "The faction 2 group generally believes that Chief Roberts shows favoritism to faction 1-Shane Wood and Jacob Bissonnette, along with Department volunteers, Steve Wood and Diane Wood, Shane Wood's father and mother. The faction I group — which are the subject of this investigation believe that the faction 2 group submitted the allegations to City management that are the subject of this investigation in an attempt to get Chief Roberts, Steve Wood, Shane Wood and Jacob Bissonnette terminated so that the members of faction 2 receive promotions to Chief (Bobby Pace) and to three newly created lieutenant positions (Dustin Snyder, David Kennedy and Stephen Cox)."
Enter the allegations against Pace: "Faction I members assert that before the alcohol-related allegations were raised against them, (i) Bobby Pace was being investigated by Jacob Bissonnette at Chief Robert's instruction for potentially falsifying time sheets of an individual on probation serving community service, (ii) Jacob Bissonnette gave Bobby Pace a heads-up warning about the investigation which angered Bobby Pace, and (iii) thereafter, Bobby Pace marshaled faction 2 members and certain volunteer firefighters to submit written allegations to City management over the head of Chief Roberts in order to avoid potential punishment for the alleged falsification of records and to obtain a promotion."
Roberts, meanwhile, claimed to the investigator that the charges against him originated with Campbell, as retaliation, because Roberts had filed an age-discrimination claim against the city last year. That age-discrimination claim was found to have no merit by an investigator in late August.
But the investigator sees no connection between the Pace matter and the suspensions over the alcohol allegations. "Chief Roberts," the findings continue, "testified he and Jacob Bissonnette first learned of the potential falsification of records by Bobby Pace on January 2, 2013 from a person with the Flagler County Probation Office who called the fire station to inquire about the time sheets of a community service worker who performed work at fire station. January 2, 2013 is just two days prior to the four accused being placed on suspension by the City Manager pending the results of the investigation. By that date, City management had already received allegations against Chief Roberts, Steve Wood, Shane Wood and Jacob Bissonnette. […] So, it appears implausible for the allegations against Bobby Pace […] to be ill-motive for bringing the allegations against Chief Roberts, Steve Wood, Shane Wood and Jacob Bissonnette."
Rather, those who instigated the issue of alcohol consumption were collectively, David Kennedy, Dustin Snyder, Stephen Cox and volunteer Ray Turish. "It appears that these individuals were genuinely concerned about the health and safety issues involved and the reputation of the Fire Department," the investigator found.
On Dec. 14, the fire department held its Christmas party at Friends Café, a short walk from the fire station, at 220 South Flagler Beach Avenue, starting at 6 p.m. The café, which closes at 2 p.m., was closed to the public. It doesn't serve alcohol, but it was understood that the party was a bring-your-own-alcohol event. The Flagler Beach Volunteer Firemen's Association organized the party, including a disc jockey, food and non-alcoholic drinks, while the café catered it. Husband-and-wife Steve and Diane Wood also organized it.
David Kennedy, shift leader for Shift C, the shift covering evening hours (and the hours of the party), told four firefighters on duty that evening that if they intended to go to the party, they had to change out of uniform, and if they intended to drink alcohol, they could not return to work for that shift. Earlier that day, Kennedy saw Steve Wood filling a beer cooler with ice (the cooler had beer in it), in preparation for the party. The investigation findings then go into detail about who saw who drinking, and where, and how much. Shane Wood was not on duty that evening, nor did he respond to the fire later on. What drinking he may have done at the party would not be a violation of policies.
Steve Wood claimed to the investigator that he only drank non-alcoholic beer, because of a health condition. The investigator does not believe him, citing six eyewitnesses to say that Wood drank regular beer and sipped moonshine. Wood, at any rate, had admitted to Campbell and Libby Kania, the city's human resources director, that he had drank beer, and was placed on administrative leave on Jan. 4. The investigator goes so far as to say that even non-alcoholic beer contains 0.5 percent alcohol which, compounded over five drinks, "would still place a small amount of alcohol in Wood's system before responding to a fire emergency in a large and heavy aerial truck." Wood drove the city's Tower 11 truck to the scene of the fire on North Ocean Shore Boulevard.
The investigator adds: "Several witnesses expressed that given the relatively small size of the interior of Friends Café and Chief Roberts' proximity to Steve Wood during the Christmas party, there is no way Chief Roberts did not see Steve Wood drinking alcohol that evening."
The detail is relevant because it goes directly to Roberts's leadership and judgment, since Roberts assigned Wood to the fire. Wood testified that Roberts admonished him in days following the party, after the chief got complaints from other firefighters.
Roberts's own consumption of alcohol is also documented, but notes that amounts involved are by no means excessive: "From the credible testimony received," the report states, "the amount of wine consumed by Chief Roberts appears to be of a normal amount for a reasonable person enjoying wine with dinner." Roberts himself claims he was told that the wine was non-alcoholic, and that what cherry he ate was not soaked in alcohol, claims the investigator doesn't buy.
The fire broke out at 9:40 p.m. David Kennedy told the chief not to let anyone who'd been at the party respond to the fire. "Chief Roberts ignored such sound advice," the report states emphatically. "The events of December 14, 2012 show poor judgment by Chief Roberts and evidence of a lack of organizational control within the fire department."
The fire was actually fought and put out effectively and swiftly, even though at one point firefighters had to contend with a dry hydrant. The three-level structure sustained damage that was localized to the top two floors, and to only a corner of the structure. A FlaglerLive reporter was at the scene. Notably, however, a request was made by way of a sheriff's deputy to speak with Roberts once the scene was under control. In every previous incidents involving the fire department, Roberts has made himself readily available. On Dec. 14, however, a reporter waited more than an hour after the fire was out to speak with him. Roberts did not make himself available, though he did so by phone and in detail in following days.
Matters involving Shane Wood and Jake Bissonnette do not involve drinking on the job or on duty, so much as having alcohol on fire department premises at the station, and doing so on duty. The afternoon of Christmas eve, Bissonnette bought "faux-moonshine" from Flagler County Sheriff's Lt. Greg Weston, who was off duty and out of uniform at the time. It was "an alcoholic beverage that Lt. Weston mixed and boiled down at home using 100 proof grain alcohol purchased at a retail store," with sugar and other store-bought ingredients. "Thus the alcohol at issue concerning the allegations against Shane Wood and Jacob Bissonnette is not moonshine; more like a homemade cocktail or alcoholic mixture."
Bissonnette bought two jars for $10 and stored them in a fridge at the station. Both Bissonnette and Shane Wood were on duty at the time of the transaction. The next day, Pace and Dustin Snyder discovered the jars. A little after 8 a.m. that day, after the shift-change (at which point Bissonnette and Shane Wood were no longer on duty, but still at the station), they reportedly took a sip from the jars before taking the jars home. Those events, the report concludes regarding Wood and Bissonnette, "show further evidence of the lack of organizational control within the department."
[Correction: An earlier version of this story had reported that Chief Roberts had drank five beers at the Christmas party on Dec. 14, which was incorrect. We regret the error.]