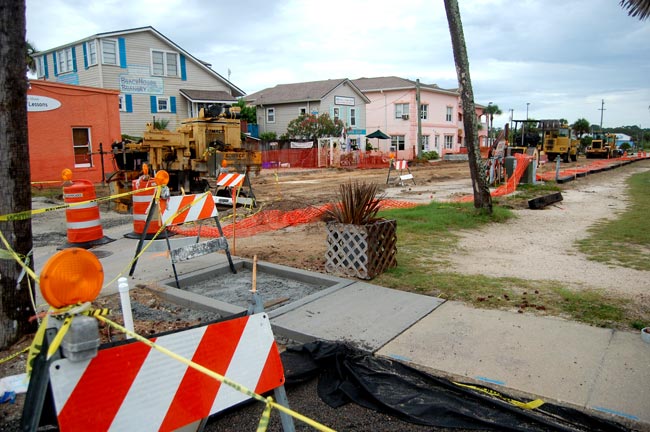 Somebody's survey sticks are screwy.
Last week, Bill Forehand, who runs Flagler Beach's farmer's market with his wife Zoee in the heart of the city, noticed survey pins around his land missing or removed. One of them was paved over. Removing survey pins is a violation of law. Monday morning, Forehand saw work crews readying to pour concrete for a new sidewalk along 2nd Street, between South Central and South Daytona. The work is part of Flagler Beach's $5.5 million street reconstruction program. There was one problem with the work crews' plan: they'd moved a line of rail tiles along the acre-odd property that delineates the market, and were about to pour concrete in such a way that it would have encroached on the private property. At least that's how the Forehand survey had it.
Along South Central going toward State Road 100, where work is all but completed, the sidewalk encroaches on the Forehands' property by a foot in some places, and close to two feet near the corner with SR100. The city had its own survey—and poured concrete where that survey's lines commanded. But surveying is an exact science. Somebody made a mistake. If the Forehands' surveyor made the mistake, work resumes. If the city made that mistake, it'll have to tear up the sidewalk along South Central and start over, delaying the project's completion further.
"We sent a letter to the city explaining what happened and expecting them to compensate us for the survey and putting our lines back," Forehand said, "and haven't gotten a response from them yet." The Forehands have been taking turns all week, keeping watch at their property to make sure work crews don't resume what they see as encroachment.
"We're in the process of working on it," Flagler Beach City Manager Bernie Murphy said Thursday evening. " We're having a surveyor come in, in fact he's coming in tomorrow, seeing who's right and who's wrong and what we have to do or don't do."
Meanwhile, all work has stopped on the street, which has been torn up and closed to traffic for weeks. The torn up street is hurting businesses fronting it—the BeachHouse Beanery (whose main entrance is on South Central), Mason Music, the Salty Dog Lunch Spot, the Arts and Crafts Coop, the Big Easy Café and the Angel Godwin Gallery.
On Tuesday the Forehands' lawyer, Dennis Bayer, requested in a letter to the city administrator that the city "immediately remove any concrete and construction materials that are on my clients' property." Barring that, Bayer wrote, the Forehands "will have no choice but to seek a stop work injunction" and head for court. The farmer's market's business hours on Fridays and Saturdays have not been affected.
The two sides may have a clearer idea of where the true lines fall by Friday.