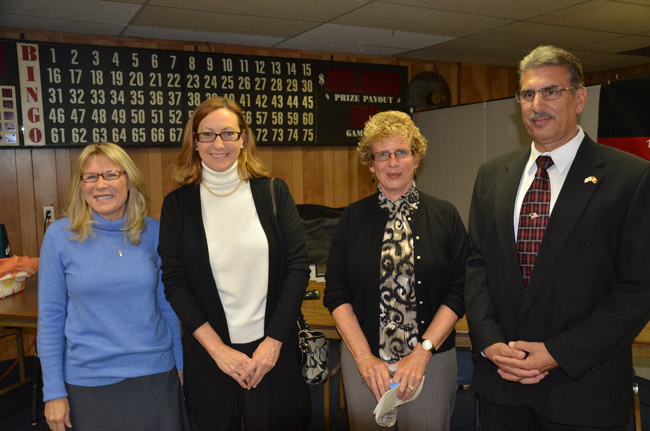 Flagler Beach residents usually vote for their city commissioners and mayor in March. They're voting on Jan. 31 this year—and early voters are voting now and through Saturday—so the election coincides with the presidential primary. It saves the city a little money and may help with turnout, though that turnout will be distinctly more conservative, since the primary is open only to Republicans.
Four candidates are running in two races Flagler Beach: former city commissioner Joy McGrew and newcomer Sandra Mason are contending the seat being vacated by John Feind, who'd held it nine years. And former city commissioner Linda Provencher is running for mayor against J. NeJame, who is to Flagler Beach what Joe Cunnane is to Palm Coast—a perennial candidate still looking for his first win, though NeJame presents a much more serious approach to the job. Mayor Alice Baker is stepping down.
The candidates appeared before voters in two forums last week, including one hosted by the Flagler Beach Chamber of Commerce and moderated by WNZF's David Ayres. The questions were prepared by the chamber at that one. There were no questions from the audience. The 20 questions touched on most of the city's recurring issues: protecting the beach, spurring economic activity, marketing the city, and a few questions on the nature of the job the candidates are running for.
There were no surprises, and for the most part the hour-long forum was on the rather dull, and with Provencher's exception, humorless side, as candidates provided mostly general or canned answers that in many cases made it difficult to differentiate one from the other on the issues. They agreed far more often than they disagreed.
Jamie NeJame: Affable to a Fault
NeJame, a radiology consultant who's started several small businesses, speaks frequently before the city commission, and usually makes his points clearly. He was not as sure-footed during the forum, stumbling on occasion and speaking in a lackluster tone even as he repeatedly conveyed the sense that as mayor, he would be putting forward "the will of the people" rather than his own. His top priority if elected, he said, would be first to thank voters, then to get acquainted with the city manager and staff "to become effective in helping the city" and possibly setting up a web site through which residents could submit questions or concerns that he would then bring to the commission—a system already in place with email. He is motivated to run, he said, "to help the city motivate itself," and to keep the beach healthy and at the heart of the city's identity. He was not clear about how to attract more businesses to the city, such as at the old Food Lion, other than to say that attracting more people would generate more business activity. Unlike Palm Coast, however, Flagler Beach does not have an epidemic of empty houses.
He was clearer on the use of the veto power. Mayors don't write policy and don't vote on commission matters, but they may veto a decision (which would require a supermajority of at least four votes to override). NeJame said he'd only reluctantly use the veto, and used Baker's use of it as an example: speaking of using it may be enough to sway the commission from an unwise decision. And when asked whether he'd favor consolidation of pilice and fire services with the county—a touchy issue in Flagler Beach—NeJame candidly said he didn't have all the facts to give an informed answer yet: he'd have to analyze the numbers (which have not, in fact, been crunched independently), though he said that while he was all for maintaining Flagler Beach's "quaintness," he was also interested in looking at cost savings—if they exist.
Linda Provencher: Woman of the People
Provencher was on the city commission from 2006 to 2010. She decided not to run that year, knowing she eventually would, but only for mayor, and when Baker would decide not to run again. "I'm ready," she said, using her experience as an assistant manager at the Golden Lion restaurant in Flagler Beach to underscore her people skills and her daily contacts with residents and their concerns. Of the four candidates she was the most at ease during the forum, combining humor, assertiveness and the sharpest wit of the four, evidence of Provencher's habit of juggling innumerable customer contacts simultaneously at her restaurant.
Like NeJame, she could not provide a prescription for filling up empty storefronts other than time and a greater influx of people. Like NeJame, she is in favor of extending the beach patrol's season, but couldn't say how that would be paid for on a tight budget. Like NeJame, she is opposed to relaxing the city's rules on free-standing bars, though she was more aware of the history on that issue and cautioned against letting city ordinances be swayed by a single individual's desires for a particular building. (The owner of Flagler Beach's taco joint wants to reopen what used to be known as Mother's, the free-standing bar, but has run into restrictive regulations after buying the building.) Also like NeJame, she would not alter the city charter to give the mayor voting power on city issues, other than the veto.
But unlike NeJame, she is categorically opposed to fire and police consolidation, and she was more decisive when asked about her first priority: move forward with beach restoration by picking one project, approving it, and securing funding for it, even if it's experimental. She would also focus on securing dollars to finish downtown's renovations, now held up for lack of funding.
Joy McGrew: Prodigal Run
Joy McGrew was the surprise of the evening in this sense: usually well-prepared and compelling as a commissioner, she appeared rustier as a candidate, banking more on her past accomplishments than on her ideas for the future, other than in general, pro-business principles. The sense was that she was running again because she had been in office before, rather than because she offered a clear choice. In comparison, Sandra Mason appeared to have gone to the other extreme, boning up on city issues in detail and projecting the look of a candidate who's done her homework, though she often had to refer to her briefing book to respond to questions by literally reading off answers.
McGrew, who works at a local pharmacy, has always sought to balance business interests with those of residents, using her experience as a commissioner to convey the pragmatism necessary to make things happen. For example, she said she was all for tackling beach erosion by adopting one or more solutions and going with those proposals, whatever they are. But she also described the obstacles in the way—calling them "big government"—when it comes to securing permits from a variety of state and federal agencies to get something done. It was as if it's never been the city's fault for lacking the unified voice necessary to say what it wanted done, though the city has lacked just that voice so far. She is all for projecting a cleaner city to visitors and potential businesses, but again she noted limitations: budgets are tight. The maintenance department is stretched. That's true, but she did not propose ways out of the dilemma, other than by asking rhetorically whether people would be willing to pay higher taxes.
When McGrew was asked about the short-lived "coalition of cities" created by Bunnell City Manager Armando Martinez and joined by Flagler Beach and Beverly Beach, as a third wheel of economic development in the county, McGrew and Mason both did not know what the coalition had been, though Mason said so outright. McGrew, on the other hand, tried to answer the question as if she knew what the coalition had been—only to talk about sharing some services with the county (which was not part of the coalition) and do "anything we can do to help us as a whole."
McGrew was on much stronger ground with her clearest answer of the evening when she addressed the bonfire-on-the-beach issue, still keeping the commission busy. Mason, running on a strongly environmentalist platform, is opposed to bonfires during turtle nesting season. McGrew's answer was not that black-or-white. Bonfires should be allowed during nesting season—as long as everyone is required to get a permit, which would achieve several objectives: the city would have the names of those responsible for the bonfires, keeping them accountable. The city would be able to direct the location of bonfires away from nests, when necessary, ensuring that the nests are not disturbed. It's all about pragmatism.
Sandra Mason: Rookie Rising
Mason is the candidate with the least experience in city issues (if one counts NeJame's routine attendance of commission meetings). She looked it, too, at the beginning of the forum as she virtually cowered over her briefing book and read off answers in a slight voice that seemed uncomfortable looking up from the page. But Mason's confidence grew quickly as the hour wore on as she took every opportunity to show that she's on top of the issues—whether it's the county's bed tax paying for the city's beach erosion study through the U.S. Corps of Engineers or the marshaling of several civic and business organizations—the Scenic A1A group, Flagler Beach First, the chamber—to work in cooperation with the county's newly formed jobs council to step up Flagler Beach's visibility. Foremost, Mason repeated, is her intention to keep the city accountable for the first lines in its vision statement: "Preserving our Environment as a Community Asset."
When asked about how to preserve the pier, Mason agreed with McGrew: replacement is not an option, but she used the question as an occasion to speak of her background in historic preservation. And when asked whether the city should spend more money to market itself by adding a dedicated line-item in its budget, Mason said no: marketing is not the issue, as it's already happening thanks to the beach (she echoed McGrew on that score) but presentation is the issue: she suggested paying more attention to the city's website, and improving it. Mason was also clear about her priorities, beyond enforcing the vision statement: making the preservation of A1A and protection of the beach the commission's top objective.
The forum last Thursday drew several current and past commissioners (but not Baker), including Ron Vath and the outgoing John Feind, who stood at the back of the Disabled American veterans hall, where the forum was held, taking in the scenes and sounds. Feind was asked whether he'd endorse. Not publicly, he said. If asked privately, he'd say whom he favors. But he doesn't want to interfere with the race in a more public way. It's not his place anymore, he said.


The Flagler Beach municipal election is set for Jan. 31. Early voting is taking place now and through Saturday, Jan. 28, at the Flagler Beach Supervisor of Elections office in Bunnell. Early voting hours are 8:30 a.m. to 4:30 p.m. daily, except Saturday, when it'll be between 8:30 a.m. and 2:30 p.m.