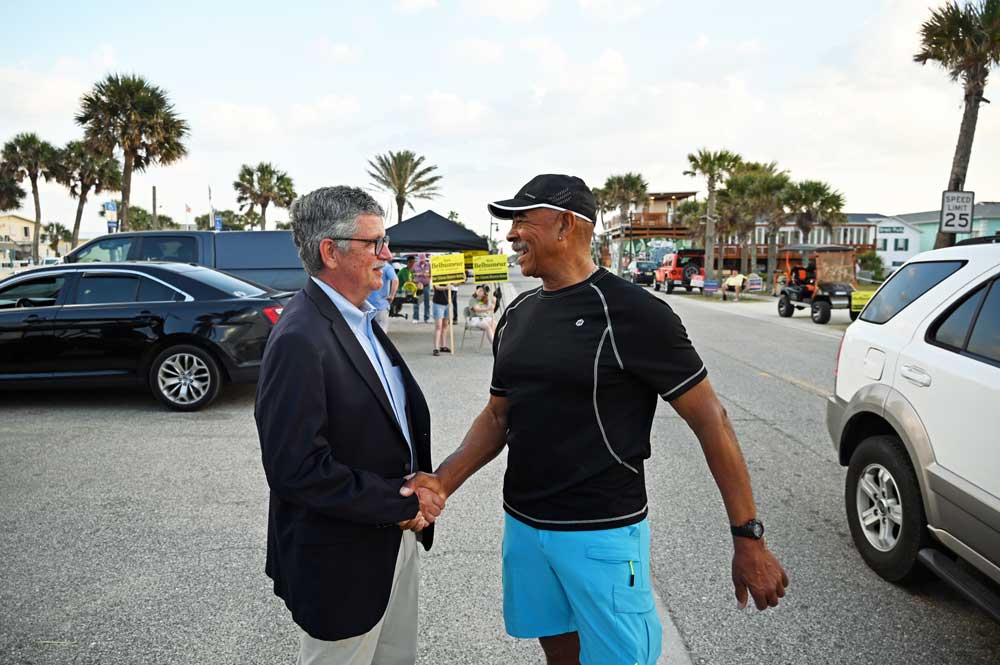 Last Updated: 8:09 p.m.
In the setting sun of an unusually hot day, about an hour before the polls closed this evening, Flagler Beach City Commission Chairman Ken Bryan walked across the street from fellow-Commissioner Debbie Phillips's campaign buggy and shook hands with Scott Spradley. It was as close to a passing of the torch as there could be: election results placed Spradley at the top of a five-candidate field, by far.
Incumbent Deborah Phillips and former Commissioner Rick Belhumeur battled for the second seat as Election Day ballots were still being counted, but in the end Belhumeur, a former two-term commissioner until last year, pulled away rather decisively, beating Phillips by about 75 votes.




"Re-commissioned," Belhumeur, an Everyman with a wry sense of humor, texted, flip-siding his famous recurring comment after his loss last year, when he'd say he'd been "de-commissioned."
Belhumeur had decided to wait for the results at home with his wife, and was to drive over to Tortugas later to congratulate Spradley, who was there with his daughter, her boyfriend and his ex-wife, all of whom had converged from different parts of the state, along with many friends.
Spradley's victory was not a surprise. A Flagler Beach attorney for the past 16 years, Spradley had been involved on city committees and advisory boards and increasingly had been making his mark in city politics for about a year, becoming both oracle to and sounding board of commissioners–and managing to do it across the board, without creating adversaries.
His analytical, cool-headed approach in a year of messy issues, including the decline and fall of a city manager, appealed to an electorate looking for more stability.
"It feels good to have the support of the residents because I have a clear vision of having leadership that will guide the city through at least four major issues coming up," Spradley said by phone after the victory. The four issues are the building of a new hotel downtown, the building of a new pier, the rebuilding of dunes at the south half of the city's shoreline, and drainage matters. "Because of my profession I'm analytical, I review facts, I apply the law and I come up with a solution. That's how I have marketed myself that I would be a good choice, because all of these large projects are going to need analytical solutions."
Spradley added: "The fact I had such a wide margin tonight showed we have people who believe that's the course we need to follow, so I'm really excited about that."




"I look forward to making a difference with people up there that won't be so against me all the time," Belhumeur said. "I just bring a different perspective to the group, working class, mechanical mind, take things apart, try to figure out what makes things tic."
Commissioner James Sherman, about to begin his second year, had also gone to Tortugas to congratulate Spradley. "I'm thrilled to have Commissioner Spradley on the dais with us," he said.
Spradley and Belhumeur will be sworn-in at Thursday's city commission meeting, when a new chair will also be elected. The new commission's first order of business: hire a new city manager. Interim Mike Abels has given the commission six months to fill the seat. He is not staying longer.
It is unusual for a newly elected commissioner to have the gavel first time out, but Thursday's dynamics present a curious confluence of possibilities. Belhumeur had been due the chairmanship, at least by turns, just before he was "de-commissioned." But Spradley isn't foreign to chairing panels, and his centrism and lack of history–if not lack of baggage–on the commission may be just what his fellow-commissioners may seek at this juncture.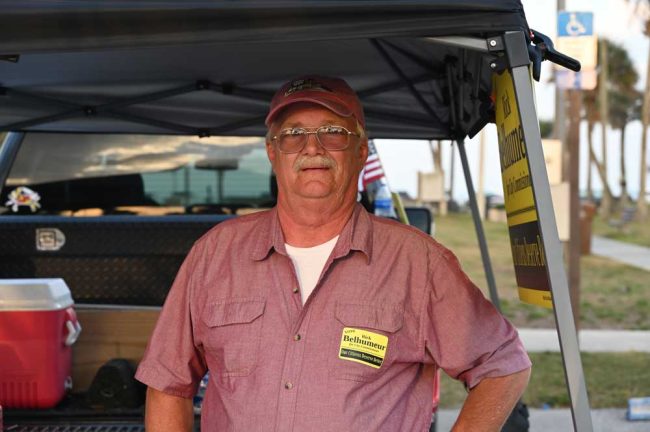 Asked this evening before polls closed if he would be surprised if he lost, he said he would be, "simply because I've had a lot of interaction with a lot of people and the response to my campaign has been very positive. So I think I'm in a good spot. I would be surprised. I'm looking forward to what I believe will happen, which is that I'll be one of the two candidates. I'm looking forward to getting started."
Just as Spradley's victory was expected, so was a battle for second place: Phillips knew it and was nervous about the results, with each of the four candidates outside the Spradley victory bubble feeling they had a strong shot. Phillips this afternoon conceded that she had been second-guessing herself after the last few weeks, with a decision to vote for the retention of former City Manager William Whitson only to almost immediately vote to fire him moments later damaging her credibility and lifting Belhumeur's chances.




Spradley had diagnosed that race, too, when he discussed it this afternoon. "It appears that Rick Belhumeur has gained some strength, that's what it looks like, as have the other two," Spradley said, referring to candidates Doug O'Connor and Bob Cunningham. Belhumeur last year lost to James Sherman, with Jane Mealy getting re-elected with her usual bigger margin.
With about 752 ballots counted and as many more still uncounted, Phillips was leading Belhumeur by 18 votes. But when Election Day votes were counted, the winning margin went to Belhumeur.
The switch was not a mystery: many people had voted by mail before Phillips's switch on Whitson. By the time Election Day rolled around, voters were punishing Phillips, and Belhumeur had that vote locked up.
Turnout was above 31 percent, with at least 1,450 voters casting ballots–almost 100 more votes cast than a year ago, when three candidates ran for two seats, but less than the 1,568 ballots cast two years ago. In 2019, the city election drew only a 21 percent turnout.