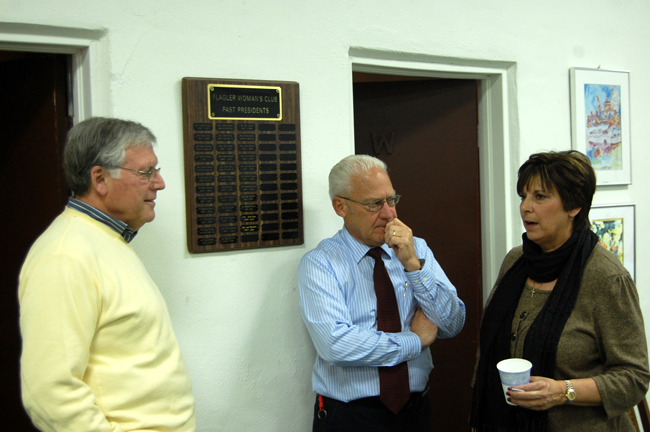 Next week, Flagler Beach voters will elect two new members to their city commission, as Ron Vath and Joy McGrew opted not to run again. Three candidates are in the running: Phil Busch, Kim Carney and Marshall Shupe.
The differences between them, on the issues, are not vast. As is usually the case in Flagler Beach, differences are defined more by personalities and baggage than by particular issues: Busch is the husband of former city commissioner Randy Busch. His theme: "I want Flagler Beach to be a happy city." Carney, who's run once before, is identified with the chamber of commerce as a strong voice for business. She's big on fiscal restraint ("conserve the reserve") and promoting the city. Shupe describes himself as "the new one." He's been in Flagler County since 2004, and bought a house in Flagler Beach in late 2009.
In a recent forum where they appeared together, at the Flagler Women's Club, they were a lot more in agreement on most key issues than not. All three want economic development. All three want to be more welcoming to businesses. All three want Flagler Beach to remain the rustic, quiet town it's been. That paradox was left hanging.
---
Watch Phil Busch

[media id=165 width=350 height=250]
By far the leading question of the evening (at least eight people wrote a variation of the same question on cards based on which the candidates were asked to reply) was where the candidates stood on the Bruce Campbell issue. Campbell is the acting city manager, named to the post in January when McGrew, the departing commissioner, switched her vote and agreed to give him a temporary shot at the job. The entire commission had previously punted the permanent appointment to after the March election.
One after the other, the three candidates strongly endorsed Campbell and tried to outdo each other with their enthusiasm: "Go Bruce Campbell," Busch said, raising his fist in the air. "I'm for him. I wrote the petition that was passed around the city to get him to be hired as the city manager." Carney was more measured. "I was not impressed with the way the city handled the search, nor the selection. I was very pleased with the end result," she said, citing Campbell's acting appointment. She'd conduct a six-month evaluation of his performance and make a permanent decision after that. She's not interested in another search. "I'm very happy with his performance so far," Carney said. "Bruce is probably going to be the guy." Shupe said he'd also oppose another national search, putting his support behind a permanent appointment of Campbell.
That may still not be enough for Campbell: the city commission needs a 4-1 majority to permanently appoint a city manager. Two commissioners, Jane Mealy and John Feind, the commission chairman, have so far resisted Campbell's permanent appointment, though it's possible that Feind, who prizes consensus, might lean toward compromising with a short-term contract that would eliminate the word "acting" from Campbell's job description. What's clearer from the commission race is that if it had been a referendum on Campbell, that referendum is already over, given the candidates' unanimity on the matter.
The three candidates were also of one mind on the city's fire department—keep it—and on the recurring matter of a new city hall—don't build it, at least not now. The candidates don't dispute the need for a city hall eventually. But this is not the time for it. The consolidation of the Flagler Beach Fire Department with that of the county is a recurrent rumor, even though the county has shown no overt interest in taking over, and there has been no consensus on the Flagler Beach commission to let that happen. Still, the fears recur from time to time.
---
Watch Kim Carney

[media id=167 width=350 height=250]
If Carney is the strongest voice for business among the candidates, Shupe, a volunteer fireman in the city, is the strongest advocate for the fire department. "Once that truck goes across the bridge, the county doesn't want any volunteers," Shupe said. "We would be deactivated, so absolutely not." Carney called having a fire department a right. "Sometimes people make statements about it without having studied it," she said. "It's like our parking meters here. Everyone was up for revenue and parking meters. We did a cost analysis and we found out that we would lose money with parking meters."
Busch, however, was not as categorical regarding the fire department: "Most important is the safety of our citizens, and I think the fire department creates a very good means to support the citizens here. From a cost-effective standpoint, that's the key to it. Can it be done cost-effectively, is it being done cost-effectively. If it is, I love having a fire department here, but everything has to be looked at like we all look at our own budgets, and wherever we can save money while protecting the citizens, let's do it."
Economic development is also on voters' mind. Asked how they would bring it to the city, the three candidates focused on what's possible locally rather than on overarching philosophies. They each spoke of "streamlining" the process when business wants to open a new door in the city.
"Businesses coming to Flagler Beach–I think we're not missing the boat here," Carney said. "I think we need to capitalize a little bit more on making our city and making our permitting department, anybody that helps with the businesses, just tweak them a little bit to get them a little bit more friendly, get the process a little bit smoother, bring in some money to hopefully give some incentives. Wouldn't it be nice if a business on A1A that was going to be closed down for a few months because of a construction project could benefit from a pool of revenue that we might have to say, thanks for keeping your doors open. We need to provide a well-educated staff that can deal with the businesses when they come in so they're not dealing with two or three different opinions on how to get their permits. We need to make it streamlined, and we need to promote our city so people know that we're here."
---
Watch Marshall Shupe

[media id=168 width=350 height=250]
Shupe was not as specific. And Busch proposed "a complete checklist" from the building department to expand on Carney's idea of clarifying the process with new businesses, along with a mentoring system for new businesses. He then threw out broader generalities that had more rhetorical appeal with voters' ears than realistic connections with how the city is run: "Low taxes attract business, low gas prices attract business, and this city, this county is not working toward. We're looking at raising our taxes and our gas prices are outrageous. Let's bring them down and attract those businesses." But property taxes have been raised, after being lowered over several years, to counter the effect of plummeting property values and plummeting tax revenue, and no county or city has any leverage over gas prices set by strife in the Middle East or profit-gouging by refineries in the Midwest.
One question sought to give candidates a little less wiggle room on the Flagler Beach paradox: the city wants more businesses and business activity, but residents also prize their town for its sleepy, rustic feel. They don't want a mini Fort Lauderdale. How, candidates were asked, would they ensure that tourism and business development doesn't "encroach on residents' rights to quiet enjoyment of their property." The question was made especially relevant in light of recent controversies over noise issues from local restaurants that provide entertainment. (A community meeting is scheduled for Wednesday at 5:30 p.m. on that issue in Flagler Beach, at city hall.)
Each candidate believes it's a primarily residential town. Each spoke of enforcing the city's codes and coexisting with businesses "to make sure that we have a fair solution in our codes for everyone," in Busch's words. "I don't know what our city would be like without businesses, entertainment," Carney said, though she said she would hold businesses responsible for what they promised, if such promises were offered, to abate the noise they produce. "We have to have the authority to take action," she said.
"We need our businesses, we want our restaurants, we want our entertainment, but at the same time we want our peace and quiet," Shupe said, restating the dilemma rather than providing solutions. The candidates each then, when asked what they'd preserve in town, restated their support for safeguarding such things as the pier, the beach and the town's feel. But how they'd do that in the face of pressures to develop was left unaddressed.
"I wouldn't change anything over there, in the main area," Carney said, citing the redeveloped downtown area that's just been remade. Shupe: "I don't think we can make major changes because I don't think they fit in our area. We are a relatively small area, and a condensed city, and I think it needs to stay that way." Busch: ""I like us as a small beach town, I like us as a retro Florida town, I think that's where we belong."