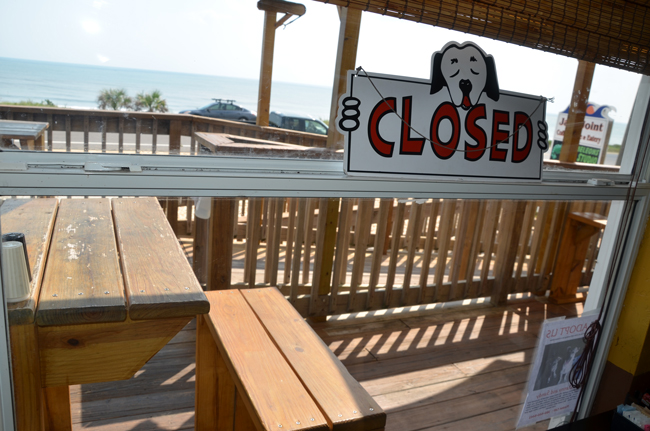 Several restaurants in Flagler Beach allowed patrons to bring their dogs along as long as they dined in areas designated for doggie dining, outside the establishment's indoor area. Among those restaurants: Java Joint, Hurricane Patty's, Flagler Fish Company and Spencer's.
The Java Joint has allowed dogs on its beachfront deck for the seven and a half years it's been at that A1A location on the northern fringe of Flagler Beach. It's never been an issue, the Joint's two co-owners say. City commissioners hadn't until now heard of complaints, of dog bites or dogs barking while others dined, let alone dogs relieving themselves where they shouldn't. They hadn't even heard of the state regulation that allows doggie dining, but only as long as local governments ratify the allowance with an ordinance of their own and let restaurants that choose to do so opt in. Flagler Beach has no such ordinance.
Two things happened to push the city administration to draft the ordinance: the state fined a restaurant for allowing dogs there without an ordinance in place, and the Flagler Fish Company "splashed the news that they now have that area," in the words of city planner Chad Lingenfelter. "We were naturally concerned because you might get caught by the state. So that helped rejuvenate this desire of maybe we provide this," if only to help those restaurants grow and avoid fines.
But when the proposal appeared before commissioners last Thursday, a 3-2 majority shot it down, essentially forbidding—and ending—what had been a common, and non-problematic, practice at several of the city's popular restaurants. Commissioners John Feind, Marshal Shupe and Kim Carney voted against it. Jane Mealy and Steve Settle voted in favor. Shupe and particularly Carney were elected last March after campaigning in favor of more friendliness toward local business. Shupe's vote was a surprise, because toward the beginning of the discussion he'd said: "I've changed my mind. I'm also in favor of this if it'll help, too." He just wanted to make sure that the permit fee for restaurants allowing doggie dining was set high enough to cover the city's costs.
Carney's opposition focused on the subjectivity of the proposal. "Under control to you and under control to me might mean two different things," she said, referring to a provision that requires dogs to be kept under control. She continued: "I have no idea how we're going to enforce this, other than just letting them do their thing. I did do a little bit of research with St. Augustine Beach, and they went through this whole process, spent lots of money, lots of time on ordinances, and in one of their 2009 editions of the recorder, said that they offered this to over 200 restaurants, and two took them up on it. So I understand where we're coming from. I don't want to put a lot of energy into this. I am also very—I'll use the word unhappy, because I was, when I saw all this time and energy that went into this, and it never came before Bruce [Campbell, the city manager], it never came before commission, it just kind of landed here, and someone put a lot of energy into this."
---
Audio: The Full Doggie Dining Discussion and Vote[media id=241 width=250 height=200]
"I was aware of it and I am aware of it from the fact that it has been worked on for many, many months," by staff, Campbell said Monday–long enough that it pre-dates Campbell's tenure as acting manager. It's his planner, after all, who led on the matter, and the city attorney who drafted the ordinance. Campbell clarified during the meeting Thursday: "This isn't the city that's placing this mandate out there, it's the state. This is a pre-emption. By us adopting this ordinance, so that our restaurateurs can decide do they want to continue having outside doggie dining or not, and if they do, this is the way to sign up and the way to do it legally so they don't get fined like one of our restaurants already has. So it's not the city cooked this up or trying to do undue hardship on our restaurants. With this in mind, the state has already decided that these are the rules that you're going to have." The rules, down to what products to use when, say, a dog has an accident, are clearly set out and exempt local governments from drafting them.
Whatever energy went into the proposal, the ordinance's supporters did not go about it with much savvy. In Flagler Beach, preparing the groundwork is important when local interests want to get something done. And when the matter appears before the commission, those interests do their best to pack the room with supporters (or opponents). Witness the last time a dog matter landed in the commission's lap: when the city in March considered banning dogs from the beach, the room was full to capacity, with spill-over, and more people spoke on that issue—34 in all—than on any in commissioners' collective memories.
The number of people who spoke to commissioners on the dog dining issue: zero (other than city staff and the city attorney, that is). Nor did restaurant owners educate commissioners ahead of time. Even the ordinance's chief sponsors, Kathleen Stark and Danita Mundy, co-owners of the Java Joint, were not able to be there, though they had turned in a petition with some 200 names, according to Mundy, customers supportive of the Java Joint's dog-friendly policy.
It's not over for Mundy and Stark. "We're going to fight it until we get it," Mundy said. In the meantime, she said of the new restriction, "We're going to lose some business because of it, especially from some of our older customers. Their dog is their life. They go everywhere with them. We've never had any incident, any conflict with any dog up here, never a problem. The majority of people have better common sense than to bring a problem dog." The Java Joint's customers, many of them from the Hammock, like to come down for time at the beach then hop across the street with their dog for lunch. That routine, Mundy fears, was just chilled.
Carney, the city commissioner, had cited the liability issue, raising the prospect of, say, a child being bitten and the city not being able to trace down the offending dog if that dog was not registered in Flagler Beach. But the Java Joint has $1 million in liability coverage. As for risking a lawsuit against the city, Drew Smith, the city attorney, said it would not be an issue: the city has sovereign immunity.
The prospect of lack of proper enforcement is what focused commissioners' opposition—despite a history devoid of dog-related issues at restaurants, or Smith's assurance that inspections are the job of state inspectors, not the city's.
Feind, the commission chairman, was not satisfied, even after the city attorney had essentially indemnified most of the city's responsibilities should the ordinance get enacted. "How are they going to implement this? The people cleaning up after accidents, the people that are eating are going to be holding the dog on a leash? I don't envision that working out too well," Feind said. "The enforcement, are we going to put the manpower to check up on this? I don't think so. And that means, who's going to follow through on this? We're going to be relying on state inspectors whenever they may or may not come, which is probably very infrequently. As has been said, what are we going to do to verify these complaints? Do we have anything set up to take the complaints? Who's going to respond? We're going to send the police there?"
"The most that we have to do," Smith had said earlier, "is have a system set up to receive complaints and transmit that information to the state." The city itself, in other words, is not on the hook for inspections. There's a parallel with child care centers: there are a few in the city. But the city doesn't inspect them. The state licenses and inspects them—very rarely, even though, presumably, children's welfare at day care centers is more critical than doggie dining. Other than criminal matters, complaints over day care centers are lodged with the state, and followed up through the state.
"We have proclaimed that we are a friendly city, and we've encouraged business to come here," Mayor Alice Baker, who had no vote in the matter, said, "and we have a lot of outdoor restaurants and entertainment. I think this would help the business." Her words had little impact.
"I think it's a shame. I'd like to see it reversed," Flagler Fish Company owner Chris Casper, who had to end the pet-friendly area on the patio outside, said. "I really don't see any negative to it."
Campbell doesn't think it's over. "I wouldn't consider it to be a dead deal," the acting city manager said. "I think it could still come back around, maybe we all become more comfortable with it."