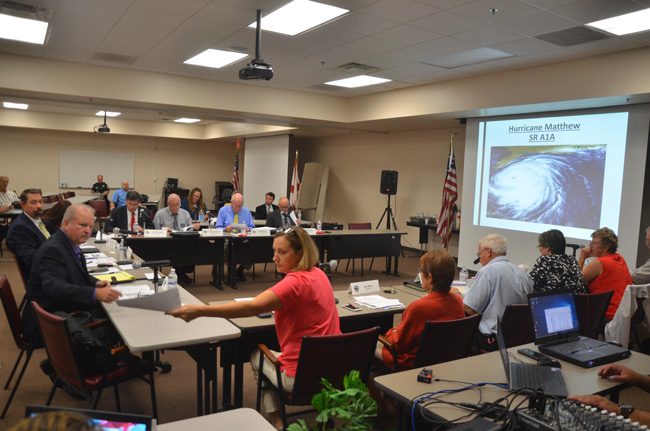 Joint meetings between different governments rarely live up to their billing as the best chance to get questions answered and get all sides working in unison. Today's joint meeting between the Flagler County Commission and the Flagler Beach City Commission on beach and road restoration in the city allowed the two sides to talk. It was cordial, often enlightening. But there were no eureka moments. Flagler Beach got little of the clarity it was looking for, other than what it had already heard before, and the certainty that. At least as far as the county is concerned, there won't be sea walls in the city proper.
Beyond that, the uncertainties pile up. City officials fear Flagler Beach's fate is less in their hands than in the county's or the state's. And some of what they did hear unsettled them more than it reassured them: sea walls are very much a possibility north of the city, which Flagler Beach officials consider potentially just as damaging to the health of their beaches.
When the meeting, by then nearly two hours old, was turned over to public comment, several men spoke of entirely different ways of addressing the issue other than sea walls or the plan to "renourish" he beach with dredged sand. There's probably a lot of options none of us is thinking of," one of the eight people who spoke said. But it's unlikely the county will consider novel approaches that have no state or federal sponsors–that is, money. But it also underscored the desire not only for a repaired beach but for a solution that won't be obliterated by the next big storm. That may have been hoping for more than either county or city officials could promise, or what state and federal officials could promise, had they been there.
Years before Hurricane Matthew struck, Flagler Beach and county government were gradually moving together toward a beach restoration project that would have dumped about 1 million cubic yards of dredged sand on 5.2 miles of Flagler Beach's shore. The plan was to counter the effects of years of erosion. It was devised by the U.S. Army Corps of Engineers, and Congress approved partial funding for the plan in December.
In the meantime, Hurricane Matthew struck, removing millions of cubic yards of sand from the length of Flagler County beaches, including Flagler Beach. It also partly demolished a 1.3-mile segment of State Road A1A.
The storm in some ways has concentrated state and federal attention on Flagler's coastline, accelerating funding and reconstruction plans, which should benefit the county in the long run. But the storm has also downgraded Flagler Beach's exclusive priority for beach "renourishment." Flagler Beach's shoreline is now just part of a much longer shoreline that needs help. And even though the city's beaches were in line for federal renourishment dollars, county government is seeking to stretch those dollars, and reconstruction plans, to restore as much as the county's beaches as possible. The county estimates it faces about $50 million to $60 million in beach reparation costs.
"We may be facing beach situations all the way up and down the coast," County Administrator Craig Coffey said.
Now Flagler Beach is worried that it'll be relegated to second-class status—that, as the county recalibrates beach restoration to a county-wide plan, Flagler Beach's restoration dollars will be diluted, as will the sort of renourishment originally planned for the city: already, for example, the county is examining various possibilities that would rebuild dunes and add sands to the county's beaches, but in smaller cubic-yard amounts, per foot of beach, than originally planned for Flagler Beach.
That worries the city, even as a plan to start rebuilding the beaches appears ready to get going, state and federal agencies willing (the county won't find out until February if federal money is available). Possibilities of sea walls further north worry the city. So does the fact that the way the county sees it, the pre-storm beach renourishment project was not really exclusive to Flagler Beach ("It was technically for the entire county," Coffey said), but was ultimately slated for 2.6 miles of city beaches. So does the fact that in the end, Flagler Beach can only voice opinions and desires. It cannot contribute money, at least not directly. So its political influence could be as constrained as its non-existent purse power.
Flagler Beach has already felt slighted by the county in the past few weeks, when the county held a meeting on beach renourishment but did not invite city officials, as Flagler Beach Mayor Linda Provencher saw it.
Today, the Flagler Beach City Commission met face to face for the first time with the county commission to press its case for a unified approach to beach restoration—and to convey to the county the resolution the city approved in a separate, special meeting this afternoon, asserting that its beach should not lose its priority as a tourist draw.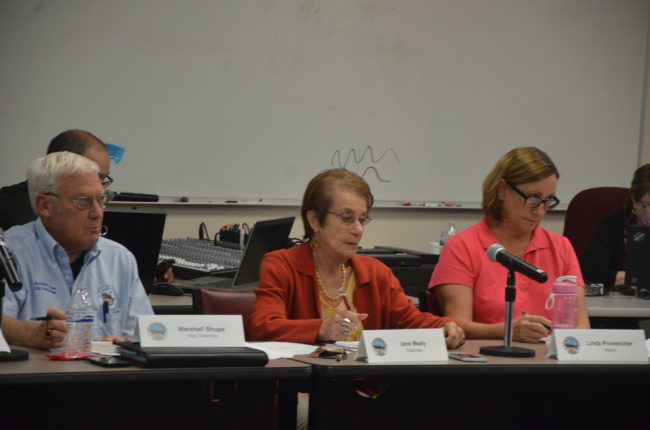 "To me this has already been deemed critically important by the Corps," Flagler Beach City Manager Larry Newsom said of the original Army Corps plan for Flagler Beach's shore. In that sense, he differed from Coffey's interpretation that the Corps' project can be shifted north. Rather, he finds it necessary to keep Flagler Beach's plan segmented out as a priority. "We kind of need to focus, potentially in my opinion of course, that we potentially separate that out."
The joint meeting provided an opportunity to express various concerns, ask questions and hear Coffey's explanation of possibilities (county commissioners hardly said a word). But the meeting, while restating updates the county discussed on its own, answered few to none of the questions most critical to the city.
"I am not in favor of the county serving as my sponsor for a project other than the Army Corps project," Commissioner Kim Carney said, summing up the gist of the resolution her commission approved earlier today. "I'm only looking for the county to be the Army Corps project."
The other matter the city wanted known without doubt was its opposition to a sea wall.
"I'm sensing like a wall is like, taboo or something here," Commission Chairman Nate McLaughlin told the city commissioners. He got nothing but agreement. But Provencher had to ask the county officials directly where they stood on sea walls. She and her colleagues had already heard moments earlier the possibility the county was considering: building sea walls in the unincorporated portions of the shore. County Engineer Faih al-Khatib, who was at the table today, favors sea walls. And Coffey was clear: "We haven't necessarily ruled that out," he said. "We have sections of our county that may have sea walls." He also said that the city's opposition to sea walls in the city would be immediately conveyed to the state, whose transportation department would then proceed with plans that would not include sea walls.
"To say no sea walls, up and down the coast in the county, I don't think you can say that," Coffey said. "I can't tell a homeowner sorry, you can't have a sea wall, let your house fall in. I can't do that."
But City Commissioners Joy McGrew and Jane Mealy said that while they don't want to stand in the way of homeowners saving their properties, they also don't want sea walls north of Flagler Beach affecting the city's beaches, "because they will," City Commission Chair Jane Mealy said. "What happens to the north of us affects us."
County commissioners, two of them in their second month on the job, did their best to avoid taking a position on sea walls, preferring to let the county administrator speak for them.
"It's really what you all wanted in Flagler Beach," McLaughlin said. "What the county is wanting to do is find out what you want."
The state Transportation Department favors sea walls. The U.S. Army Corps of Engineers is not only opposed to sea walls, but it states flatly that any plan of sea walls would mean the end of Corps involvement in renourishment. How close the state transportation department and the federal Corps of Engineers can work has been open to question, though Jim Boxold, the transportation department's chief, tried to answer that question in a letter today to county and Flagler Beach officials.
"Let me be clear," Boxold wrote. "FDOT continues to study all possible options for the permanent repair of A1A and no decision on a final alternative has been made. While FDOT has a responsibility to pursue a solution that provides the best chance for the long-term survivability of A1A, we are committed to working with all partners to do everything we can to ensure the project meets the expectations of the community, and balances the beach renourishment project."
What Boxold means by "balances" is unclear, though it suggests the dual approach of renourishing beaches and building seawalls, which DOT would bury under dunes, as presented among some of its six proposals to the local public last month. What's more clear are the "expectations of the community": no one wants sea walls in Flagler Beach.
Also, no one in Flagler Beach wants to see State Road A1A traffic shifted to interior avenues such as Central or Daytona. There was more immediate agreement on the urgency to get dune walk-overs fixed.
McLaughlin ended the meeting with as good a sum-up as had been spoken in the previous 135 minutes: "No surprises here." And Mealy asked for "more meetings like this," at least to keep the city in the loop.
The county, for its part, held a special meeting immediately after the workshop with the city and adopted a set of recommendations it will send state and federal officials that put solutions in the hands of sources with money: state and federal agencies, with county dollars as additions. The recommendations had been drafted ahead of today's meetings.
The six points, focused exlusively on the 6.25 miles of beaches in Flagler Beach–and therefore do not affect county policy or freedom to maneuver with different approaches north of the city–were as follows:
■ Above all else – robust, vegetated, Protective Dune Along A1A for entire 6.25 miles as most affordable and comprehensive solution for A1A, Property, Tourism, and Turtles.
■ Request Florida Department Of Transportation Funding Support on Ongoing Maintenance Plan of Protective Dunes through MOU similar to other Maintenance Activities.
■ Avoid negating any federal money eligibility and the federalized Army Corps of Engineers project/future protections.
■ Request FDOT/FHA to provide initial nonfederal match for the Army Corps of Engineers project $5,150,000 and provide the County with FDEP match for all other areas where A1A directly abuts the Ocean.
■ Request State FDOT and FDEP assistance federally with securing the ACOE project for the protection of A1A, the Community and the environment.
■ County will continue to be the local sponsor for the ACOE project and will serve as a local sponsor for the FDEP project areas outside of the Army Corps Projects for these areas.