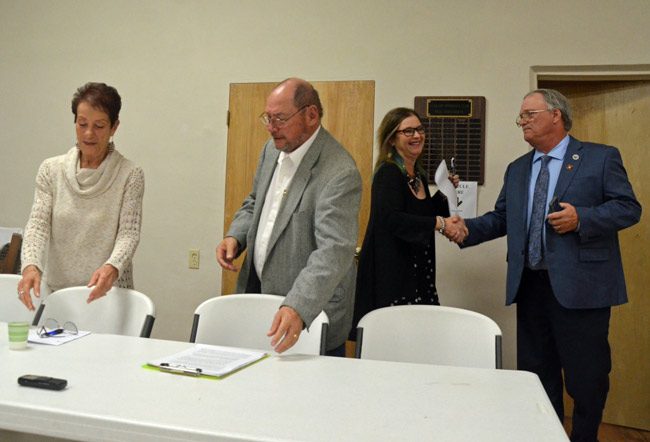 It's not uncommon for political candidates in local races to seem like carbon-copies of each other. Not so the four candidates running for two seats on the Flagler Beach City Commission, two of them incumbents, though only one of them has won elections before: Jane Mealy, who's uninterruptedly been winning elections to the commission since 2006.
The other incumbent is Rick Belhumeur, who was elected to the commission by default three years ago: the then -incumbent, Steve Settle, chose not to run, Belhumeur and Mealy were the only candidates for two seats, both won unopposed. The two other candidates in March's election for those same two seats are Paul Eik, who ran unsuccessfully one time before, and Deborah Phillips, in town less than two years and owner of The Pink Turtle Gift Shoppe in town.
Mealy is a retired educator who spent most of her career teaching in the Long Island, N.Y. neighborhood Amazon just bailed on. Belhumeur, long of Baltimore, followed in the footsteps of his late father, a Flagler Beach commissioner in the early 1990s and property owner. Eik moved to town in 2013 after working as a budget analyst in New Mexico state government. Phillips was a Chicago banker until she didn't want to be cold anymore and moved o Flagler Beach with her husband.
The four gathered Tuesday evening before a crowd of 100 people or so at the Flagler Woman's Club for a forum and an hour-long Q&A session, with all the questions posed by the audience by way of a moderator. The quartet sat along a white table facing the crowd, some clearly more comfortable than others, speaking in turns: it was not a debate, there was not much disagreement between the candidates, nor an attempt by any one of them to challenge another or question each other's statements or positions directly. The "I agree with…" were more common, though there were a few less direct differences.
The cordial atmosphere did not seem contrived, not even between Phillips and Belhumeur, who shook hands. They'd provided the only overt snippiness of the campaign in the 24 hours surrounding Phillip's decision to run weeks ago, a decision inspired by Belhumeur's reporting an irregular sign at her shop to code enforcement.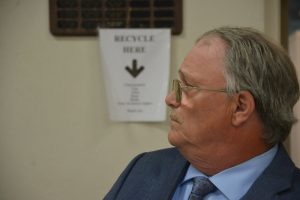 There were just seven questions in all, sandwiched between epic opening statements and shorter closing ones. Some of the questions were lss open-ended than others. Mealy and Belhumeur, to whom the question was posed, agreed, for example, that paid parking is more of a bad idea than a god one, with varying degrees of distaste for the idea. "I was disappointed, but we still have far to go," Mealy said of the latest parking study that may yet be discussed in a workshop. Belhumeur doesn't see paid parking solving a problem as much as creating one without generating revenue. "It just creates chaos," he said. "I just don't see it being worth all the trouble."
To even out the balance of questions directed at specific candidates, Phillips and Eik were asked about their experience in municipal work. Eik sat on the city's development board and a couple of other committees, Phillips took part in her neighborhood's civic life back in Illinois and said flat out: "Unfortunately I don't have a lot of experience" in municipal work, words Belhumeur three years ago and Mealy 13 years ago would have had to speak.
The group all agreed that Flagler Beach is lucky enough, for now, to be able to hold on to its grandfathered short-term rental ordinance, labored through the commission in 2008 and old enough to withstand legislative assaults from Tallahassee, try as Tallahassee might. The ordinance restricts short-term vacation rentals to the commercial zone in the city. Philips, however, said it'll be impossible to stop rentals through Airbnb, implying what everyone knows: that Airbnb and its likes have effectively circumvented traditional short-term rental ordinances. At the same time, those ordinances are generally not directed at owner-occupied properties that rent through Airbnb.
They also all agreed that raising the base flood-elevation of new construction is a good idea, likely to 7 feet, especially in light of devastating flooding in the city in 2016 and 2017. And they all agreed that sea walls are a bad idea–but there was no way to get around the buried sea wall the state Department of Transportation is planting at the north end of town. The question, in other words, allowed the candidates to have it both ways, just as the commission has, particularly since, in the end, the commission had little choice but to submit to the transportation department's plans.
DOT's alternative was to move State Road A1A to Central or Daytona Avenue–an eventuality that may not be far in the future, given the rise of sea levels in Florida, as the former secretary general of the United Nations warned in a New York Times column today: "Climate change is not a distant threat for Miami," he wrote, "it's a daily presence in people's lives. The city has been fighting to stay above water for decades. It knows that its future as a vibrant international hub for business, tourism, arts and culture depends on making the city more resilient to the impact of global warming." The same rhetoric is heard in Flagler Beach, minified to its rustic, small-town self. Miami's solution is to tax itself very heavily to finance flood-control projects. So far, Flagler Beach has not gone anywhere near that approach, relying instead on trickle-down revenue from the county's tourism tax, a portion of which is devoted to beach protection.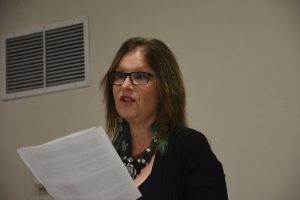 So when the subject turned to taxes, it was the only tangible one where the candidates differed a little. Eik was not clear, saying on one hand that a better educated electorate would better understand its budget, and therefore its taxes, which said nothing about whether he or they should support raising taxes. But he then added that on that score, he was reserving judgment should the choice come down to saving fire, police or garbage services.
True to most local property owners with more than a few properties, Belhumeur spoke of his general opposition to raising taxes, though that came off as serving Belhumeur's portfolio than Flagler Beach's welfare–the same welfare for which he goes to Tallahassee to beg for state tax revenue. He's voted against budgets before, to protest tax increases on top of utility rate increases, though likely knowing that the budgets had their needed majority to pass, making his stance more a matter of advertised principle than pragmatism.
Phillips punted on taxes, calling it "a tough question," and Mealy, who's raised her share of taxes over the years, took it head on: "We are a full service city, we provide everything except electricity," she said. That comes at a cost. Giving up fire or police services would not give Flagler Beach residents the personal services they like from ops and firefighters. "I don't like raising taxes but I will never pull a George Bush and say read my lips, because it's a foolish statement," Mealy said.
For all the general agreement on policy, there were still some sharp differences between the four candidates.
Eik and Phillips came off as the rookies they are–as most first-time candidates do, and all candidates were once first-timers–Phillips even more so than Eik: she's not so much as gone to more than a couple of city commission meetings, and it shows, though her sharpness is reminiscent of Mealy's–without the experience or, so far, evidence that she hungers for the commission job.
Eik could at least put to use grist from his regular attendance at city commission meetings, where he's a frequent ad-hoc analyst of issues of the hour. Still, he's not developed anything like a plank despite his familiarity with city issues or this being his second run beyond amiable generalities or, as he did regarding sea walls, urging residents and city officials to think of sea rises from a more comprehensive perspective. But he does not define what that means. It's like the sign on his golf cart he boasts about: "fair growth." There has yet to be a candidate running in the history of Flagler Beach or likely any city since Henry Potter's transformation of Bedford Falls into Pottersville who wants unfair growth. Beyond saying how Flagler Beach should involve its business owners in developing ideas about growth, Eik had little.
And Mealy gently, indirectly reminded him that the city's economic development task force–"my baby," as she called it–is exactly what. (The task force met today at 4 p.m.) But she did not need to make the point more directly. Mealy spoke as effortlessly as a long-time incumbent and a natural wonk would, though without pandering to any particular constituencies. Her voice can get a little rusty, but not the iron that produces it. She could toggle between budget, tax and policy issues with ease, and refer to last week's commission meeting as readily as she could a meeting years ago, all the while maintaining a familiar rapport with the audience. While friendly to business, she has limits. She remains adamantly opposed to expanding the business district or allowing short-term rentals anywhere beyond it.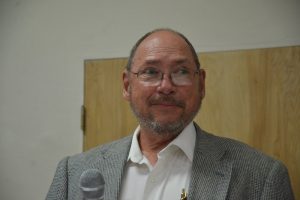 She is considering bringing back an ordinance that failed, that would raise minimum base-elevation heights of new houses to seven feet. Mealy had little patience for developers who had previously opposed that ordinance–the same developers, she said, who've come around to building to those heights after witnessing the flooding of 2016 and 2017. As a candidate in command of the commission's institutional history and its varied policy challenges over the years, she had no rivals Tuesday evening–and no one suggested, as is often the bane of long-time elected officials, that she's had her time. Unlike other candidates, who unabashedly shilled for votes, Mealy devoted her closing statement to making a plug for the city's upcoming Citizens' Academy, the eight-week free, weekly "course" that puts participants through the various stations of city government to give them a better idea of what makes the city tick. It was as if Mealy had forgotten she had an election to win, immersed as she's been in another one of her babies.
Belhumeur might outwork Mealy: he likes to be in everything, everywhere in the city, he's a frequent presence at county commission meetings, sits on the county's affordable housing board, owns close to a dozen properties in the county, maintains a close though not necessarily chummy working relationship with City Manager Larry Newsom, with whom he occasionally travels to Tallahassee. Belhumeur, however, was the least comfortable of the candidates at the forum, and the least polished: he's the quintessential non-politician, the likeliest to speak undiplomatically–he sees it as speaking truthfully–or to strain to make the sort of connections with audiences that may come more naturally to others. Charm or cheer are not Belhumeur specialties. He told the crowd he brings a blue-collar perspective to the board, "doesn't play politics," and read the quote by Denis Waitley, the motivational speaker: "There are two primary choices in life: to accept conditions as they exist or to accept the responsibility for changing them" He loves the responsibility and carries it out daily. But he doesn't know how to convey it in the age and manner of Facebook likes and smiley faces.
Flagler Beach holds its municipal election for two seats on March 5, the same day Bunnell and Beverly Beach do. The top two vote-getters in Flagler Beach will be seated.