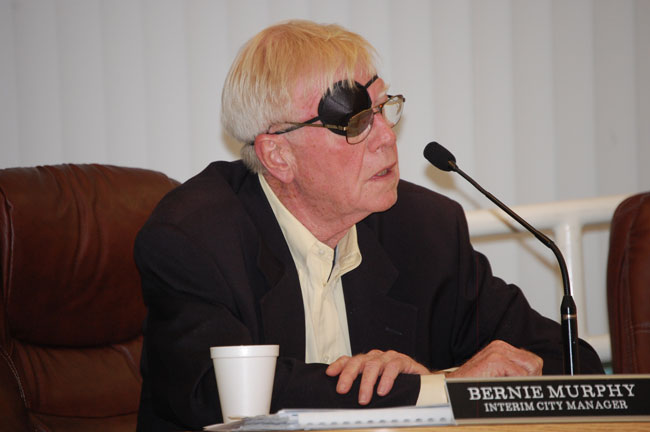 Bernie Murphy was hired on a 60- to 90-day contract to be Flagler Beach's temporary manager until the city had time to find a permanent replacement. That was almost four years ago–on Sept. 11, 2006.
Thursday evening, Murphy, 69, said he would quit on July 23, by which time he said his work on the next fiscal year's budget would be done. "I doubt if you'll disagree with my recommendations–cuts, if I could call them that." He's ordered his department heads to make 21 percent cuts before turning in their budgets to him. "This is not going to be a fun budget for anybody."
"I don't think it's fair to ask somebody to step into what's certain to be an unpleasant situation," Commission Chairman John Feind said, finding Murphy's explanation that his job as manager preparing the budget would be done by July. The rest, Murphy said, would be matters of policy for the board, not management for the administrator. None of the commissioners bought the argument.
Commissioners, who looked and sounded unprepared for the finality of Murphy's announcement, pleaded with him to extend his stay until October 1, the day when the new fiscal year actually begins. Murphy agreed.
"With a saddened heart, I guess we will accept your resignation for October 1," Commission Chairman John Feind said at 9:49 p.m., more than four hours into the commission's meeting.
"It's going to take us some time to find a city manager," Mayor Alice Baker said. "We're going to have to advertise, to interview, turn it over to the rangers, investigate, and everybody here is overloaded with work."
But it's not as if the commission didn't have its chance. Murphy was hired in his eighth job as city manager on an interim basis in Flagler Beach. Commissioners interviewed candidates. They didn't like what they saw and stuck with Murphy, hoping that tonight's announcement would somehow never materialize.
The "interim" part of Murphy's title, however, turned into an end-run around the city charter, which requires that the city manager live in the city. Murphy lives in Ormond Beach. The charter allows a short contract with an interim manager, but also a month-to-month arrangement with one who doesn't live in the city. The commissioners essentially had themselves a manager and used the "interim" tag, with his evident and lingering agreement, to patch over conflicts with the charter.
But Murphy was also, in commissioners' eyes, an effective, authoritative steward of the city's affairs. "Many of the things we accomplished came about because of your perseverance and your hard work," Feind told him. "I was never looking forward to this day. I'm sorry that it came. I'd have liked to see you stay for as long as you could."
Murphy, a native of Massachusetts, has been a city manager in seven places (and a deputy manager in an eighth), including four in Florida, all of them, he notes, coastal communities–Ormond Beach, Ponce Inlet, Sanibel and Flagler Beach. At 69, he has plans to do some part-time work in his fields of expertise, but he wasn't ready to reveal them. First, he's planning an October trip to Central and South America.