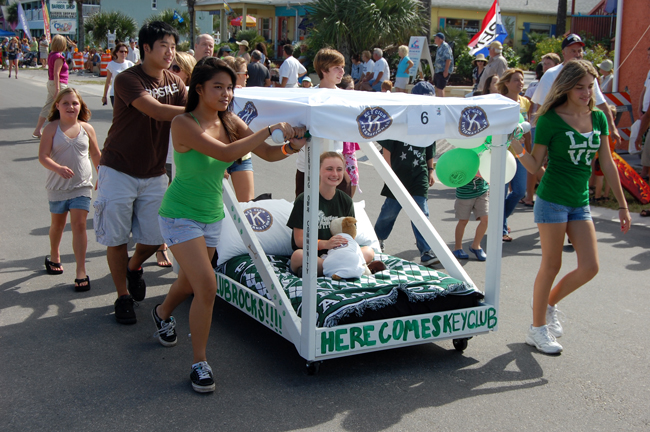 Flagler Beach's third annual Bed Race, scheduled for Saturday afternoon, has been postponed until Dec. 3 because of wind and rain expected here this weekend, Jean MacAllister, Flagler Volunteer Services' volunteer coordinator and one of the event's chief organizers, said.
The Great Bed Race will be paired on Dec, 3 with Flagler Beach's Holiday at the Beach, the city's Christmas parade–which will feature the beds as well.
Rain and wind would have played havoc with the race, which also involves a couple of obstacle courses, such as pitching goldfish crackers from a distance (into contestants' mouths) and firing water guns at ping pong balls (or something to that effect), also from a distance, all of which would be hampered by too much wind.
This year's race registered 17 beds, a record. The postponement means that those who were not able to register on time, and still want to, have two more months to get their beds ready. "They can still enter, yes," MacAllister said. "If they go to Flaglerfuncosastbedrace.org, they can get the registration forms. All the information is there." (See below also for the registration form.)
The Great bed Race is the volunteer services' fund-raiser for its I Can Read program for Flagler County youth and children. The Flagler Beach Rotary is also involved, raising money for the school district's homeless to homeward program (there are some 250 homeless school children in the county), and for the hungry. The Kiwanis Club raises money for their youth programs.
More details will post here soon.