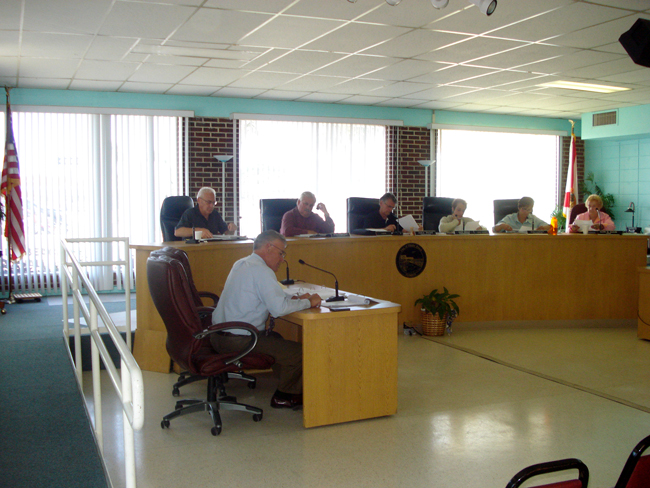 It's Flagler Beach's turn to figure out how to make up for property values' latest double-digit drop (17 percent as of January 1), which will cost the city almost $500,000 in revenue out of a $5 million general fund.
Tuesday afternoon, the city commission met to discuss its options. From a strictly fiscal perspective, those options aren't nearly as complicated as the political implications. The city has four choices. City Manager Bruce Campbell outlined them: raise taxes to make up the revenue. Cut services. Raid reserves. Or do a combination of all three. Commissioners didn't make decisions on Tuesday.
If the city were to raise the property tax to generate the same amount of revenue next year as it is generating this year—that is, to make up for the drop in values—that tax rate would have to go from $4.2 per $1,000 to $5.25, or roughly $100 for the average house—assuming that that house has not seen its value decline. The city is reluctant again to do what it did last year, which was to rely almost entirely on a property tax increase (22 percent last year) to balance the books.
The likely outcome is that combination approach, particularly since the city is sitting on a sizable general fund reserve approaching $3 million.
To put that in perspective: Flagler Beach's general-fund budget is six times smaller than Palm Coast's, but its reserve is larger by about $1 million. The reason: Flagler Beach city commissioners have been willing to raise property taxes in the past few years to make up for lost revenue, and expenses in the city have been relatively modest.
Five years ago Flagler Beach's property tax was $3 per $1,000 in taxable value. That means a $150,000 house with a $25,000 homestead exemption at the time was paying $375 in city taxes. In the intervening years, the property tax has risen to $4.2 per $1,000. That's not to say that that $150,000 house is now paying $525, for two reasons: if that house has followed housing-value trends, its value is likely closer to $100,000 or $110,000. The homestead exemption has also been doubled, to $50,000. That means the taxable value of that house has dwindled to $60,000. The tax bill this year: $252.
It is a misconception, in other words, that property owners have suffered a serious tax increase in the last several years, although long-time homesteaded property owners have felt a larger pinch than others—just as, during the boom years, those same homesteaded property owners had been shielded from the rapid rise on taxable values because of Florida's 3 percent cap on year-over-year increases in those values.
Take Flagler Beach City Commission Chairman John Feind's tax bill. He lives in a 2,000-square-foot house on Oceanshore Boulevard, a house he bought in 1987 for $173,200. In 2010, it had a market value of $276,000 (down from $385,000 the year before), but was assessed at $162,000, with a $50,000 homestead exemption, leaving it with a taxable value of $111,000. Feind's tax bill for Flagler Beach last year: $469, and $2,311 for all taxes, including county and school taxes.
In 2004, when Feind's house had an assessed value 20 percent higher, he was billed just $346 in Flagler Beach taxes, and $2,045 overall. It looks like he's had quite a tax increase over the years. Not so. Adjusted for inflation, Feind paid more in 2004–$2,434 in constant, 2011 dollars—than he did last year.
The preliminary taxable value this year on Feind's house has actually gone up to $166,000, bucking the trend in the rest of the city. So if taxes were raised in the city, Feind would feel the full effect. On the other hand, Jane Mealy's house was assessed at $198,000 last year. This year, it's assessed at $168,000, a 15 percent drop. Even if Flagler Beach were to raise taxes 15 percent, Mealy would not feel the effects of the increase. Mealy's case is more typical across Flagler Beach, where average property value losses are at 17 percent. (Keep that in mind when it comes time for commissioners to vote on next year's property tax.) Feind, in fact, was more agreeable to using reserves than raising taxes.
Campbell, the acting city manager, set a goal for his department heads to find 10 percent in cost reductions, while Commissioner Steve Settle proposed that department heads find 5 top 7 percent in cuts, with the commission being responsible for finding 5 to 7 percent in new revenue. One idea not heard before, which Campbell conveyed: cutting back on night-time police coverage by contracting with the sheriff's office to cover that shift. That idea didn't get much support.