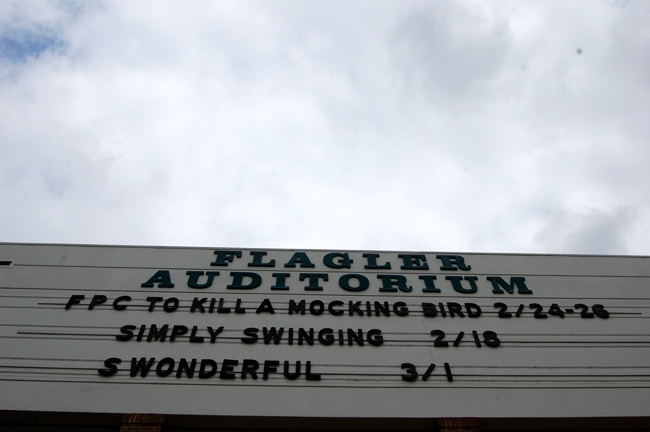 Last summer it was a matter of logos and other wording the Flagler Auditorium did not include in its advertising, and application requirements it did not follow. Last month it was an application deadline. The two mistakes cost the auditorium $20,000 in subsidies from the Tourist Development Council, though the auditorium is hoping to salvage $5,000 through another request to cover advertising for the rest of this season. That's not likely to be successful, given the calendar's deadlines.
The council didn't want to turn down the auditorium. None of its members is opposed to funding it. But those same members worked hard to strengthen their grant application process to ensure fairness and accountability. "There was a tremendous amount of time put into trying to look at different ways to get the policy met," Milissa Holland, who chairs the council, said this week, including meetings and emails. Guidelines were still not followed.
"This hit is probably going to hit me for two years in a row," Lisa McDevitt, the auditorium director, said. "It's nobody's fault but mine, but being one person, trying to do everything, you can only do so much."
McDevitt appeared before the council last week to ask for some concessions on the lost funding. Can we possibly look at maybe giving us those television dollars or reconsidering the rules for that?" she asked.
The council didn't go for it, having by then been privy to the efforts behind the scene to get matters worked out. "It is written it is signed, it is a contract between us, and if we make exceptions right now, that's a precedent I don't think we event want to go," council member Linda Mitchell said.
"The auditorium is a key component in our community and we need it to be successful, so in the future we need to work closely so we don't have this snafu again," Bob DeVore, another council member, said, "because I plan to continue to support it and we should continue to support it. Hopefully we'll work it out. We've got new rules, but rules are rules, unfortunately."
The auditorium has a $70,000 marketing budget out of a total budget of more than half a million dollars. It applied for, and was granted, $10,000 last year. The money was to be reimbursed last fall. It wasn't, because the Tourist Development Council's logo did not appear on a television commercial the auditorium cut. The logo appears on virtually every other piece of marketing the auditorium produces. That didn't matter. A 15 percent hit on the auditorium's marketing budget is a serious loss, though it coincides with a season that has seen three shows sold out, and out-of-county ticket-buyers increase from 31 percent last year to 38 percent this year, just five months into the season. For all that, the council is not bending.
"In your guidelines it does specifically say print and digital, TV radio, digital, same thing," Peggy Heiser, the council's lead administrator, said. "Could we be a little clearer, maybe that's a conversation the council needs to have about that, but the reasoning for that is so that we can push them to our web site and order a free vacation guide. The council is interested in driving overnight stays. Of course her focus is to get them into the auditorium," Heiser said, referring to McDevitt, "so the money that she's utilizing to advertise the auditorium, to request that we are recognizing that and our initiative is to drive overnight stays to drive them to our website, in my opinion is not too much."
The application for another $10,000 grant is due in late March. But the deadline for a required meeting with Heiser to qualify for the grant fell on the same day that the first of two shows by the Ten Tenors at the auditorium was postponed because of severe weather and a leak on the auditorium stage. Richard Hamilton, president of the auditorium's board of directors, says he had a meeting with Heiser previously, which should count as fulfilling the requirement.
"Richard had met with me," Heiser said, "but it was not to discuss reapplying for a grant."
Hamilton will go before the council to ask for the money in spring. "It's too early to say it's lost," Hamilton said.
But a look at the calendar and the council's rules, it means that as far as the current year is concerned, the money is lost. The auditorium may not apply for a grant to cover advertising already produced. So it cannot retroactively apply new money to this season's marketing. To qualify for a grant in the council's next cycle, the auditorium would have to meet with Heiser by April 29. The application would have to be filed by June 29, It would go before the council on July 20. It would have to win approval from the County Commission, likely in early September. By then the auditorium would be heading into its next season.
"The auditorium is going to continue to do its mission, it's going to continue to target people out of county to get into Flagler County, it's going to continue to put heads in beds" and celebrate its 20th anniversary next year, McDevitt said. (The auditorium opened its doors on Nov. 2, 1991.) "The bottom line is we want to be their partners. It was a lesson learned."