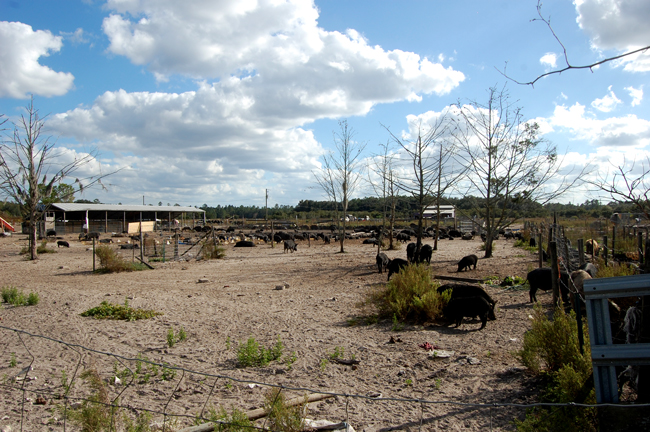 Note: The Flagler County Commission has scheduled a public meeting to discuss the animal ordinance on Friday, Oct. 7, at 1:30 p.m. in the large meeting room of the Emergency Operations Center, behind the Government Services Building in Bunnell. The meeting is open to the public, and of course the public is encouraged to participate, as the meeting is designed to solicit and hear public concerns about the ordinance.

For several years, Flagler County's government dueled with Lory Yazurlo's Pig Tales Sanctuary in the western part of the county, a large spread where she cared for 400 to 800 pigs to the displeasure of neighbors, who complained of smells and errant pigs. Last November, on what still appears to be an unproven pretext, county and state authorities hurriedly approved gassing all pigs there on the suspicion that some of the animals may have carried a disease infectious to humans. The pigs were gassed and cremated. There was outrage, though in diminishing levels the closer you got to the property, and the county. The property has been idle since.
The county hasn't. It's written an ordinance that would regulate animal shelters and sanctuaries in Flagler's agriculture zones, setting up what some residents of western Flagler see as a legal contradiction: they say they live there because they don't want to be regulated by city or urban ordinances. Now the county is proposing to impose just such an ordinance, negating the sense of freedom they're seeking, and setting up a precedent for other similarly restrictive regulations down the line. (See the complete proposed ordinance below.)
"These shelters provide a service for the taxpayers," Pat Millens, a resident of County Road 304, said. In the county's rural areas, she said, "we generally have open space between residences. We provide care for whatever, in my case, horses, and they are my horses. I don't like regulations being put on me or anyone else in the county. We are independent people. We can handle our responsibilities, and I think it's overkill."
Nine people addressed the commission during a second and what was to be the final reading of the ordinance Monday. They were all opposed to the proposed ordinance, and some belied a statement the county administration had included in its background material for commissioners—that opponents "are primarily individuals involved with domestic animal-type sanctuaries who are concerned about the restrictions of the ordinance." Opposition extends beyond sanctuary keepers.
"It's pretty obvious that you're about to, as I said in one, kick over a hornet's nest, and you don't want to do that," said Jane Culpepper, a Palm Coast resident who's served on many environmental councils in Palm Coast, Flagler and Volusia. She was referring to an email she'd sent commissioners. "It hasn't been good. As long as I've been here, I have hoped for some good, humane control of the unwanted animals here, and it's like the economy. It just finally bubbled up, and now it has burst. And please table this today. Don't do anything hastily, invite the people in that are giving their life. Some of them, this is their lifestyle. These animals are our family. And give them a chance to have input. It's not like you to just pull something out of the corners and the closets and put it up there and say, OK, everybody in the county's got to use this. So please, let's do it right instead of penning something down that's going to cause more dissention longer. Thank you so much for being concerned, and I certainly agree: we should be an animal-friendly county, and there are a lot of things to turn around, especially in Palm Coast. I think Palm Coast has pretty much lost its heart, and it's about time for some of the elected people to listen to the residents."
That's what commissioners finally decided. "This one to me shouts for a workshop," Commissioner George Hanns said.
Commissioners tabled the proposed ordinance. They'll take up the matter again on Nov. 7. In the meantime, the administration will hold meetings with animal advocates and the commission will hold a public workshop or a hearing, enabling longer discussions on what should and shouldn't be in the ordinance. There was some lack o clarity about what precise outcome would finally reach commissioners' desks by Nov. 7, though Craig Coffey, the county administrator, attempted to sum it up this way: "Staff was essentially hoping to meet with a group of individuals, if they want to call themselves representatives from Second Chance and the Humane Society and you can gather some of these folks together, Curley's, and sit down and try to pound out the things that didn't make sense in this ordinance and try and come back to you with a modified, like I said, domestic type ordinance."
The ordinance is very restrictive under any reading. It applies to any animal sanctuary or shelter "where one or more domestic/nondomestic animals" are kept for rehabilitation or care, other than on active farming operations.
A facility has to be a minimum of five acre, and may be required to be larger if the facility has animals that weigh 100 pounds of more—horses or mules, for example. One resident called the requirement more stringent than for some of Disney's animals. No more than 50 animals may be kept, and only as long as the animals weigh less than 30 pounds. No more than 25 animals may be kept if they weigh more than 30 pounds. The ordinance doesn't have a cut-off at the lower end of the scale, so much smaller animals—cats, gerbils, parakeets, ferrets, ducks, turkeys, chickens—all appear covered by the restriction, unless the animals are younger than 6 months. Exceptions would only be allowable through a supermajority vote of the county's planning board. "A detailed animal containment plan shall be provided for each and every animal species," as would a written emergency plan in case animals get ornery or diseased or must be evacuated, as would a feeding plan, an insurance plan and a financial feasibility plan, plus an annual report, the ordinance states. Noise reduction, setbacks, hours of operation (from dawn to dusk) are all regulated, and the facilities must be compatible with the Americans with Disabilities Act. At any point county authorities, whether inspectors or police, may enter the facility "to determine compliance."
Holland suggested that Flagler could take its cues from Orange County, where a check list-type approach applies with a lighter hand on animal shelters and sanctuaries. The places must provide proof of sterilization, records of medical treatment, show that animals have adequate food, water, ventilation, and are maintained in a safe environment, but government's micromanagement is absent. "I do think we're kind of missing the bigger picture, which is the ultimate care of the animals that are in these facilities," Holland said. "I think it's one thing to look at the facilities and the size and the location where we permit those, but I also think, looking at the overall care of the animals, certainly that's what came to my mind with this issue that we did have to deal with, and I agree. I don't think we should put everybody under the same umbrella just because there was a circumstance that was severe."
Commissioner Barbara Revels described herself as "torn" over the proposal. "I know that most of the speakers that are here and most of the contacts that we commissioners have received about this have come from people who really, really care for their animals, and care for others' animals, and probably all do it right," Revels said. "And would not ever try to offend a neighbor or anyone." She recalled growing up in the western part of the county on 10 acres with her own piece of heaven. "However, I also have come from a lifelong profession in real estate where I have seen the effects of people that are breeding animals on property without proper right to do so, that has ruined the property value of the neighbor next door through noise or odor, so this affects a lot of people on both sides of that fence. We've got to do something." This particular ordinance may not be the answer, Revels said, "but we've got to start somewhere. I know that staff's opinion with a lot of research, a lot of work, is that they wanted to get something in place, and then we can tweak it. Maybe that's the wrong approach, maybe we need to tweak it first and then get it in place."