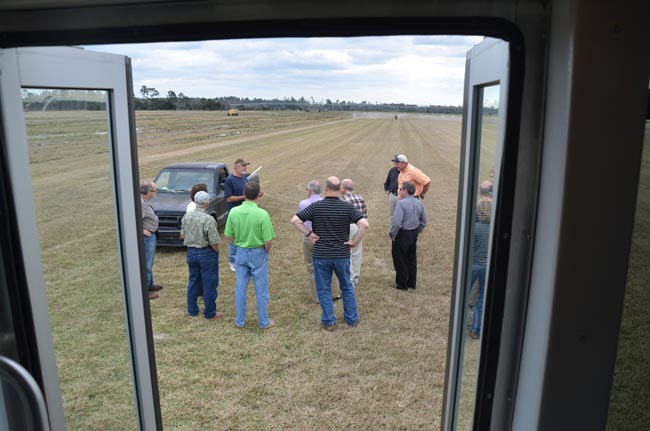 Flagler County's jobs council went on a field trip today—the latest in a series designed to educate its members about the county's economy—through western Flagler, for a first-hand look at the second-largest economic engine locally: agriculture.
"I hope everyone here is aware what an agricultural person has to go through," fifth-generation cowboy Chuck Cowart at the Charles Cowart Ranch, a 500-cattle operation, told the group as soon as it arrived. Cowart wryly described himself as the boss of some 500 employees (his heads of cattle), his truck and land as his 24-hour office, and his acreage as his gated community.
"If you've ever heard of a cracker, you'll now have the opportunity to meet one," the bus tour's guide, Mark Warren, an agriculture extension agent with the University of Florida, had told the members of the council by way of introduction to Cowart.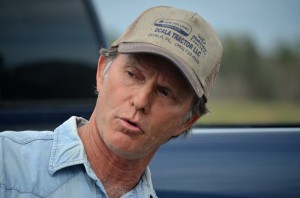 "Y'all come visit me at my office any time. I'm here 24/7, on call," Cowart said. "Next time you go the store, remember your agriculture people." Cowart's point: the food doesn't appear on dinner tables by magic, but by what has become one of the least visible, least understood of the nation's most essential industries.
The tour took in five farming operations to highlight the diversity and importance of Flagler's agriculture: it's a dominant force nationally in a cabbage production, and an important player in potato, sod farming, cattle and silviculture. There are some 100 farms in the county (out of 47,500 in the state), tending 68,000 acres in production.
The first stop was at Clegg Sod Farm Inc., owned by David and Wanda Clegg. Wanda is a member of the council—its only representative from western Flagler County. "Our two worst enemies right now is fertilizer and diesel fuel," David Clegg told the members of the council as they huddled, crescent-shaped, around the farmer while he briefed them on the 426-acre operation's sod, hay and cattle production (280 heads). In the near distance, an enormous linear irrigation system was slowly drenching the field, parched-brown by weeks of dry weather, and illustrating Clegg's point: it costs $500 to $600 in diesel (at $4 a gallon) to pump half to three quarter of an inch of water on 40 acres.
Cowart was next, with a quick lesson in the art and science of raising calves to cattle to edible beef—with calves valued at $500 to $600 and a head of cattle at $1,000.
Council members were especially impressed with the cabbage operation at Hollar & Greene Produce Co., which, between its Flagler and North Carolina operations, accounts for 35 percent of the cabbage marketed nationwide. The operation in Flagler is a bustle of packaging and shipping—for very thin margins: the shipping box alone, the plant manager said, could run from $1.75 to $2.50, and the box's total wholesale price could fetch around $6, less than a third of its retail value, where stores like Publix and Walmart charge the equivalent of $20 a box. But that also includes the cost of transportation. The plant's power bill alone, because of the cooling system to get the "field heat" out of the cabbage, runs from $7,000 to $12,0-00 a month. The plant's high season is ahead: "St. Patrick's Day is the Christmas of cabbage," Dwayne Weeks, the manager, said.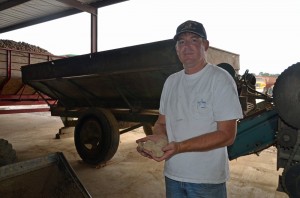 Matt Seay's 610-acre potato operation was equally impressive: Each acre, planted in early January at a cost of $3,000 (per acre), will produce about 30,000 pounds of potatoes in 90 days, all shipped for processing into potato chips, the kind of agricultural product Americans never tire of. "I sell 90 percent of my potatoes before I ever plant them" Seay said, surrounded by trailers full of potato seed. The recent freeze though showed to what extent farmers are at the mercy of nature's vagaries: the potatoes had just started sprouting leaves. Leaving them exposed to the freeze would have killed them. Every row had to be covered in dirt—and, yesterday and today, uncovered again. A few rows that had not been covered showed the result: brown leaves. (And how do farmers keep their rows so perfectly straight? GPS.)
The afternoon ended at Brachter Farms's produce shop, where several members of the council loaded up, naturally, on local produce.
"It's really important for our council members to realize that the breath of our agricultural community and how it's not just, in a lot of cases, small, family farms, it's a business, it's a big agribusiness, it means a lot of money to this county," Barbara Revels, who chairs the council, said at the end of the tour. "And also so they could see the ability of how we could do linkages to other industries that would even feed the agriculture, or the agricultural to feed the other industries. We've got some real creative thinkers who could come up with those possibilities."
"What I saw out there today was the heart and soul of Flagler County," Frank Zedar, a member of the county, said. "Most people think of Flagler County and they think of Palm Coast, because of its fastest-growing-status for a couple of years and all of that. But what we saw today is the vast majority of the land, and the heart and soul of the people that started this whole place. If we can help them with ideas from other industries to support what they do, find them places to sell their produce, find suppliers for their needs, for seed, and for fertilizer and for equipment, producing plants and shipping avenues, then it could be a tremendous boon to the county. Everything starts with brainstorming. Everybody here today probably has idea cultivation going on right now in their own head from what they saw. What that takes is once Helga gets here and we have our first retreat, we start germinating those ideas."
Helga van Eckert is the new executive director of the county's economic development department.
Revels gave an example of innovative thinking: "We had a company come here from Australia who made beauty products and they would have had us grow certain products to make the beauty products from," she said. (The company chose to go to Naples in the end, because Palm Coast was not willing to risk as much incentives as the company, starting up its first American operation, was seeking). "So we're talking about taking our agricultural community to another level, something that maybe could grow year-round, or maybe you'd be putting up hydroponics or something like that. Something they're not doing right now. I think they probably know and have researched the best places to get their boxes or their seed, but still in fact if we had somebody come here who said, you've got a pulpwood factory in Palatka producing paper, and we've got a new idea to incubate on how to create a box without wax and we could build it here, we could sell every one of our boxes right here: those kinds of things, something that we could birth new."
The council earlier had listened to a presentation by Jerry Mallot, president of Jax USA Partnership, formerly known as Cornerstone. That's a regional private-public economic development partnership that represents seven counties, their governments, and some 165 private-sector member companies scattered throughout. The agency's mission is similar to that of the old Enterprise Flagler—to prospect for companies and bring high-paying jobs. It does so on a regional basis, feeding leads to more loal agencies. Flagler County's membership costs it $22,500 a year. The membership fee was previously paid by Enterprise Flagler (which, in turn, was mostly funded by Palm Coast and the county government). The county has picked up that cost.
Like Enterprise Flagler's record over the past 10 years, Cornerstone's is not stellar, and in Flagler County, it's virtually non-existent: what few jobs Enterprise Flagler created—or, more often, claimed to preserve—were the result of local efforts rather than culminations of leads fed through Cornerstone-Jax USA. The organization changed its name to Jax USA to have a clearer imprint in the global marketplace, Mallot told the council. But the agency's dearth of successes also argued for a name change. The $22,500 membership fee is due in May.
Jax USA's goal, Mallot said, is to increase per-capita wealth and go after high-wage jobs, not retail or service related jobs. Those will happen anyway. "We're primarily after projects that we have to compete for with other cities, counties, states or even countries in some cases," he said, summing up the way Jax USA and its 22 employees do their work.
Council members were curious about what drove companies elsewhere to choose one particular place over another when choosing a new site. "It might well be driven by an available building," Mallot said. Not having a facility that could attract a company "is a drawback, it's a pretty good drawback." Enterprise Flagler floated a proposal two years ago to raise property taxes and generate money to build such "spec" buildings, as bait for new companies. But the proposal foundered as the county's various interests—Palm Coast on one side, the county on the other, businesses in between—could not agree either on a spec-building approach or a unified economic development strategy.
County government is itself divided over the build-it-and-they'll-come approach, with Barbara Revels, who now chairs the jobs council and the county commission, and Craig Coffey, the county administrator, supporting it, but others, such as commissioners Milissa Holland and Alan Peterson, opposed. It's not yet clear where the jobs council or its new executive director fall on the matter.