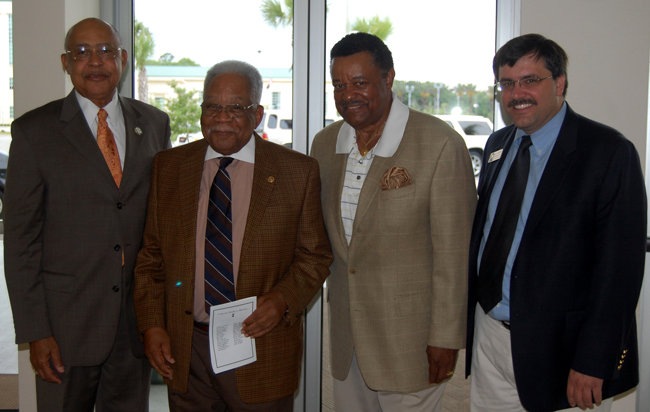 Three years ago Jim Guines, the former Flagler County School Board member, proposed to Superintendent Bill Delbrugge setting up a mentoring program for black boys. Men in the community who know something about responsibility (educators, businessmen, cops and others) would be paired with students who were not doing well in school, students with disciplinary issues, students from single-parent homes with no men as role models.
---
Jim Guines on Founding the Mentoring Program–and Being mentored[media id=49 width=250 height=100]
They would be mentored, seriously and persistently. It wouldn't be about taking the boys to ballgames and having ice cream once in a while, though that could happen too. It would be about getting serious: learning right choices, developing a sense of ethics and personal discipline, or as Calvin Grant put it tonight, not playing the victim to one's environment, but taking charge of it.
Delbrugge, Flagler County's first black superintendent (he calls Guines "my pops"), went for it, as he's done with any idea that has a chance of improving students' success. That success was on display tonight at the Government Services Building in Bunnell, where the school board has its home. The program, now headed by John Winston, held its end-of-year banquet to celebrate 54 boys' achievements and honor the 30 mentors who've guided them along. (See a list of the mentors in the first table below, and a list of the mentored students who received awards, in the second table.)
---
Bill Delbrugge's Welcome[media id=48 width=250 height=100]
"One thing I have found out in dealing with young people: they don't really care about what we as adults think. They want to know whether we care. And that means everything. And if we care, then we can give the very best that we have," Winston said, closing the evening. "I can't thank you enough for Bill Delbrugge who's leaving us. He has been on that hill that I look for every time I've tried to make something happen, and I say, how are we going to do this, and he's always been there. He's been our lifeline, he's been our support, and I want to wish him well as he leaves the United States to go and build schools of excellence in another corner of the world. I know that he can and I know that he will."
Referring to the new superintendent, Winston added: "Janet Valentine now takes over, and Janet, I'm going to be knowing on your door, constantly and deliberately, because one thing we've found, Janet and Bill, the mentorship programs wherever they apply have worked over and over and over again. They're taking young men out of jails and out of despair and out of heartache and pain all over this world. This group of young men you see here, on fair testing, from the time we got them until now, have exceeded by 26 percent. You can't tell me that's failure. On fair testing, they've done quite well, but we have much more work ahead."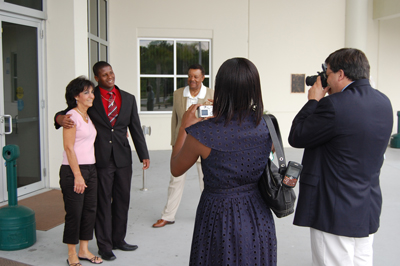 Here's how Rashawn Burks, a 17-year-old at Flagler Palm Coast High School and one of the stars of the evening, described his involvement in the program: "It means a lot because it helps a lot of people based on, like me, because a lot of people don't get this kind of help. It's encouragement. A lot of us—I'm in a foster home, and it's like, life is discouraging at times, and they build you up, and they work you. They work you. The only thing they expect is your best."
Earlier, Calvin Grant, the keynote speaker, still in uniform from his job as a school deputy with the Flagler County Sheriff's Office, talked of his own experience growing up poor in northern Florida, going to school at Flagler High School when whites didn't want blacks there, of a brother and friends running afoul of the law, and of what he described his 90-10 formula: "10 percent of things you cannot control." But the rest is up to one's own decisions.
---
Calvin Grant's Keynote Speech[media id=47 width=250 height=100]
Without couching his words in niceties or euphemisms, he told his audience, mentors and mentored alike, he said: "I stayed humble, followed all the rules, dealt with racism, because all I needed my teachers for at that time? Where to sit, what chapter are we on, and what's my homework assignment. After doing all those things the right way, I go away to the military for 20 long years, and I vowed that I hate the soil where every tree grows on in Flagler County. I said if I made it out of Flagler County, I would never return. After getting married and raising my family it's ironic that all four of my children have graduated from Flagler Palm Coast High School."
His classmates, Grant said, had "sold drugs, beat up people, dropped out in 10th, 11th grade." And now he was, as fate would have it, back in Flagler County, despite his earlier vows, looking for work. "The same people that I would have offended was now in charge. I was able, after returning after 20 years, walk right in, got here on a Wednesday, was working on a Monday. The people that did all those other things are still unemployed. Your resume is at the school you attend. Your resume is at the community you live in."
Delbrugge had introduced Grant by saying that "He lives up to the important thing, and that is, humankind: it's not two separate words. It's one for a reason. You have to have both." Grant showed it in his words and his insistence to the boys in front of him that "you must have self discipline. I live for the day that they put that definition on your FCAT testing. Simply because self-discipline is the ability to do what's right when no one else is looking."
The chamber where the School Board, the County Commission and the Bunnell City Commission, among other boards, have their meetings, was about two-thirds full with mentors, mentored boys and some of their parents. Winston, after spending 30 minutes handing out recognitions and awards to the men and boys, personalizing every award from a seemingly bottomless well of memories and individual touches, had strong words of his own: "I just want to say this before we leave: I'm upset, to be very frank with you, that not enough parents decided to be here tonight. We work very hard at trying to help these young men. To turn them around. To get into their heads and make them know there's a better way for you. School is about education, and if you're not in the business of education, you have no business in school."
It was then that briefly shifted gears, thanked Delbrugge and told Valentine of his coming knocks at her door, before returning to his disappointment: "You parents, please, talk to the other parents. We need you. You're our backbone. We can't do it without you. Look in this room. There's less than a handful of you here. There's something seriously wrong with that. I won't give up on that. There's going to be a change and we're going to demand that we work with the parents from now on."


The Mentors
| | | |
| --- | --- | --- |
| Willard Anderson | Raymond Houston | Sam Rivers |
| Ray Boylan | Damien Johnson | Mike Robinson |
| Terrence Culver | Ralph Lightfoot | Walter Sarden |
| Robert Dumas | Joe Matthews | William Seeney |
| Marc Dwyer | Arthur McLaurin | Stacy Simpson |
| Anthony Felton | Sam Merrill | Keith Smith |
| Bob Gary | Holsey Moorman | Chester Traham |
| Calvin Grant | Andrea Parham | David Vigo |
| Jim Griffin | Adolphe Parker | John Winston |
| Allen Harrell | Hervin Rattray | John Wright |

Award Recipients
Flagler Palm Coast High School
Antuan Barbero
Erno David
Terrance Louis
DeShawn Barbero
Ferrell Furgerson
Shaquille Lynch
Jimmie Belle
Willie Gardner
Marvin Masse
Marc Bradbury
Sh'kai Herbert
Kelechi Needham
Isaiah Brown
Julious Jackson
Shakir Terry
Rashawn Burkes
Chris Kellam
Dequan Williams
Immanuel DesRiviere
Kentrail Kenner
Joas Louis-Charles
Jerry Lee
Matanzas High School
Quacy Beerom
Aaron Flemmings
Clayvon Poteat
Gerald Bentley
James Habersham
Matthew Richards
Hakeem Brooks
Tyrique Harper
Tyler Swire
Tyshon Brown
Robert D. Johnson
Tibyras Santana
Carlos Carlo
Marquese Jones
Richard Duckworth
Jazzpen Leonard
Pathways
Jaron Robinson
Buddy Taylor Middle School
Santiago Denova
Alred Shavers
Elijah Hancock
Chauncey McCray
David Bascoe
Deonta Pittman
Eric Felder
Xavier Jenkins
Daiquan Smith
Arlis Blount
Ernest Hart
Indian Trails Middle School
Kyron Battle
Kristopher McCall
Damon Smith
Anthony Denson
Imari Oxendine
Tyrone Walker
D"Shawn Hosang
Johathan Oxendine
Daniel Wright
Belle Terre Elementary
Isaiah Cunningham
Michael Lawrence
Joshua Ortiz
Bunnell Elementary
Corey Vandyke