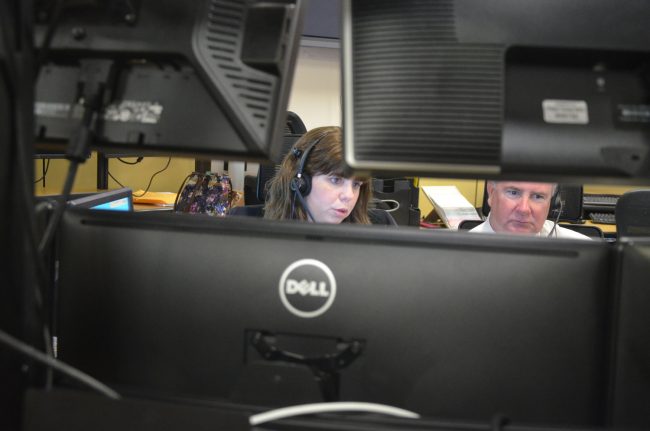 "Flagler County 911, where is your emergency?" It's the voice of Josie Gammon, an 11-year veteran of the county's 911 dispatch center, taking a call from an older woman on Esperanto Drive in Palm Coast.
Not 10 minutes earlier, Gammon had taken a call from a woman on Flinstone Court who had found her 67-year-old husband unresponsive in the bathroom: paramedics would pronounce him dead moments later. Gammon had no time to cope as she took the call from the 74-year-old woman on Esperanto. Gammon was in charge of the fire rescue station at the 911 center. All medical emergency calls went to her.
"Yes, I have my husband," the woman said, breathless on the phone, "with a shotgun, that he is going to kill himself."
"Does he have the gun in his possession?" Gammon asks.
"He's got the gun in his hands and it is loaded," she replies. She explains that he's never done this before, but he was diagnosed with Alzheimer's less than a year before, and that morning he said he was not going to live like that anymore. "He said he was going to commit suicide."
"Where is he now?"
"He just walked out on the back porch. He said he's going to do it. He's going to do it. He's just never been sick before."
Gammon tells the woman to stay on the phone in case he goes anywhere else. "Oh no, he won't go anywhere," she says 59 seconds into the call, describing a fenced-in and locked back yard.
Then a gunshot.
"Oh, God!"
"Did he just shoot himself?" Gammon asks.
"That was a shot!"
"Did he just shoot himself?"
"I can't see." The woman can't walk fast: she's a cancer survivor with various health issues. She uses a walker. Gammon asks her to check.
---
The 911 Call[media id=419 width=300 height=200]
"Don't put yourself in danger but I want to know if you see him," Gammon says.
Thirty-six seconds later, the woman sees her husband: he's shot himself in the face. He's still alive. Paramedics are on the way. "Stay on the phone with me," Gammon tells her.
"He's breathing, but he looks like he's convulsing," the woman says. Gammon is concerned about the shotgun, asking her where it is as 911 dispatchers must to do ensure that others aren't harmed, so cops and paramedics can move in safely. The woman is doing what she can to keep her composure and answer questions. She can't see the gun, but she can see her husband. She begs for the paramedics, she decides to open the front door wide. "I just can't believe he's done this. Oh, my God in heaven."
"I know, I know," Gammon says, her voice a mixture of assertiveness and understanding, now needing to combine factual questions with sympathy as she herself must keep it together. It's not an issue. She's been there before. She's not on automatic pilot—her voice is not unemotional—but she's in command of herself and the situation, at least at her end. It's what the better 911 dispatchers are able to do.
Gammon will stay with the woman for six and a half minutes until deputies and paramedics arrive. She'll ask her about her husband's condition, gathering information she's relaying in real time to paramedics on their way, asking again about the gun, hearing the woman refer to "that death rattle," then speak of the couple's small poodle who wants to be near her 78-year-old husband. Gammon learns about the man's recent struggles, his decision to end it: "He said he's not going to live like this," his wife says. The words are not uncommon among people in the early stages of dementia, when they still have a measure of control and they jarringly conscious of the abyss swallowing them by the day. She had tried to dissuade him. "I've been fighting for my life for nine years, I had cancer, he helped me pull through it."
Just then a deputy arrived. The man would be taken to Florida Hospital Flagler, where he was pronounced dead at noon, though Gammon, by instinct or experience, already knew the outcome.
Gammon ended the call, took a brief break, cried, returned to her desk, and resumed her 12-hour shift.
This happened on Wednesday morning. It was the same day Sheriff Rick Staly had decided to spend four hours at the 911 dispatch center as if he were a trainee on his first day there. He wanted to mark his 100th day in office by also doing something meaningful for National Public Safety Telecommunications Week, observing the 911 dispatch staff first-hand. He had been Gammon's trainee, and had listened in on both calls involving deaths.
There had been the inevitable frivolous calls that morning too, like the person who called 911 to report that a turtle was laying eggs in the yard, a lot of people calling with general questions, like the one from a man who was arrested for drunk driving the previous evening who was now looking for his car, or even two calls about illegal parking—calls that should really be placed on the non-emergency number. "You get a lot of that," Staly said. That's not what he was there for.
---
"These are the invisible heroes in our community."
---
"These are very hard-working employees and I wanted them to understand how hard they work and how dedicated they are to our community," he said of the 911 dispatchers. "On top of that it gives me a bird's eye view of what they deal with on a day-to-day basis."
Staly had no reason to know that barely an hour into his shift, he'd see Gammon manage the two traumatic death calls within a matter of minutes.
He was filled with admiration for Gammon. "She was very professional. At the end of the call it was very emotional. It was emotional to me, hearing it, and I'm not having to handle the dispatch of medical and sheriff, coordinating with their ambulances, field units. She did a phenomenal job."
The two incidents painfully illustrated the tension, stress and emotions that have to be managed at the dispatcher's end of the line while panic, fear, helplessness and desperation unfolds at the other end.
"These are the invisible heroes in our community," Staly continues even as more 911 calls ring the tell-tale alarm that sounds in the entire center. "They're dealing with people in crisis and emergency times in someone's life, and they have to remain calm, try to get the information to get it to the fire department or the rescue, or sheriff's deputies, making sure, you know, on the suicide, where is the gun, can you see it, the deputies need that information so they know what they are walking into. The fire department in this particular case had to stage because it was an active hot call, if you will, until we verified it was safe for them to come in, so it takes a lot of coordination."
At full staff the 911 center would have 22 employees. It has 21, with three in training. Each shift, at full strength, would have five dispatchers, including a supervisor, though often the staff is at four, accounting for vacations and sicknesses. Everyone answers calls, with desks split between fire rescue (that was Gammon), law enforcement, and the teletype desk, where communications with other agencies in or out of state are sent for background checks, warrants and so on. Operators begin with salaries of around $28,000 a year, some $5,000 less than deputies' starting salaries. Pay gradually increases with experience, but not by much.
It takes a particular kind of skill and temperament to make it. Those who do stick it out for years. Those who don't find out quickly.
"I love this job," Gammon says. I love helping people. It's stressful, but it's rewarding." Even that morning's situation with the woman on Esperanto Drive. Gammon didn't hesitate when asked how she'd found that situation rewarding, in its own way: "I got to help her."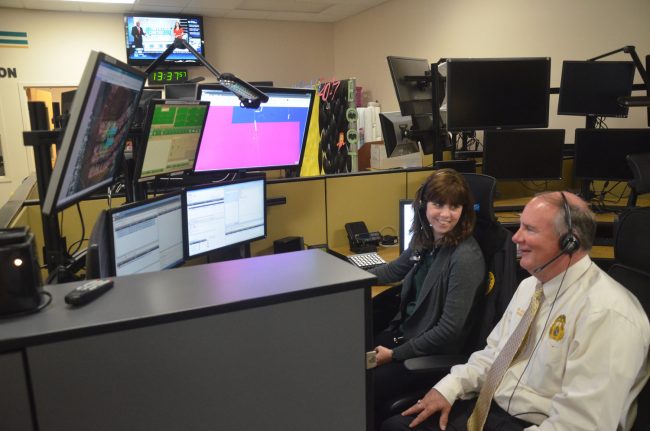 In many people's times of most anxious, most panicked need, they don't necessarily have a friend or a family member nearby. They have a 911 dispatcher on the phone.
"Having been there with you in this," the sheriff says, turning to Gammon, "I think what I sensed was she, Josie, was doing everything she could to get help there, and unfortunately help didn't get there quick enough before, in this case, he pulled the trigger. That's an emotional time for our employees when you're doing everything you can to try in this case, save a life, and it wasn't successful. And they take it personally."
"Which proved to me," Staly would later say, "why it takes seven months of training."
But even his brief experience at the dispatch center led him to ask a few issues to investigate. He'd already found a couple of issues he asked his IT department about, to make the dispatcher's work more seamless. "Those are some of the reasons why I do my Friday night patrols, it's because when you're in an office you miss things like this and you don't ask questions, and you don't know it's an issue. Here, living it a little bit, they know to ask certain questions," Staly said.
He'd actually started his law enforcement career as the lone dispatcher for the Ovideo Police Department as an 18 year old back in 1974, before he was a sworn officer. That lasted half a year, in a time when information was taken down on 3-by-5 index cards and there were perhaps five calls a day in a town of 1,900 people and one traffic light. An armed robbery was the highlight of his months on that job. But he'd eventually be in charge of Orange County's 911 center for a year, an operation of 150 people. These days, he's sticking with sheriff. "I've decided I'm keeping my day job," he says.
And for all that morning's trauma, it's also true that, even as 911 is by definition a vortex of the worst emergencies, there are some very good calls, too. Not that morning, but on occasion. "Missing kids calls when they're found," Gammon says. "Those are the best calls."
And when the 911 line doesn't ring.