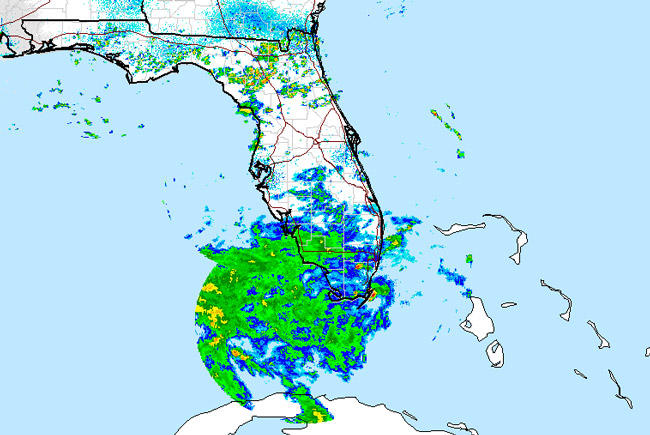 On Monday, as Flagler County Emergency Operations Director Troy Harper was speaking to the County Commission about this year's hurricane season, the storm gurus at Colorado State University–who have issued hurricane predictions for 30 years–were releasing an updated forecast of 18 named storms between this month and the end of November. The forecast includes nine hurricanes, four of them major. The gurus predict a 61 percent probability of a Category 3 or worse hurricane (the previous century's average is 42 percent), and a 72 percent chance of a direct hit on the entire U.S. coastline (the average is 52 percent).
Florida itself ranks highest in the probabilities of being in storms' paths. The state has a 71 percent chance of being hit by a hurricane (as opposed to a 51 percent average), and a 34 percent chance of being hit by a major hurricane.
Harper isn't impressed by predictions.
"Predictions to me don't mean a thing," he said, "and they're just that, a prediction. I can predict who may win the lottery this evening. I can predict a lot of different things and hurricanes are right in that category. If one storm hits our backyard this year it doesn't matter if they predicted 10 or 20 storms. Folks, it only takes one. We all know that, and that's our message to the citizens every year. Prepare this year as if this were the year we were going to be hit with a category four, category five major hurricane."
He spoke as local skies were a chaotic gray of disorganized and very distant echoes of what remained of Barbara, a hurricane that struck Mexico's southern Pacific coast last weak before weakening. The last time Flagler County was in the path of a direct hit of a major storm goes back to the late 1800s, he said. But even that may prove meaningless should a storm hit. In 1999, Hurricane Floyd, a storm four times the size of Hurricane Andrew, cycloned its way parallel to the coast. "Had Floyd been 90 miles to the west it would've been Florida's Katrina," Harper said. "It would've been Flagler County's Katrina, we would still today be picking up the pieces."
Hurricane Andrew in 1992, which for 10 years had been considered a Category 4, was a Category 5 hurricane, 120 miles across, "actually a small storm by comparison to a lot of storms, but it's the one that a lot of folks remember because it's the one that CNN and a lot of news agencies first televised live," Harper said. Andrew hit during a season that was to have only a slightly above-average storm activity. That mattered little to the residents of Homestead, whose homes were obliterated. Harper's point: preparedness should not depend on whether a season will have fewer or more storms.
Emergency planning for homes and businesses can be laborious and expensive. (See the supply list here.)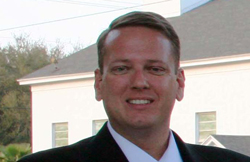 "If you went out today to build your disaster supply kit from scratch which would literally cost you hundreds of dollars and take you hours and hours," Harper said, "so we're asking get a few items each week that you go to the grocery or the hardware store, those things you need, whether you're staying or evacuating. But take that time today. Those are the folks who are going to be the most prepared, who won't be waiting in the evacuation lines, who won't be waiting in the traffic lines, those folks who take the time today to get the information they need for their own family or business."
Commissioner Barbara Revels wanted the rumors dispelled about when the two bridges across the Intracoastal in Flagler County–the nameless Flagler Beach Bridge and the Hammock Dunes Bridge–close in high winds. There are conflicting stories about that figure. "Our magic number is the 35 to 38 miles per hour that we start to look at shutting down bridges," Harper said, "and the primary reason for that is, our ambulances are large high profile vehicles that wind can easily push over, especially—remember–the higher you go in the air the higher the wind speed is going to be. So when the ground speed reaches those 35 to 38 mph the bridge speeds above may be significantly higher and those gusts may be even higher." But shutting down the bridge would not precede the evacuation of the barrier island.
Should a disaster like a tornado or a hurricane, or floods and severe storms, strike, the Emergency Operations Center would be activated, as would potentially its broadcasting facility. WNZF, the local radio station, can broadcast from within the center, so its programming won't stop. Flagler also has a Code Red notification system, which uses phone, email and text communications to personalize alerts and target specific neighborhoods based on a perceived threat. Publicly listed phones are in in the database, but individuals can also opt in with their cell number or with texts.
"The Code Red weather warning portion off the warning is an automated system that will call people immediately upon the issuance of a severe thunderstorm, tornado, or flood warning. Folks this has really saved life lives across the country."
Anyone can register to be part of the Code Red system by going online here, or by calling the Emergency Operations Center at 386/313-4200.
Commissioner George Hanns had a bit of advice during disasters. "When you do go to a shelter it's always nice to bring your own blanket because there are not always enough blankets and cots available," he said. He added: "Many times people will make comments like, oh, Emergency Operations Center, that big building. I guarantee you, it will be a welcome sight to have during emergencies." The word could just as well be a welcome site.