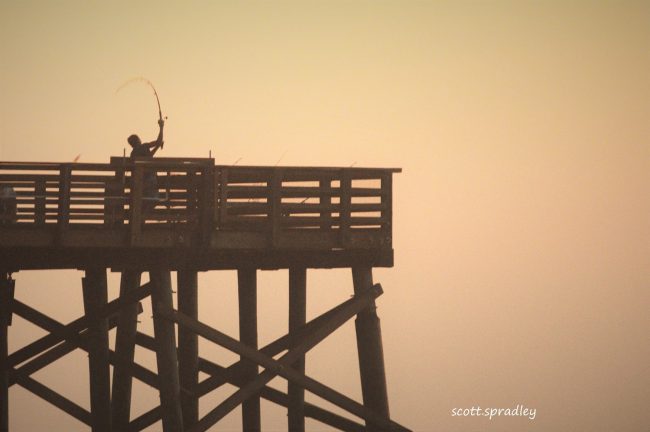 The Flagler Beach Pier reopened this morning at 6 a.m., after Hurricane Matthew devoured a fifth of its length, plundered 600 of its planks, and caused it to shut down for 261 days as workers repaired it in a nearly $1 million restoration project.
Fishermen were allowed onto the pier a little before the official opening time. And the very first cast of a fisherman's line was captured in a superb photograph by Scott Spradely, the Flagler Beach attorney whose eyes and lenses have given the town its own iconography over the years.
Here's the story of this morning's picture in Spradley's own words: "I definitely planned to be on hand to record the reopening of the Pier, since this is such a tremendously positive event for Flagler Beach, particularly, and for Flagler County, generally. As is my every day custom, I arrived at the South 5th Street walkover, but at 5:30 today instead of 6 a.m., which is my usual arrival time. I also brought a chair as I planned to be stationed on the beach when the Pier opened. I also had my drone with me.
"The published time for the reopen was 6:00. But I had just gotten set up at 5:40 when I noticed a few silhouettes in the dark, making their way to the end of the pier. So I quickly got my gear ready and scanned the pier to see who was going to be first to cast. Within a matter of minutes, I saw a fellow at the end of the pier baiting his hook, so I immediately got my exposure settings in order–it was still dark–and focused on him as I waited for the moment. The camera I brought was my Nikon D750, which has great low light capability. Luckily, I guessed right on the settings and the result was this image of the first cast. It was a refreshing moment to see the fishermen, by now a dozen or more, in full glory for the first time in 8 months."
Spradley also shot the occasion's very first drone footage of the pier on its first day, below.