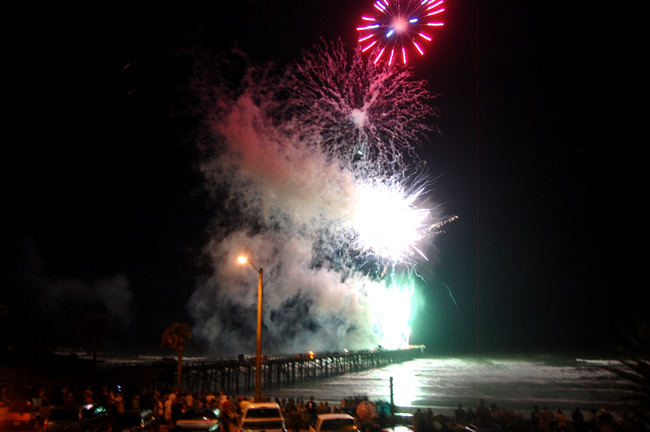 The Flagler County Commission doesn't call special meetings very often. It did it just once in the past year, last August, to make a temporary appointment of one of its own to the county canvassing board. The emergency this time: Independence Day fireworks in Flagler Beach.
The commission late Thursday called a special meeting for Friday at 4 p.m. to reconsider its ban on Flagler Beach's iconic fireworks show. It is almost certain that the commission will reverse itself and approve the fireworks show.
Commissioners Barbara Revels and George Hanns and Commission Chairman Alan Peterson all said, late Thursday afternoon, that they would be in favor of overturning the ban. Peterson said he'd rely on County Fire Chief Don Petito's recommendation. Petito said late this afternoon that his position, stated Monday, hadn't changed: he's fine with the fireworks in Flagler Beach. He's still opposed to fireworks elsewhere, including at Palm Coast's Town Center and in the Hammock–and of course to mercenary fireworks in cul de sacs and in residential backyards.
Another question mark was Fireworks by Santore Inc., the Palm Coast-based company contracted by the Flagler County Chamber of Commerce to put on the $15,000 display in Flagler Beach (the cost is borne by the county's Tourist Development Council). Earlier this week, Anthony Santore, the company's president, said that following the commission's cancellation of the show less than two weeks ago, the company had to change plans and assign crews to other shows, making a reversal difficult. That changed by Thursday.
"I was losing sleep at night, we were getting a lot of calls also from the public asking why can't we have it," Santore said. "Remember, our business is producing fireworks displays. We don't survive off of postponing shows. So when the chamber called today and said there was a glimmer of hope we rallied all the troops." He added: "This won't be an interim style show, this will be as spectacular as the original show we planned. We were actually able to pull from a few of our other show sites and pull together a crew." He said the company might even pull a couple of people out of retirement to ensure that the show goes off smoothly.
The county commission unanimously approved the fireworks cancellation on June 20, though Revels was very reluctant to do so. Two days later, skies began to darken above Flagler–not with smoke from the still-raging fires at the time, but from gathering storms that began dumping volumes of water on the county almost daily, to the point of creating localized flooding one day. The fire emergency quickly waned. By week's end, public opposition to the ban, strong from the start, had swelled to a clamor.
Doug Baxter, president of the Flagler County Chamber of Commerce and Affiliates, contacted commissioners, spoke with Santore, and with Flagler Beach officials, the latter eager to restore the show. On Friday, he called Peterson, the commission chair, asking for a special meeting and reconsideration of the matter. Peterson agreed.
"It's a team effort. Without the team you don't get anything done," Baxter said. "It's a collaboration between the Flagler Beach Chamber of Commerce and the city of Flagler Beach, so everybody has been working very hard to try to put on" the fireworks.
Revels was audibly delighted. She said she'll vote to overturn the ban. "I'm the one that wanted it lifted all along," Revels said, noting that the decision could have been left up to county and Flagler Beach city staffs, based on the latest conditions. "It sounds great. And I've been having business calls from Flagler Beach all day," meaning businesses looking for a way out of the ban. "It will be wonderful if that changes tomorrow. I don't think we can stress enough that every business in this county is hanging on by their fingernails and any small possibility that they can have to have a profitable week or day is very, very important to everyone."
Hanns, on vacation in Tampa, said he was cutting his vacation short to make it back for the meeting Friday. He, too, was clear: "I will be in favor of it for having fireworks only at the pier, in Flagler Beach," assuming conditions don't change in the interim.
"When Craig Coffey called me, I said that I'd be willing to call the meeting but that I wanted Chief Petito to state whether he felt conditions had returned to normal," Peterson said. Coffey is the county administrator. Conditions are "certainly better than when we talked on Monday."
Commissioner Nate McLaughlin could not be reached.
Commissioner Milissa Holland spoke most strongly in favor of the ban, including in Flagler Beach, and hasn't wavered from that position. Holland had actually been chiefly instrumental in developing the concept of the July4 fireworks as a weekend event, paired with the Town Center fireworks on two successive days, through the Tourist Development Council, which she chairs. Once the concept was developed and the money approved for the two shows, she and Peggy Heiser, who's in charge of the chamber's–and the TDC's–tourism strategies, developed an ad campaign to market the weekend particularly to race fans in for the Independence Day races at the Speedway in Daytona Beach. That campaign was altered after the June 20 decision to reflect the cancellations. Holland was largely bypassed by the efforts to restore the fireworks show in Flagler Beach.
"Not pleased," Holland said Thursday afternoon. "I've weighed all of these discussions and in good conscience cannot reverse my decision on this issue. I believe that if it is overturned tomorrow it will send the wrong message to our public, that the government does not play by the same rules as we expect them to. I say that because if the conditions were safe then the burn ban would be lifted throughout the county. The point being that there are certain areas of our county that are still really dry." Holland cited changing weather conditions and still-dry areas that could reverse gains achieved in the last several days.
"My real fear is that our residents will take this as a sign that they can go out and buy their own fireworks and light them off in their neighborhoods," Holland said. "We've exhausted our reserve and we've also exhausted the brave men and women that have protected us. I've gone to every fireworks show since I was 16 years old in Flagler Beach. I understand how special and unique it is but we have a responsibility to the public first and foremost, not only to protect them but to ensure that we're not incurring extra added expenses in these tough economic times."