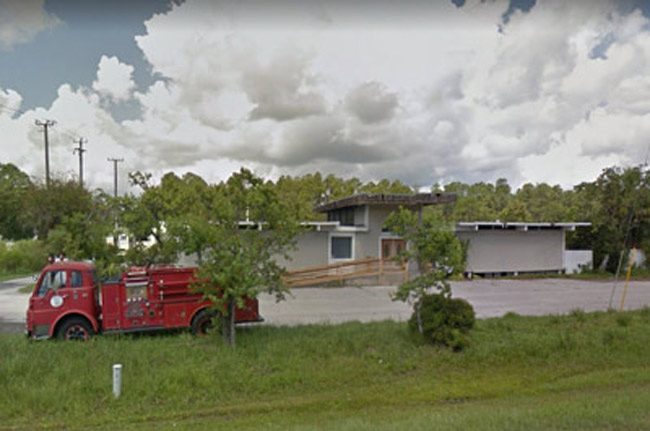 Shortly after the July 4 holiday two months ago, two boys, ages 7 and 8, were playing at the small park next to the Carver Center on Bunnell's Drain Street when they discovered unused fireworks. They took them into a bathroom and lit one of them. It exploded prematurely, as it had been tampered with, and severely injured the two boys. One of them, Faizon Brown, is still receiving care from Shriners Hospital for Children in Tampa, after he lost parts of his hand.
The fireworks had apparently been stolen, not by the two boys, but from a temporary fireworks business that Brett Lyons and Nicholas Kimball operate every year before the July 4 holiday from a building he leases for a month off of U.S. 1. There'd been a report that day that the business had been broken into: authorities found two broken windows and blood on one of the windows, which would prove useful in the subsequent investigation. The business itself was "in disarray," according to a sheriff's report at the time, with "fireworks thrown throughout the interior of the business."
Kimball and Lyons then estimated that many fireworks had been stolen, with a value of about $250. The property damage was estimated at $500.
The blood collected at the business was tested for DNA. It identified Jo'vawn McClendon, a 16-year-old student at Flagler Palm Coast High School and a resident of Lincoln Street in Bunnell. McClendon's identity appears to have been previously stored in a DNA database. He submitted to a DNA test, with his parents' consent, and on Sept. 7, DNA Labs International found a match beyond reasonable doubt.
He was charged with burglary, a felony, and petit theft, a misdemeanor, as well as criminal mischief, and processed, but not held, at the Department of Juvenile Justice facility in Daytona Beach, where a point system determines whether individuals are incarcerated or not. "He did not have enough points to be mandated into the 21 day holding," a Flagler County Sheriffs's spokesperson said. He was turned over to his parents.
"The improper use of fireworks is extremely dangerous," Sheriff Rick Staly was quoted as saying in a release his office issued this afternoon. "In this case, the burglars were in a hurry and broke off the stem of the fireworks in order to fit more inside their backpacks. This ultimately resulted in life altering injuries to two young kids. Our detectives worked hard to solve this case."