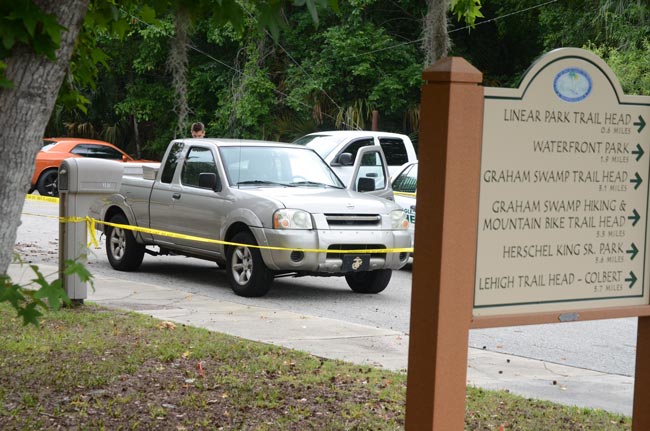 Last Updated: 3:50 p.m.
The Flagler County Sheriff's Department is investigating a shooting that took place late this morning near the Palm Coast Fire Department's Station 22, at Palm Coast Parkway and Clubhouse Drive. The shooting may be an attempted suicide.
At the very moment when the Sheriff's Office was conducting its annual ceremony for fallen deputies, at its Bunnell headquarters, word came through of the shooting, involving a man with multiple gunshot wounds to the head. The man was found walking in back of the fire station by a fire fighter, with shots to the right side of his head and possibly another shot in the chin.
The man initially told authorities that he had been assaulted at the Shell gas station across the street, adjacent to the Alterra Sterling House assisted living facility. Details are very sketchy. "It's still hot, we don't even know where the crime scene is at this point," David O'Brien, the under-sheriff, said immediately after the ceremony.
What's believed to be the man's truck, a gray Nissan pick-up, was parked in the fire station's parking lot, facing outward toward Clubhouse, across the street from the Palm Coast Community Center. Three shell casings and a gun were reportedly found in the truck.
In mid-afternoon, the Sheriff's office, in a news release, reported that the victim is 48, and that he had initially told paramedics that he had been injured by a falling cabinet. It's only after further investigation or examination that he appeared to have been shot. "Investigators," the release states, "recovered a letter inside the man's vehicle that may be connected to the incident."
The man, whose identity was not released, was transported by ambulance to Halifax hospital in Daytona Beach.
As of noon, deputies and detectives were still at the scene. A portion of the parking lot, with the pick-up at its center, had been taped off with yellow crime-scene tape. Three Sheriff's units were on the scene, combing through the truck and its surroundings. Two additional units arrived within the half hour.
Other than the crime tape at the scene, there was little evidence of anything amiss in the area this morning, with neither traffic nor fire station operations impeded.