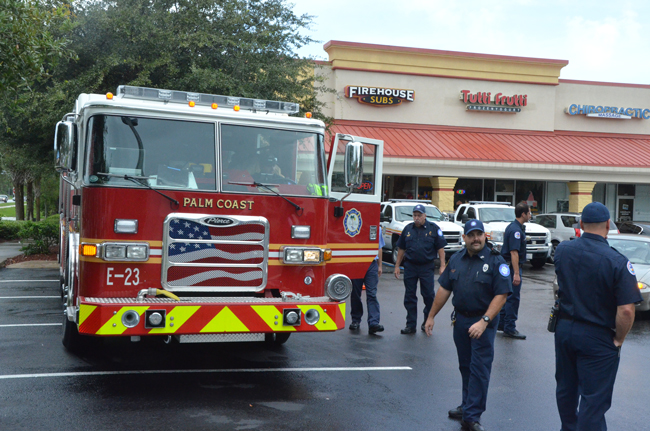 David Hause graduated high school with restaurants on his mind. His first job was as a dishwasher with Denny's in 1980. It's been nothing but up since then, by way of every sort of restaurant job there is. Today he owns four Firehouse Subs—in Ormond Beach, Daytona Beach and South Daytona, and of course the one that started it all in 2003, and that was among the very first in Firehouse's franchising history: the restaurant in the Publix shopping center on Palm Coast Parkway and Belle Terre.
In 2006 it was the fifth busiest Firehouse restaurant out of 250 stores companywide. It's still the busiest of Hause's four restaurants, with some $8 million in total business since it opened 10 years ago.
This afternoon, the store celebrated its tenth anniversary with visits from its core constituents—firefighters—but also company CEO Don Fox, Palm Coast Mayor Jon Netts, several other city council and county commission members, and of course Hause and his wife Melinda.
Netts remembers 2003 when the restaurant was dedicated. "It seems like three years ago," Netts said at the Firehouse Subs' counter this afternoon. "It's amazing but this tells you what a well-run business that responds to the public can do. Ten years, successful, and look at the place, clean, immaculate, nice, courteous, kind. They sound like Boy Scouts. How many places you walk in you hear welcome to, welcome to, welcome to? This shows what a well-run business can be. It's a great asset to our city. I love it."
The company began its franchising strategy in late 2002, so Hause was among the very first franchisee. At the time the company had fewer than 100 restaurants (compared to 650 now, in 36 states). Hause had worked for the company for several years in Jacksonville. When the company launched its American Dream program, which encouraged its best salaried managers to start their own businesses—as franchisees of Firehouse Subs—Hause was a top candidate. He wasn't allowed to start the franchise iN Jacksonville: the company reserved that territory for its company-owned stores. But he could try riding any concentric circle the company was drawing beyond Jacksonville.
"Palm Coast happened to be the area closest to Jacksonville at the time where we had franchise opportunities outside of our home market, so David volunteered for that," Don Fox, Firehouse's CEO, said.
The company managed to open 30 to 40 restaurants a year even at the depth of the recession in 2008 and 2009. "It's really all about the product that we serve, the quality of our food, it really sets us apart, our commitment to our community has been an important thing, with our public safety foundation, which we launched in 2005, so by the time the recession came along that was really hitting its stride, and we're giving back in the communities we operate in. We've had donations here in the Palm Coast area over the years, and our customers have really come to recognize that and I think reward us for it with their loyalty."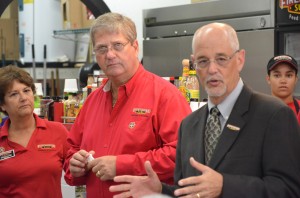 We're not talking pennies in donations. Yes, when a wildfire broke out along Cypress Edge Drive in April 2012, within a short walk of Palm Coast's city offices, Firehouse Subs delivered free food to the dozens of firefighters and fire police personnel on the job. And yes, firefighters get a free drink when they patronize Firehouse, which can get costly when you measure firefighters' thirst by the liter, though as Hause notes, they tend to buy sandwiches along with their free drink, so it works out very well: "It's good for the community, it's good for the good will, they spread the word, they like us, we like them," he says.
But the real donations are a bit heavier duty than that.
"Last year they donated two skid units to help us fight brush fires," Lt. Jason Laughren of the Palm Coast Fire Department said as he stood outside the restaurant this afternoon, amid a gathering of almost two dozen firefighters and members of the fire police. The group would eventually include Palm Coast Fire Chief Mike Beadle and several members of Flagler County Fire Rescue. "They have a small pump on them, a couple of hundred gallons of water, and what we can do is we can move them into areas that we normally can't get into. As you can see they're just ion our pick-ups, much smaller units and a great asset to us. They're not cheap. I think they were $8,000 each, so they donated $16,000 total to the fire department."
Firehouse has also donated to Flagler Beach, Bunnell and Flagler County's departments. The donation to Palm Coast was part of $300,000 worth of equipment contributions to 16 public service agencies in Northeast Florida and South Georgia last fall, in a ceremony that included Bill Murray, the actor. Firehouse Subs created its non-profit Firehouse Subs Public Safety Foundation in 2005 to provide money, life-saving equipment and educational opportunities to first responders and public safety organizations. The foundation has since contributed $5.2 million, including $1.15 million in Florida.
"They love the product and they love what we do in the community so yes they've become great advocates for us, certainly,"  Fox said of firefighters.
Company co-founders Chris and Robin Sorensen were firefighters who'd grown up in a family of firefighters and cops, and entrepreneurs. They tried a variety of things, including Christmas-tree farming and, this being Florida, real estate, finally settling on a restaurant with a special pipeline to firefighters. Firehouse Subs ("hottest subs in town") was born in 1994. The privately-held company is on pace to finish the year with 715 restaurants, after opening 140 this year alone, and 98 last year, with individual restaurants generating an average of $648,400 in 2011 and $731,000 in 2012, a 35 percent increase.
All this despite several years of recession and, in some places such as Palm Coast, depression.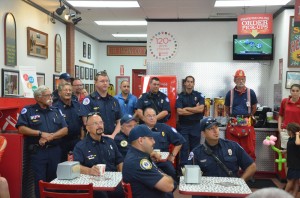 "This store was hit particularly hard when the recession hit because much of our business at that time was construction and real estate," Hause said. "However we had our roots in pretty good, and even when it dropped off we were still a strong, viable business in the area."
The restaurant employs about 15, four or five of them full-timers. Hause has a total of 60 employees at his four locations. Back in 2003 the location near Publix was the only one available in town as floor space was getting snapped up fast. It's a different story now, but Hause is looking at opening another restaurant on State Road 100, in the Town Center area, sometime in the future. "There needs to be a little bit more growth down there," he said.
Because of the economic hardships the city and the county have emerged from, any business' longevity matters. "A lot of times when we have a ribbon-cutting we're celebrating a brand new business." Flagler County Chamber of Commerce President Rebecca DeLorenzo said. "This one we're celebrating 10 years in the community and all of the unique fund-raising opportunities they have with our fire departments, so we're just excited to have somebody here that's been here for 10 years." She added: "It's different. It's definitely unique.l A lot of organizations give back to whatever their passion is about, children, women, whatever it is. I don't know of many that give back to firefighters, so I think it's unique in that and it's what the whole foundation of Firehouse Subs was built on. So they created this culture in their organization to give back and that's a wonderful thing./ All organizations should create that kind of culture."
Firehouse restaurants specialize in a variety of fire-truck-size subs—such as its Hook and Ladder mass of smoked turkey, Virginia honey ham and melted Monterrey jack cheese, chicken breast, its beef and cheddar brisket, its Firehouse meatball sandwich, roast beef, pastrami, honey ham, even a veggie sub and many more. The food is enticing, delicious, aromatic and satisfying, which inevitably means that it's not the friendliest stuff for your arteries or waistline: The large Italian sub will set you back 1,400 calories,  the smokehouse beef brisket clocks in at 1,500, and the large tuna sub—tuna!—at 1,730 calories. But there's plenty of less calorific options too.
"We're really glad you're still here," Beadle, the fire chief, said, "we're proud to have you in the community you take good care of our people, you know that, and we hope to see you in 10 more years."