Helicopters were flying over the Pine Grove section of Palm Coast Sunday morning as Flagler County Sheriff's deputies searched for two suspects in connection with an armed home burglary on Pine Grove Drive. One suspect was arrested and taken to the Flagler County jail. The second is still at large. He was last seen fleeing the area around Belle Terre Parkway and Whiteview Parkway.
Deputies responded around 10:15 a.m. after receiving a report of two black males kicking in the front door of the unoccupied home and removing items. Witnesses said one of the men had a gun.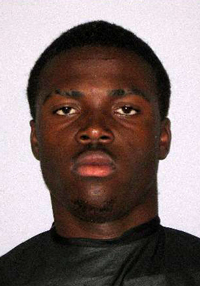 When deputies arrived on the scene, the men fled in a vehicle that they crashed a short time later on Belle Terre Parkway, near Whiteview. Both jumped from the vehicle, with one running east bound and the other westbound.
Flagler County's FireFlight and Volusia Air One helicopters assisted in the search. One suspect was apprehended by Deputy Jonathan Welker and K-9 Blu. He has been identified as Markis Flournoy, 18, of Daytona Beach. He was being treated at Florida Hospital for a bite wound suffered during the apprehension. He will be charged with armed burglary to an unoccupied dwelling, grand theft and resisting arrest when he is transported to the Flagler County Inmate Facility.
The second suspect remains at large. The occupants of the home have returned and were in the process of doing an inventory to determine what items were stolen.
Anyone with information on the incident is asked to contact the Sheriff's Office at (386) 313-4911.