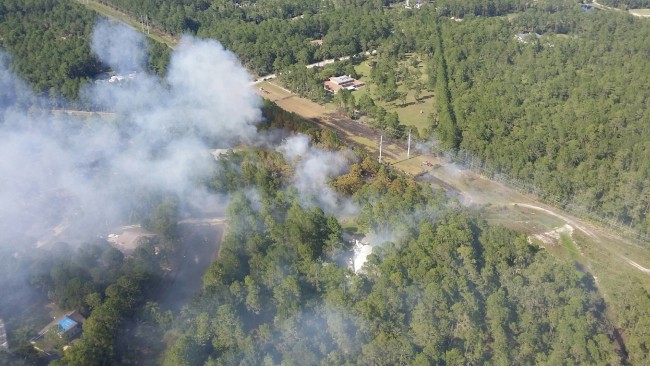 A 3.5-acre brush fire that had surrounded two homes in Eagle Rock at the south end of the county, requiring their evacuation, was halted and controlled, capping a busy day for Flagler Count Fire Rescue crews and Fire Flight, the county's emergency helicopter. The residents of the two Winchester Road homes were allowed to go home.
The fire started a little after 4 p.m. Several units from Flagler County Fire Rescue and a Volusia County unit responded. The fire was in Flagler County, but at Ormond Beach addresses.
"It was right in between all these houses out there so we had to evacuate a couple of houses out of precaution, and then Fire Flight came in and took care of it," Flagler County Fire Chief Don Petito said. "It's knocked down, forestry is out there, they're getting a line around it, once they do their line it's going to be contained." Flagler crews will be there several hours to ensure that the area of the fire is heavily watered and recurrences are prevented.
Fire Flight earlier in the day had spent several hours scouring sections of the Atlantic along Flagler County as part of the search for Perry Cohen and Austin Stephanos, the teen boaters who went missing Friday off the coast of Palm Beach County.
On the ground in Eagle Rock, fire engines positioned themselves directly between the fire and the houses to keep them from being consumed. "That's some very dedicated crews that work very fast," Petito said. "The fire was basically surrounding both of those houses on all sides, the front and the back, so that was a big worry."
Engine 16, Engine 92, Attack 16 and Attack 92 from Flagler County Fire Rescue and Engine 13 from Ormond Beach responded, as did a bulldozer and an attack truck from the Florida Division of Forestry. No one was injured. As of 6:30 p.m., the division of forestry's personnel were still there, as were Engine 16 and Attack 96 and 16.
The Flagler County Sheriff's Office was also at the scene, investigating the origin of the fire.
In late afternoon the county issued a news release stating that signs were being placed along U.S. 1 in the area to warn drivers of lower visibility, with smoke and fog possibly diminishing safe driving conditions in the hours ahead and overnight. Motorists were being advised to take alternate routes if possible.