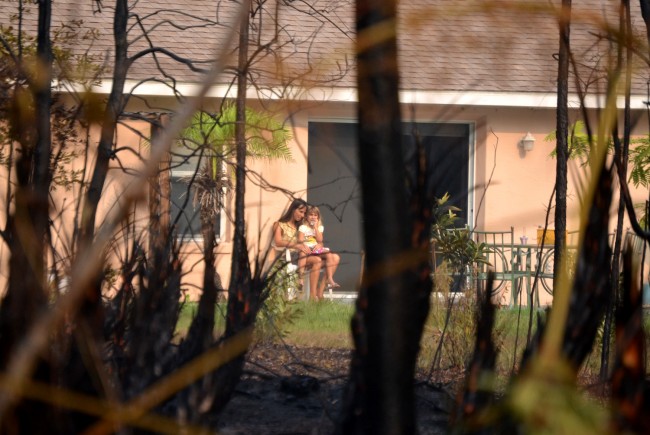 [A photo gallery from the scene is below the text. A complete update of Flagler's 22 fires, including locations, maps, acreage, is now available here.]
They were shaking hands: Palm Coast Fire Chief Mike Beadle and Dale Clegg, on Clegg's front driveway at the end of Sligo Mill Court. The house was safe. So were the houses on either side of Clegg's. It looked little short of miraculous. As miraculous as the scene of Clegg's 5-year-old daughter Keira, sitting on her mother Tracey's lap in the backyard, watching firefighters mop up the charred lot in front of them, its new blackness sharply contrasting with the still-peach and unscathed color of their own house.
They'll be sleeping in their home tonight instead of a hotel or a shelter or a relative's home, thanks to the rapid response of firefighters and one pilot.
A few hours earlier this afternoon, the Cleggs, their neighbor Ray Aguiar and Aguiar's cat, L.B., were all evacuating, as were others on a parallel street. The fire was in their backyard, crackling, assaulting the line of woods there as if nothing was going to stop it. Both homeowners thought their houses were going to go up in flames.
And for many long minutes Wednesday afternoon, from 2:30 to 3 p.m., it looked and sounded as if they might be right. Just before evacuating, Clegg was watering his other next-door neighbor's wooden fence, hoping to counter the hellish heat building from the fire in that empty lot. The fence later combusted in an instant. But it proved to be the only structural property lost in the fire, a fire that broke out several hundred yards northeast of the White Eagle fire, the 134-acre mind-game firefighters have been fighting and mopping up since May 31, when it erupted as suddenly and viciously as today's.
For the second time in two weeks, firefighters literally saved several homes barely a few feet from galloping flames. An afternoon that began in controlled panic was ending in cathartic, disbelieving celebration.
Beadle thinks today's eruption is a result of embers flying from the White Eagle fire, proving the danger firefighters and residents across the county face these days, as dry conditions get worse with heat and any spark, any ember, can spot over from a fire and start a new one. That, in fact, is why Beadle was patrolling the outskirts of the White Eagle fire this afternoon.
"We were checking the neighborhood because we knew it was going to spot," Beadle said. "The potential for this to do what it did—we were out while still doing mop up on the White Eagle, actually we were a couple of miles down on Old Dixie," when the call came and all sorts of units were dispatched from the Emergency Operations Center, where they're staged. County, Flagler Beach and Bunnell units ended up joining Palm Coast to do battle.
"When I got here it was crowning, coming across the back of your property," Beadle told Clegg. Crowning means the fire was running across the tree canopy high above ground.
"She called me," Clegg said of his wife Tracey, who was inside the house, the air conditioning running, and literally heard the crackling outside. "I was over on John Anderson and I could tell something was wrong. Oh, man, I drove, I won't say how fast I drove to get here but I drove over the speed limit."
"So did I," Beadle said.
"I bet you did. I got a few things out but by the time I got out, you know I was out there putting water on their fence."
Briefly after residents left, Beadle was alone on the cul de sac while a captain took off for Sloganeer to fight the source of the fire and run the operation from that end. There was a surreal moment when Beadle was standing there, without an engine, calling for as many as he could get. They got there, and got to work.
"And the helicopter? You've got to thank Dana. Dana Morris." That's the copter pilot who's been flying the county's Fire Flight day in and day out. "We were standing there and it was starting to spot and starting to run a little bit toward the next street, and they were still working to get the hydrant—we'd run out of water by putting water on the fire, we didn't have enough at that time—so Dana came in, God bless him, and he dropped, I was standing next to the tree," at that point Beadle makes the sort of dropping, crumbling, splashing sound that has no equivalent in the English language, the sound of a 200-some gallon bucket releasing its water. It sounds more like a West African translation of Al Pacino's famous "booyah," but longer and more resonant. "Right between me and the tree, and Jim [something] one of my other guys. Twice. He's great with that thing. He saved these two houses I'm sure."
"She was a little shocked when she walked in the backyard and saw how it had changed," Clegg said of his daughter. "She told me when they were leaving in a hurry, when the fire was coming through there, she said 'my tummy was hurting,' she said 'I was feeling funny out here.' I think she was getting panicked, you know. It's scary. It would have scared me if I'd been home seeing that. Now my wife said she could hear the fire coming through the trees and wondered what that crackling sound was and looked out the windows and saw it coming through the trees."
Later that afternoon, as the firefighters were dousing the ground in water to prevent flare-ups and creating a mist of their own with their powerful water hoses from high above, Keira "went and got her umbrella," Clegg said. "Tracey says why do you want an umbrella? She says I just wish I had a bigger umbrella. She was happy. She said at least they didn't get my play set."
The fires have been as if chasing after Clegg. The White Eagle fire burned his mother's property a few days ago (but not a home). And the fire on County Road 204 was driving through another one of his properties. Now this, within literal inches of the home he's lived in for almost three years.
Ray Aguiar next door didn't hear the fire. "Somebody came beating on my door, 'get out, fire, fire!,' boo-booboom. I don't know who it was, I never saw the person." A neighbor was in fact running through the street banging on residents' doors to warn them.
"I'm pretty much ready to come back and find my house burned down," Clegg said. I was pretty much resigned, we might have lost it, and if we did, I told Tracey on the phone, I said, well, you know, we're going to get what we're going to get."
"I was afraid I was going to lose it," Aguiar said. "But when I pulled out, actually I just went down to the end of the street and watched for a few minutes. Next thing I know here comes the helicopter," which proved to be the turning point. "We owe Dana a case of beer."
"These guys have been working a lot of overtime, and every time I see them they're in a pretty good mood. They're tired, but they talk to you, and they've been getting it done really good," Clegg said. "These guys are really doing a heck of a job."

Sligo Mill Miracle Photo Gallery
[nggallery id=71]