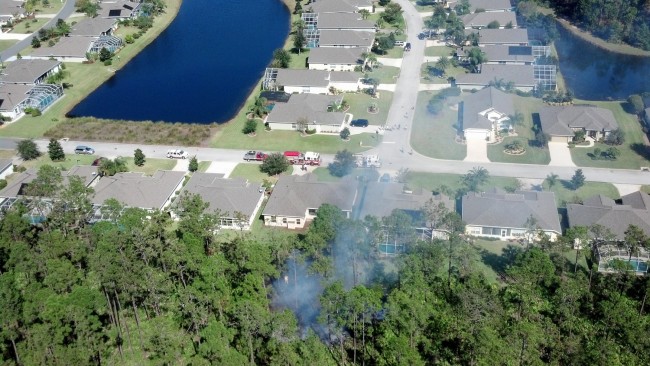 A brush fire broke out just after noon today (Nov. 4) in a wooded area immediately behind a line of houses in Plantation Bay. The fire, within some 20 yards of the houses, was quickly put out by Flagler County Fire Flight and Volusia County Fire Rescue crews.
The fire broke out behind 1256 Crown Pointe Lane, in the southwestern area of Plantation Bay, just across from the Flagler-Volusia County line. Fire Flight dropped 1,400 gallons of water on the fire, knocking it down and allowing ground crews to finish mopping up the fire.
Several such fires have been breaking out in the last couple of weeks.
"The air is so dry now, we haven't had rain in a while," Flagler County Fire Chief Don Petito said. "The drought index is around 300 or 400. Were going to get what we call the fall fire season," which usually amount to small, manageable fires like the one today–but which underscore the need for sustained vigilance by residents.
The average fire index in the county is currently 328, on a scale of 0-800, with 800 being the most fire-prone and 0 representing fully staurated conditions. The fall fire season is typical, especially when it gets colder.
"If you remember last year we got really busy in November December, then it rained for a while and it started picking back up in March," Petito said.