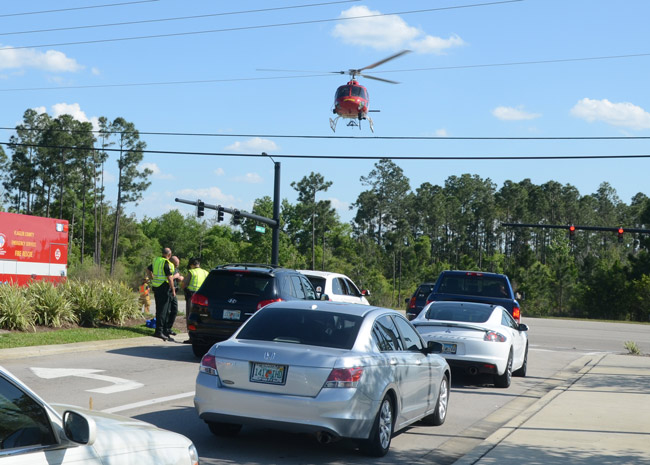 It had all the looks of a fender-bender, if that. For 50-year-old Roy Bresloff of Palm Coast, it wasn't: he was airlifted, with early reports that he'd been paralyzed from the waist down. (Those reports, first relayed to a dispatcher, have not been confirmed.)
At 4:15 Monday afternoon, Bresloff was at the wheel of a white Ford Edge, waiting for the light to change to leave the Target shopping center in Palm Coast. He was at Landing Blvd. (the entrance to the shopping center) and State Road 100. With him were Alesha Bresloff, 35, and three children (ages 13, 6 and 4).
The light changed. Bresloff was rear-ended by Jane Golden, 67, a Flagler Beach resident at the wheel of a black Hyundai SUV, though not violently: the two cars were in close proximity, no significant speed was involved. Nevertheless a shock was involved, and there was this: Bresloff had, in September, had thoracic spinal surgery. The rear-ending may have aggravated a pre-existing condition.
Authorities shut down State Road 100 at Landing Blvd. to make it a landing zone for Fire Flight, the county's emergency operations helicopter. Bresloff was lifted off at 4:40 p.m., and traffic soon resumed. No one else in the two cars was injured.
at 5:06 p.m., Fire Flight was on its way back from Halifax Hospital in Daytona Beach. Charges are pending against Golden.