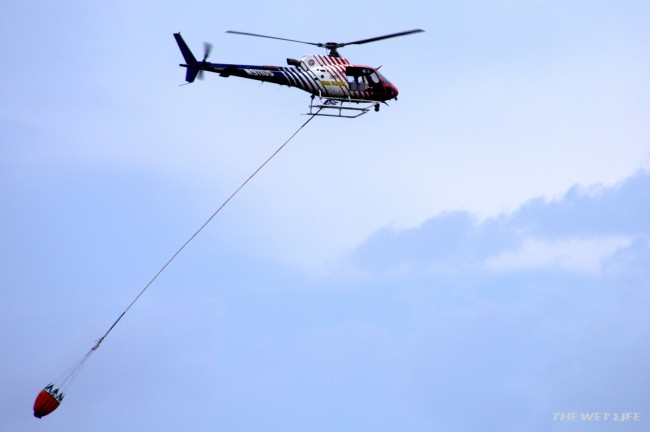 When he was reached by cell phone late this afternoon, Flagler County Fire Chief Don Petito was with firefighters battling a fire of undetermined size in the Durrance Lane area of Hunter's Ridge, at the southern end of the county near Ormond Beach . Firefighters were also battling one at the opposite end of the county, in the ghostly Flagler Estates section of the northeast. Those were just two of the eight fires triggered by lightning strikes Friday afternoon as a storm moved through the area.
Earlier in the afternoon, a lightning strike triggered a small fire in Palm Coast's Central Park, in Town Center. That one was less than a tenth of an acre and was quickly put out with help from the county's Fire Flight helicopter, as was a similar-size fire across the street from the feed store in Bunnell.
There was also a minor fire on the west side of State Road 100, and another on County Road 302. "The one down here is a little bigger than the rest of them. They're estimating this one to be 10 acres but we don't know the number yet," Petito said just after 4:40 p.m. today.
The activity was underscoring the point Petito had made earlier in a release sent out from the fire department: this is the Memorial Day weekend, when people might be tempted to start bonfires and campfires, when they may even be tempted to set off fireworks for whatever reason. Petito's advice: don't.
It's not merely unwise and inconsiderate. It's against the law: Flagler County has a burn ban in effect, extended almost uninterruptedly since December, as the area has seen less rain than it should and conditions are optimized for quick fires, particularly when lightning storms roll through: those storms are like time bombs. Lightning strikes trigger smoldering fires underground that can take up to two days to declare themselves above ground. Petito is expecting the holiday weekend to be busy for local firefighters. Not that they've had much of a break for the past several weeks.
"The fire ban outlaws campfires, bon fires on the beach, and the use of fireworks anywhere in the county," Petito said. "Campfires in state parks and all St. Johns Water Management District property are also outlawed." Barbecue fires are permitted as long as they're within proper vessels. But residents are warned against dumping hot coals in the woods.
The drought index, which is a measuring device used by the State Division of Forestry, ranges from a low of 483 in Flagler County to 684. The index measures from zero, which means the ground is totally saturated, to 800, which is desert-like conditions: a complete lack of moisture. Any rating higher than 500 is considered a critical fire danger. Wildfires can start and spread quickly—as they have in the county.
"We are 7 inches below normal rainfall for the county and the situation is extremely critical," Petito said. The storm that rolled through this afternoon was more lightning than rain, making matters worse.
Flagler County's FireFlight helicopter is flying reconnaissance flights two times a day over the county checking for compliance with the burn ban and any new fires in the county. Fire fighters throughout the county are taking an aggressive approach to any fire calls because of the extreme conditions. Residents who spot smoke or flames are asked to quickly report the either to Flagler County's dispatch by dialing 911.
"We'll probably be working these for a while until we get some type of deluge of rain," Petito said. "We're trying to keep it where it is right is right now."