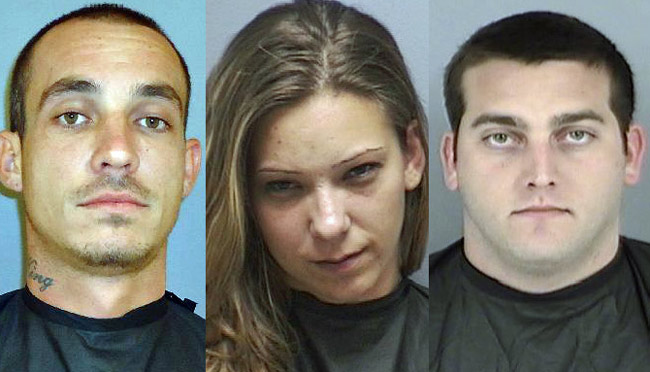 It was a brief but violent fight at Finn's, the popular restaurant and bar in Flagler Beach, the night of Aug. 30, resulting in at least two arrests so far, charges against at least one other person, trespass notices against several Finn's patrons that night, and a severe injury to a woman, who may end up losing sight in one eye. For several of the people involved in the fight, including the victim, it wasn't the first instance of trouble with the law: of eight people named in the Flagler Beach Police report summarizing the incident, six have previous booking records at the Flagler County jail, including one–Harley King–who was just released from state prison five weeks ago.
The fight took place just before midnight, the night of Thursday to Friday, on the upstairs deck of the bar, overlooking State Road A1A. Salvatore Kilday, a 29-year-old resident of South Flagler Avenue in Flagler Beach, was on the deck with his 32-year-old sister Jessica Kilday and their aunt, 53-year-old Angela Bordieri, also of Flagler Beach.
Kristin Howard was also there. Howard, 28, of Riverdale Lane in Palm Coast, is Salvatore's ex-fiancee.
According to Salvatore's account to cops, what triggered the fight was Kristin trying to trip him, then throwing her drink on him and his aunt. According to Kristin's account, Salvatore and his aunt were walking by, gave her dirty looks, and then Angela–the aunt–threw her drink at Kristin, so Kristin retaliated by doing the same. "Kristin stated that the next thing she knew is Salvatore hit her in the head twice and Angela or Jessica clawed the side of her face and her back and one of them had her by the hair," according to the report. "Kristin said she felt she had to defend herself and started to fight back." In Salvatore's version of events, he said, "he tried to hold back his aunt but that Kristin started assaulting them. Salvatore said that his sister then jumped in and this is when Jessica got bit on the nose and Angela got punched in the mouth."
After reviewing surveillance video Finn's provided police, it appeared, according to the report, "that Angela was the aggressor. The video shows Angela walk past Kristin and disappear from view," the report states, "then reappear and get into Kristin's face. At no time can Kristin be seen turning or aggravating the situation. Out of nowhere Salvatore, Angela and Kristin can be seen in a tight group moving west on the deck. Jessica can be seen later rushing into the disturbance without being provoked." But Howard was arrested this evening just after 6 p.m.
That wasn't the worst of it.
Carey Ann Farquhar, a 41-year-old resident of Selma Trail in Palm Coast, was standing at the bar about 10 feet away from the parties when, according to the report, the video shows her "jumping in on the fight" and walking away after it was broken up. But another fight broke out, that one near the west stairs of the establishment, "and Carey can be seen getting involved in it. Carey is seen in the video holding Kristin, while a friend of Kristin's is talking to her and Harley [King] is seen standing on the other side of the group," the report states. King is a 29-year-old resident of Ryland Drive in Palm Coast.
The report continues: "A few moments later Harley can be seen swinging toward Carey and within seven seconds on the video Cary is seen falling. Multiple witnesses describe a white male with a black tanktop and tattoos hitting carey and then being grabbed by Finn's security and being escorted downstairs."
Carey Ann Farquhar was taken to Florida Hospital Flagler and "injected with an opiate reversal drug" called Narcan, the report states, "and responded to the drug immediately." The drug is usually administered after surgery to reverse the effects of narcotics, or to people who may have had too many narcotics. Farquhar was then taken to Halifax hospital in Daytona Beach with a severe injury to her left eye socket. Another police report stated she had internal bleeding.
The reporting police officer visited her on Sept. 1 at the hospital. "Carey's left eye was swollen shut," he wrote, "and she stated that her eye socket was crushed and the ligaments around her eye were damaged. Carey said the hospital was waiting for the swelling to go down before they would take her into surgery for repairs and evaluation. Carey said the staff told her that she may lose vision in her left eye."
When King was questioned about the fight, he told police that he did punch someone, according to his arrest report, but that he thought it was a male. On Sept. 3, King was charged with aggravated assault and booked into the Flagler County jail on $5,000 bond, which he posted. The Ft. Lauderdale native has a long history of arrests in Flagler County, and was sentenced in April 2009 to a nine charges, including trafficking in stolen property, grand theft auto, child neglect, drug possession, and carrying a concealed weapon as a felon. He served in state prison from May 2009 until July 1, when he was released from Charlotte Correctional Institution in Punta Gorda.
But others involved in the fight have a history of arrests as well. Kristin Howard was charged with domestic violence battery in 2009 and 2008, and faced an aggravated battery charge that year. Salvator Kilday was booked on charges of armed burglary, aggravated battery and firing a gun in public in April 2011. The first two charges were dropped that June, he pleaded no contest to the third, a misdemeanor.
Even Farquhar was arrested on a charge of battery on a law enforcement officer in April 2010, a charge the State Attorney did not pursue. While she was in the hospital this week–a week after the fight–an eviction notice was issued against her. And subsequent to the fight at Finn's, a battery charge was filed against her, too.
On September 4, Bordieri filed for an injunction against Howard in Flagler County Circuit Court. On Sept. 7, Howard returned the favor, filing her own petition, but today (Sept. 10), Circuit Court Judge Dennis Craig denied Howard the injunction. The hearing for Bordieri's injunction is set for Sept. 13 before Craig.