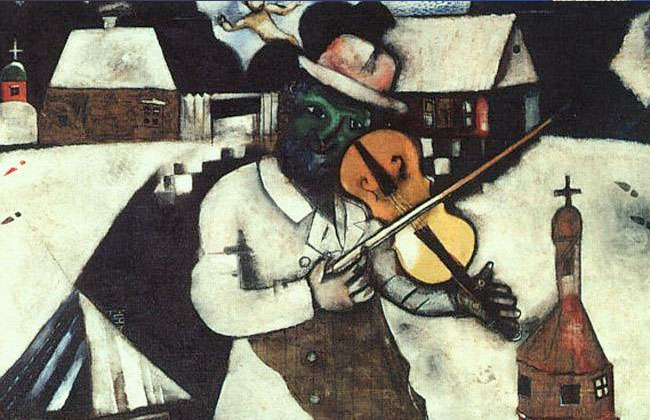 Timeless classic "Fiddler on the Roof," the Tony Award-winning musical that has captured the hearts of people almost everywhere—a tradition of the ages for all ages—wraps up the Flagler Playhouse 2011-12 season. The rewarding, only occasionally flawed production directed by Stephen Pigman opened Friday night to a full house and runs for nine shows through April 29, when it culminates with a special fundraiser for the Flagler Beach Rotary Club.
Now Playing at the
Flagler Playhouse:
---
"Fiddler On the Roof," music by Jerry Bock, lyrics by Sheldon Harnick and based on the book by Joseph Stein, directed by Stephen Pigman. Performances: April 13, 14, 15, 20, 21, 22, 27, 28 & 29. All Friday and Saturday performances start at 7: 30 p.m., Sunday performances start at 2 p.m. Tickets: $20 for adults, $15 for youth. The Flagler Playhouse is at 301 E. Moody Boulevard (SR 100) in Bunnell. Call (386)586-0773 or visit the theater's website.
Click On:
---
"Fiddler on the Roof" is based on a series of short stories by Ukrainian writer Sholom Aleichem (Tevye and his Daughters or Tevye the Milkman and Other Tales), written in Yiddish and published in 1894, and the book by Joseph Stein. The musical's title comes from a painting by Russian-French artist Marc Chagall called "The Fiddler," one of many surrealist paintings of Eastern European Jewish life with a fiddler as a metaphor for survival through tradition and the joy of music.
The play tells the story of Tevye, a poor Jewish milkman and father of five daughters who tries to preserve his family and Jewish traditions amid encroaching influences and shifting social mores. The tension between change and tradition trills through the play like a violin's plaints. Tevye must cope with three of his eldest daughters' hard-fought choice of who they will marry, which takes them farther away from the customs of their faith. And he must cope with the anti-Semitic edict of the Tsar to harass and evict Jews from their villages. Those historical realities–the unrest and the approach of World War I–are crucial to all that takes place in "Fiddler."
The original Broadway production opened in 1964, but by the time the screen version and film adaptation were released in 1971, millions around the world already knew the story. The play was the longest-running Broadway musical for almost 10 years until "Grease" came along. And it was the first musical in theater to exceed 3,000 performances. It has been awarded or nominated for over two dozen combined Tony Awards and Academy Awards and remains in Broadway's top 20 longest running shows. It spawned four Broadway revivals and is a popular choice for school and community productions as is clear here. In short, with its powerhouse reputation and expansive cast (25 strong in this production), there are big traditional shoes to be filled.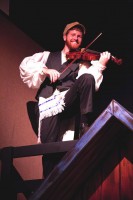 In the play's opening scene at the Flagler Playhouse, a fiddler (Seth Reedy, a member of the Flagler Youth Orchestra) perched precariously on a roof plays haunting strains in the small village of Anatevka in Tsarist Russia, on the eve of the revolution of 1905. During his opening monologue, a beleaguered Tevye, played extremely well by Curtis Ceballos, a Playhouse veteran of six productions, likens life to the fiddler making beautiful music while balanced uncertainly. "Of course, I understand there's no shame in being poor. It's no honor either," he says later.
In monologues directed to the audience and in conversation, Tevye makes it clear that the village's longstanding traditions, culture, and religion, guide the people of Anatevka despite poverty and change: Like matchmaking where a wife is chosen for a man, the girl's father approves and the ceremony happens. It's how Tevye expects his five daughters to be married: just as he and his wife Golde (convincingly played by actress and Playhouse board member Nancy Howell) were matched and married.
His eldest daughter, Tzeitel, played by Flagler College student and vocal performer Elaine Lyles, spurns her selected match, wealthy butcher Lazar Wolf (Daytona Playhouse alum Steven H. "Doc" April) for her beloved, poor tailor Motel Kamzoil (Adam Mayo of Flagler Playhouse's recent "Nunsense" fame). Tevye reluctantly agrees, but the decision has unintended consequences: it gives his children freedom of choice. As a result, his second daughter, Hodel (Caitlin Eriser, alum of seven Playhouse productions and killer vocals) opts to marry an idealistic revolutionary, Perchik (longtime Daytona State and Playhouse performer Beau Wade). The youngest daughter Chava (Tera Cieri, who's been in several chorus shows and plays), falls in love with a non-Jew named Fyedka (dancer Brent Jordan's acting debut). Tevye draws the line at that one with a line of his own: "One little time I pull out a thread. Where has it led?"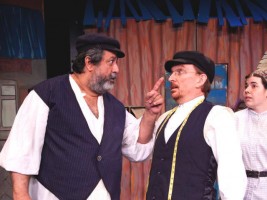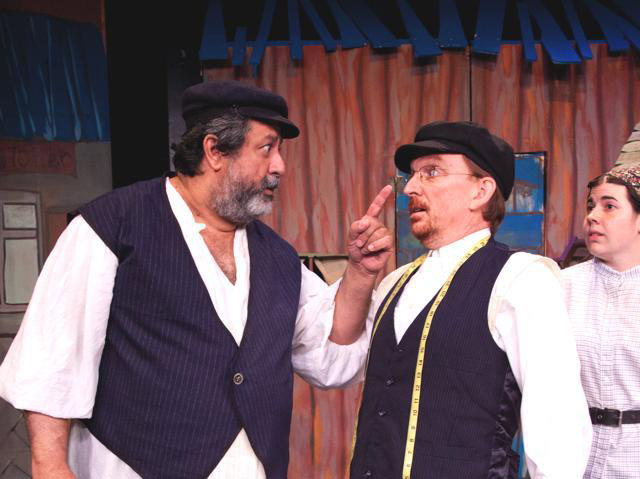 You don't have to be an alumni of a Russian shtetl to sympathize. You need only be a parent–traditional, divorced, single, gay, cross-dressing, pious, atheist, rich, poor, retired–which may have something to do with the play's universal popularity.
The plot lends itself to serious, poignant and humorous moments, with the show's local cast ably performing renditions of popular songs "Tradition," "Matchmaker, Matchmaker," "If I Were A Rich Man" (covered by Gwen Stefani and Eve as "Rich Girl" in 2004) and "Sunrise, Sunset."
The vocals are clearly stronger in groups, which naturally smooth over individual weaknesses. The choreography isn't always tightly executed and Wade's solo vocal performance is middling. But Eriser as Hodel and Ceballos as Tevye clearly stand out. Brent Jordan's background in dance ripples from the way he performs and carries himself around the stage.
Although it appears rudimentary at first glance, the dynamic set artfully designed for flawless rearrangement (and the scene changes were flawless) lends much to the play's scenery and feel. The tireless direction by Stephen Pigman and hard work by the cast in perfecting this local version is clear. A recent Flagler College theater arts graduate, Pigman has directed two other Playhouse productions, including "Steel Magnolias" and "A Christmas Carol."
During the run of "Fiddler on the Roof" from April 13 through 29, a special exhibition of photographic art presented by the Flagler County Art League will be displayed in the Flagler Playhouse Reception Room. Flagler Playhouse tickets are good for a free glass of wine at Terranova's Restaurant and Pizzeria on 208 N. State St. in Bunnell.
The 2 p.m. Sunday matinee performance on April 29 is a Rotary Club of Flagler Beach fundraising event to benefit Rotary projects like Project Share, Project Share Food Co-op, African Well, Mammogram Equipment, Orphanage Bakery and Dairy Equipment and scholarships. Tickets for the special showing can be obtained on the Flagler Beach Rotary website. Tickets are $25 and include a free glass of wine, hors d'oeuvres at intermission and open seating.