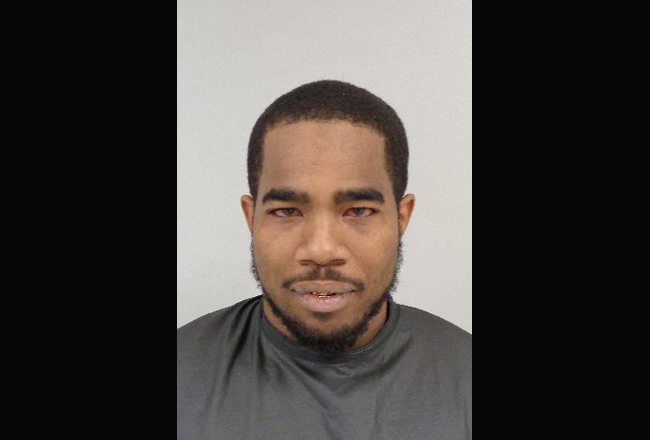 A high-speed chase for a Jacksonville man that started somewhere on I-95 south of Palm Coast ended at Palm Coast Parkway and Club House Drive earlier this afternoon with the man's arrest–and the wreck of a Florida Highway Patrol cruiser.
Aaaron Butler, 24, of 5710 Lenox Avenue in Jacksonville, was booked at the Flagler County jail at 7 p.m. after having been taken to Florida Hospital Flagler for treatment of a dog bite: FHP, whose felony troopers were chasing Butler, released an FHP K-9 to track Butler down. He was released from the hospital, back into police custody, several hours ago.
But the sheriff's Office's jail log online indicates that Butler is not there anymore, suggesting either that the record is not yet complete (no charges are listed) or that he may have already been transported to a different location.
Butler was reportedly wanted for a home invasion in Jacksonville, and had been sought for about four months.
Little additional information about Butler is known at the moment: FHP has yet to release a report on the crash. Butler was traveling with a woman on I-95. She was seen throwing a gun out the window as the car sped north. The gun has been recovered.
Spokespersons for the Flagler County Sheriff's Office had little information, saying the case was FHP's, but that possibly two people had been arrested.
The arrest report was issued this morning. According to the report, Butler was stopped at mile marker 282 on I-95 (just south of the intersection with State Road 100) for window tinting that was too dark. When a trooper approached Butler's vehicle–a black 1983 Ford truck–and asked for a driver's license, Butler produced it "with an extremely shaky hand," his arrest report states. As the trooper talked with Butler and his passenger, Dakota Knowles, 20, the trooper said he could smell a strong odor of burnt pot.
The trooper called for back-up. The back-up arrived in two minutes. A check of Butler's driver's license showed it had been suspended. Dispatch then called the troopers at the scene to inform them that Butler was wanted for robbery.
"At this time I was just going to ask Aaron to step back to my vehicle and sign his citation," the trooper reports, "hoping that would keep him from running. I approached the vehicle on the driver's side and advised Aaron to step back to my vehicle and sign his citation (his window was down). Aaron put the vehicle in gear and accelerated northbound on I-95."
The chase was on, reaching speeds of 110 miles per hour. It was during that stretch that Knowles was seen throwing the handgun from the passenger-side window onto the grassy shoulder. Butler, the report states, drove recklessly, cutting off other drivers with no regard for safety and "as if he was running for his life."
He then exited onto Palm Coast Parkway, cutting through traffic as he sped east. Troopers were the told that if all he was wanted for was robbery, they should end the pursuit. By then Butler was approaching Club House Drive. A trooper was relaying information back to dispatch about the handgun being thrown out of the car, which could mitigate the decision to end the pursuit.
Butler made a sharp left turn onto Club House and came to a sudden stop, causing the trooper behind him to smash into the Ford. Butler got out of the Ford and ran through the woods.
Since he was a fleeing felon and was possibly armed, FHP decided to continue the chase with a K-9 (called Ronnie) to prevent him from carrying out another home invasion, "which happens often," the report states, "following high speed chases ending with the suspect fleeing on foot."
Some 75 yards into the woods, the dog caught up with Butler and bit his left thigh (the repot states that the dog apprehended him "by engaging his left thigh"). Butler was handcuffed after a brief struggle and the dog "was disengaged."
Knowles the told a trooper that she and Butler were–according to the arrest report–smoking pot when they saw the cruiser's flashing lights, but she had no idea Butler was going to flee, and yelled at him to stop. She said Butler then reached under his seat, retrieved what may have been a 9mm gun, and asked Knowles top throw it out. She cried and shook uncontrollably as she spoke to the trooper, in shock after having feared that the chase would kill her.
A search of the vehicle yielded some capsules and two bags of 9mm ammunition, some powder cocaine, and black gloves. About that time, Flagler County Sheriff's deputy Joe Barile found the gun on I-95. Kowles was released.
Both Butler's vehicle and the FHP cruiser had to be towed. No troopers were injured.