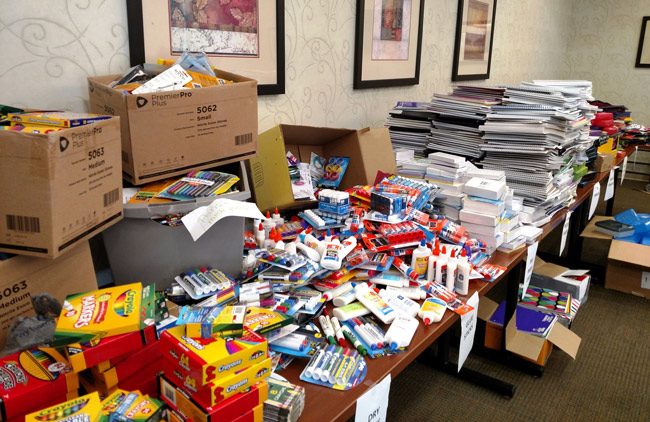 Throughout June and July, four local Florida Hospitals collected school and medical supplies for two local charities.
Employees from Florida Hospital Flagler in Palm Coast, Florida Hospital Memorial Medical Center in Daytona Beach, Florida Hospital Oceanside in Ormond Beach and Florida Hospital New Smyrna in New Smyrna Beach donated school supplies to The Jewish Federation of Volusia and Flagler counties. Hospital staff filled more than 50 boxes of crayons, notebooks, pencils, pens, index cards, glue sticks, scissors, backpacks, and more.
"We were so thrilled to receive this outpouring of support from Florida Hospital. With this generous gift, we will be able to help more than 7,000 local students," said Gloria Max of the Jewish Federation. "In 22 years, we will have helped over 100,000 students receive backpacks filled with supplies."
The medical supplies were donated to support clinics at schools in eastern Volusia County, as well as Flagler County, and included cotton balls, band aides, cold packs, gloves, tissues, and more.

Flagler County Schools Display Children's Art in Florida Hospital Flagler's ER
On July 31, Florida Hospital Flagler celebrated the start of the Art of Healing program in the emergency department.
Each quarter, artwork from the various Flagler County Schools will be on display in the emergency department. This quarter's art is provided by the talented children at Bunnell Elementary.
"This unique art gallery allows us to inspire and comfort those in our emergency room. We know visiting an emergency room can be stressful to our patients and their family, and we hope this special area will provide relief and solace during an overwhelming time," said Dr. Ron Jimenez, Florida Hospital Flagler CEO. "We are so grateful to the Flagler County Schools for participating in this unique project and excited to see the artwork over the coming months."
"Putting the artwork here in the hospital has given our students the opportunity to have an impact on the healing process," said Lynette Shott, Flagler County Schools executive director of student and community engagement. "In addition to helping patients, this has a lasting impact on the child or young adult creating and displaying the artwork. This impact can influence them as they make decisions on where they will go in life and how they can benefit humanity. That's powerful!"
Dr. Paul Mucciolo, Florida Hospital Flagler's medical director of the emergency department, had the initial idea, which spurred discussions with the school system and hospital leadership.
"It really is quite exciting," Mucciolo said. "I know our patients will benefit from this. Our organization's mission is to extend the healing ministry of Christ, and what better way to do that than with this artwork from the children?"