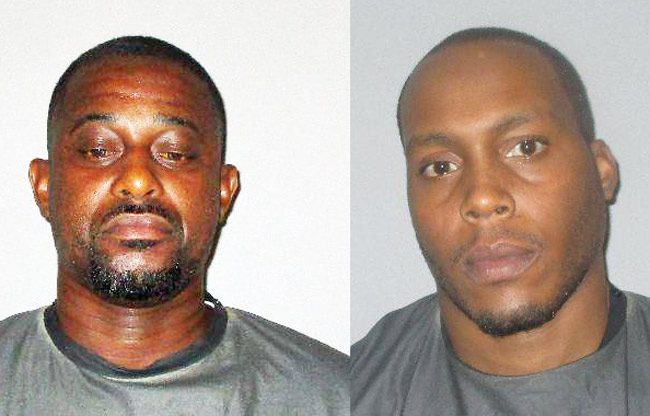 Two Palm Coast men arrested in three days saw their drug-dealing charges complicated by felony child-neglect charges stemming from accusations that they were conducting their business or acting violently in the proximity of the children.
Rondal Gibson, 29, of 57 Blakemore Drive in Palm Coast, was arrested Thursday at the B-section house after Flagler County Sheriff's deputies searched the house and allegedly found 604 grams of pot, 24 grams of THC concentrate, and 40.6 grams of cathinones, also known as bath salts, a chemical stimulant. The search also allegedly uncovered supplies commonly associated with drug-dealing such as a vacuum-seal machine and two scales with apparent residue.
The bath salts were allegedly found in an open suitcase on the master bedroom floor. Some 8 feet away, according to Gibson's arrest report, a 2-year-old child was sleeping on the floor, "and could have easily gained access to the cathinones."
The search and arrest resulted in five charges for Gibson, four of them felonies. Neglect of a child is a third-degree felony. Drug-trafficking in a controlled substance is a first-degree felony. Possession of pot with intent to sell is a third-degree felony, and possession of a controlled substance with intent to sell a second-degree felony. Gibson is being held on $45,500 bond at the Flagler County jail.
Unlike Gibson, Stokes, 40, has an extensive history of arrests and incarceration, including two stints in state prison, the last a three-year term that ended in May 2016 for aggravated battery with a deadly weapon, burglary and forgery. (Between credit for time served at the county jail and early release for good behavior, he served less than two years in state prison.) He'd previous served a shorter stint in 2007 and 2008 on drug charges.
Last Sunday, a deputy was dispatched to his home on Rae Drive where his 30-year-old girlfriend reported he'd woken her up near midnight and argued about an event she'd been to, and according to her, he began to strangle her on the bed. The 1-year-old son they have in common woke up. Stokes allegedly picked him up "and began to talk to the child about his mama not wanting him (Kiawan) anymore, and that he was sorry he (Kiawan) had to do her like this."
The report continues: "She fought back and he began to attempt to strike her with the child in his arms." After the altercation, Stokes drove off with the child. Deputies located the Honda on U.S. 1 and pulled it over, placing Stokes under arrest for domestic violence and child neglect.
The arrest adds to a series of charges Stokes has been accumulating since April. On April 20 he was pulled over for going 40 in a 20 mph school zone and issued a citation. During the traffic stop, a deputy could smell pot emanating from the car. A search allegedly led to 29.8 grams of pot that had been hidden under the child seat in the back.
On May 17, he was pulled over on another traffic infraction–crossing over the white line at a stop sign–and the same scenario developed: the arresting officer, from the Bunnell Police Department, smelled pot. Stokes was traveling with passengers and acknowledged to the officer that they'd smoked pot earlier, but said there was nothing illegal in the car. When asked to step out of the car, he told the deputy: "You can't search this car."
Normally, he would be right. Police may not search a vehicle without permission of the occupant, or a warrant. But the third reason they may search is if they believe the occupant is involved in criminal activity. The calls are subjective but rarely challenged after they result in such things as illegal drug finds.
"Once he exited the vehicle," the arrest report states, "he began reaching into his pockets and looking around as if he was either attempting to conceal something or take flight on foot." He was handcuffed and placed in the back of a patrol car. The officer found Stokes's driver's license at the bottom of the center console during the search (Stokes had told the officer that he did not have his driver's license with him).
The search also produced a Huggies container on the rear passenger side floor board. In it was a black scale with trace amounts of something leafy, according to the arrest report, four small bags containing what appeared to be pot and a citation that had been issued to him by a Bunnell officer three days earlier, when he was at the wheel of a Jaguar. The pot weighed 43.6 grams. His passenger told the officer she'd just met Stokes and that the two of them were traveling back to a friend's house to have sex.
Stokes told the arresting officer that he'd not been driving his own car, and that the pot wasn't his. In the patrol car he asked to make a phone call. The officer dialed the number and held up the phone through the cage partition, on speaker phone, so Stokes could speak. He called a man called "Buddy" and told him he was going to jail "because of that shit in the car."
"What shit," the man on the other end asked.
"The weed," Stokes allegedly replied.
The charges Stokes now faces are spread over three cases but may be consolidated. His felony charges carry added gravity since he is considered a prison re-offender. Stokes is being held without bond at the Flagler County jail.