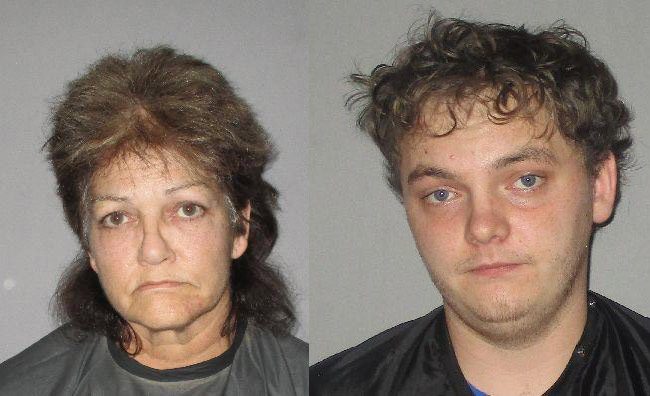 Two Palm Coast residents were booked at the Flagler County jail on separate felony child abuse charges Saturday and Monday, one of them aggravating a previous case involving drugs, the other facing a drunk driving charge in addition to three counts of child abuse.
Ryan D. Cornwell, a 24-year-old resident of 33 Farragut Drive in Palm Coast, was arrested after midnight Monday morning and accused of driving drunk with his three young children in the back seat.
At midnight, a Flagler County Sheriff's deputy parked at the RaceTrac gas station on State Road 100 saw Cornwell's Town and Country van stop in the gas station lot, speak to people, then drive off, squealing the tires and running a stop sign. The sergeant followed. He then saw him making turns with a wide radius, straddling the center lane, almost striking the center median, swerving, and turning abruptly.
The deputy pulled Cornwell over. In Cornwell's arrest report, the deputy described the driver's clothes as mussed and disorderly, his speech slurred, his eyes watery and bloodshot, the odor of alcohol around him strong. His 21-year-old wife—identified as living in Connecticut–was in the front passenger seat. Their three children were in the back seat. Their ages: 1, 2 and 4.
Cornwell had to brace himself against the vehicle after a deputy asked him to step out. He allegedly admitted drinking alcohol before leaving his house. He failed the various field-sobriety exercises. Meanwhile his wife requested that her mother be called so she could come to the scene and drive her and the children back home—which the mother did.
At the jail, Cornwell provided two breathalyzer tests. One registered 0.141, the second 0.144. Both were administered a few minutes before 2 a.m., or two hours after the traffic stop. The legal limit for drivers in Florida is 0.08. He was booked at the jail and the Department of Children and Families was contacted regarding the incident. He bonded out later Monday morning.
In the unrelated Saturday incident, Rebecca Knowles, 64, a resident of 19 Prosperity Lane B in Palm Coast, faces a felony child abuse charge that triggered a violation of a pre-trial release agreement, itself a misdemeanor. The agreement had been the consequence of a previous set of charges.
Knowles on April 23 was arrested and charged with four counts of drug possession, two of them third-degree felonies. She was to appear before a judge for a bond hearing on Monday. That was cancelled by her arrest on Saturday.
Deputies had responded to a house on Banton lane that afternoon where a disturbance had been reported. The victim, a 16-year-old boy, told deputies that she had showed up at the house because she had nowhere else to go. She had lived there before, but not for the past four months. Oddly, she started recording everyone at the house on her cell phone. The alleged victim tried to take the phone away from her. She allegedly slapped him.
A cousin of the victim corroborated the incident. An adult in the house, the alleged victim's uncle, told deputies he'd urged Knowles to leave the house, not wanting her there because of her drug use.
She was booked at the Flagler County jail on $5,000 bond, where she remains. abuse.