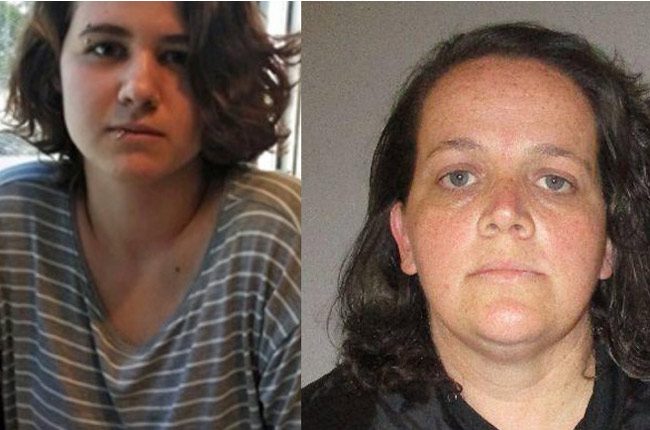 The Flagler County Sheriff's Office today charged Kindra Dixon with a felony count of interfering with the custody of a child and with giving false information to law enforcement in the latest twist in the disappearance and recovery eight months later of a Palm Coast teen. Dixon, 39, was booked at the Flagler County jail on $2,500 bond at 4 p.m.
The Sheriff's Office is also seeking to recover $4,114 in investigative costs from Dixon, money the agency says would not have been spent had Dixon cooperated in the missing-person case.
The charges stem from the sheriff's investigation of the disappearance of Samatha Posella last October, when Posella was 17 and ran away from her 45 Llama Trail house in Palm Coast. She'd lived there with her biological father, Joseph Posella, 40, her step-mother Barbara Posella, 45, and three younger step-sisters. Samantha's own biological mother lives in Orlando but the two have had no contact for years.
There was no sign of Samantha for eight months, at which point the Sheriff's Office was shifting the missing-person investigation to a potential homicide investigation and preparing to bring cadaver dogs to the L-Section, fearing the worst. Ahead of that move the department re-issued its missing-person alert in hopes of spurring a more hopeful discovery.
It worked: Samatha, now 18, came forward, speaking with a West Palm Beach police officer in person and with a Flagler Sheriff's deputy by phone, but only to say she was alive and well. She would not disclose her address and said she had no intention of returning home. But in her conversation with the Flagler deputy she allegedly disclosed that Dixon had provided her with a cell phone before her disappearance.
The cell phone is playing a central role in the sheriff's decision to charge Dixon.
Dixon had told detectives that she had bought Samantha a cell phone but then changed her story, saying she'd bought a phone but not for Samantha, claiming her parents would simply have taken the phone away from her when she'd returned home. The phone would have been key to finding a missing person as it could be pinged and point to activity–and location, even without a warrant. (A Supreme Court decision earlier this month ruled that a warrant is required when recurring phone data that establishes patterns is sought.)
In early November, when Samantha had been missing four weeks, a detective warned Dixon that interfering with the investigation could lead to charges. She would again change the story about the cell phone in an interview with a detective a few days ago–saying that she had, after all, acquired a phone for Samantha in case Samantha needed to call the cops for protection from her parents.
Dixon's daughter, who had been Samantha's close friend, told detectives that her mother had given Samantha a phone "because she wanted her to use the phone in case something happened."
Later in November Shawn York, 43, a resident of Llama Trail a few doors from the Posella house, told deputies he'd driven Samantha back to the neighborhood from U.S. 1 the day of her disappearance–she'd been walking barefoot on U.S. 1–and that later that day Dixon had told him Samantha was "hiding in the back of her vehicle so no one could see her," according to Dixon's arrest report.
"During the course of the investigation, Kindra provided several different accounts about the phone in an effort to hinder law enforcement from locating the missing girl," a sheriff's release announcing Dixon's arrest stated today. "Even after Samantha turned 18 years of age, and could no longer be compelled to return home, Kindra repeatedly provided false and misleading information to Law Enforcement that severely hindered the investigation. When investigators assured Kindra that if she provided information that helped locate Samantha then she would not face criminal charges, she still refused to cooperate."
When Samantha briefly spoke with a sheriff's deputy this week by phone, she said she'd had the cell phone but gotten rid of it.
Dixon's home at the time of Samantha's disappearance had to be processed as a crime scene. Dixon became the subject of surveillance to ensure she was not destroying evidence of a homicide, the Sheriff's Office said. The State Attorney's Office Homicide Investigations Unit became involved. Investigators met with FBI agents and prepared the cadaver dogs, all at considerable cost to tax payers, and all avoidable, the Sheriff's Office said, had Dixon been honest with law enforcement on Samantha's whereabouts. Dixon for her part believed she was helping to protect Samantha.
"Yet she made no effort to contact the Florida Department of Children and Families," Sheriff Rick Staly said, "there is no record of her contacting the National Runaway hotlines as she claimed she had, and she never called law enforcement to express concerns for abuse. There are systems in place to protect juveniles from abuse and she utilized none of them. Instead, she spent eight months deceiving law enforcement, wasting taxpayer dollars for an unnecessary investigation, and keeping Samantha's parents from knowing if their daughter was even alive."
Dixon retained Josh Davis, the Palm Coast attorney, to represent her earlier this week. Davis spoke with FlaglerLive for an earlier story. He has not returned calls or texts on Thursday and Friday. In the earlier interview Davis said Dixon was protecting Samantha because she was believed to be living in an abusive situation. He described her, based on neighborhood accounts, as a "Cinderella," whose parents made her work and disassociated her from school and social circles, and who disapproved of her sexuality (Samantha had come out as gay), allegations Barbara Posella denied.
There appears to be little question that the household had its issues pre-dating Samantha's disappearance.
The Posellas have lived at the Llama Trail house since 2012. In February 2014, the Department of Children and Families investigated the house and requested the assistance of sheriff's deputies, which was provided, according to a sheriff's report. DCF, the report states, had received allegations that domestic violence was occurring between Barbara and Joseph Posella and that Samantha had been physically abused.
Earlier this week in an interview with FlaglerLive, Olivia Barth, now 18, said she had been a classmate of Samantha's at Imagine School at Town Center four years ago, and had reported to a school counselor that Samantha had been abused. "A couple of months before eighth grade ended she came in one day, she had a bruise under her eye and one on her back," Barth said, recalling Samantha telling her that her father allegedly "broke a beer bottle over her back." Samantha did not want the matter reported.
A DCF official spoke with the allegedly abused child at the house, according to the sheriff's report. Samantha "stated that she 'bumped' her forehead on the table during the incident and that she was slapped for being disrespectful," the report states. She told the DCF investigator that her parents have arguments but she'd not witnessed domestic violence. Barbara Posella told the investigator that her daughter had been "yelling and screaming at her," that she lost her cool and slapped her across the face. DCF concluded the incident did not rise to the level of abuse. None of Samantha's three younger sisters showed signs of abuse.
In July 2016, Barbara Posella's 76-year-old mother called deputies out of fear that an argument between her daughter and Joseph Posella, which had dragged on all day in front of the parents' four children, would turn physical. " Mr. Posella agreed to stay outside until he felt calm and his wife would allow him back inside," a sheriff's report stated.
Three months later deputies were again called to the house late on a Sunday night as the parents argued, allegedly over Joseph's alcoholism, according to Barbara, and his refusal to seek treatment. He had attempted to leave the house, she had jumped in the bed of his truck, then into the cab, where the argument turned physical, according to Joseph, when she struck him on the head. He attributed it to her "extreme anxiety" and "panic attacks," and she agreed to be taken for evaluation to Flagler's Crisis Triage Treatment Unit, where Baker Acts are usually transported.
"Based on the fact that Barbara's mental health issues were likely the aggravating factor which led to physical violence during this incident," the sheriff's report states, "criminal charges for domestic battery were not pursued due to her voluntary participation in a mental health evaluation."