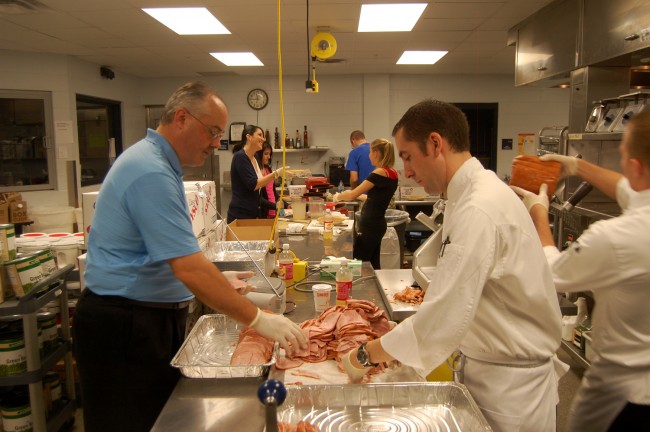 Talk about a culmination of goods.
450 pounds of turkeys (or 100 turkeys).
450 pounds of ham.
430 pounds of green beans.
450 pounds of corn.
350 pounds of mashed potatoes.
170 pounds of cranberry sauce.
350 pounds of stuffing.
2,100 rolls.
170 pumpkin pies.
It was all there Tuesday at the Buddy Taylor Middle School kitchen, getting cooked, sliced, chopped, prepared and "staged" in preparation for Wednesday's giant Feed Flagler feasts for 2,000 people–anyone who chooses to attend–at 10 locations around the county.
Those preparing the feast were among the core of the Feed Flagler initiative: Milissa Holland, the county commissioner who initiated Feed Flagler last year; Marc Ray, the General Manager and Chief Operating Officer of Hammock Dunes Club in Palm Coast, Jason Hall (Hammock Dunes' chef) and Joe Gianzero, Hall's saute cook. As 100 turkeys cooked simultaneously in several ovens at 350 degrees, they were literally slicing every ham and pie as they moved methodically through the gargantuan task of preparing a meal for 2,000. Holland brought help: two of her children (Ty and Tori Holman) and Brittany Kovalskaya, a friend of her daughter's and the freshman class president at Matanzas High School. they were all wrist-deep in preparations, and would be most of the day.
---
Almost There: $980 and Counting:
FlaglerLive is hoping to raise $1,000 for its part in Feed Flagler. We're almost there. Every donor is recognized by name in the LiveWire every day. We still need your help. If you haven't contributed, please do your part and help us get to $1,000. If you'd like your donation to remain anonymous, we'll honor that request (send us an email here).

---
---
Ray and his crew would continue working, presumably with a break for the night, through early afternoon Wednesday (down to the slicing of every turkey) when, staggered at five minute intervals, an entire transportation operation coordinated by other volunteers will transport the food, at the right temperature, to the 10 locations around the county where it will be served–with musical entertainment–from 3 to 6 p.m. "It's a huge production," Ray said. "Trust me: when you have the right people in the right place, it makes all the difference."
Ray and Hall, the chef, will actually be toggling two feasts at the same time: they have a feast for 600 getting set for their club's tables on Thursday. "My staff is working simultaneously on that function while we're here," Hall said. "But we're here because it's important to us and to our membership, and they allow us to be here," Ray said.
Holland launched Feed Flagler last year, with the Flagler County Commission's backing–and the backing of 400 volunteers coordinated through Jean McAllister's Flagler Volunteer Services–as a Thanksgiving gift to the community, and a way to raise Flagler's awareness about the hungrier and needier in its midst. They're here, in much larger numbers than just two years ago, but they're not easily seen, especially when it comes to the newly poor–formerly middle class households that lost homes or jobs and are now battling to make ends meet.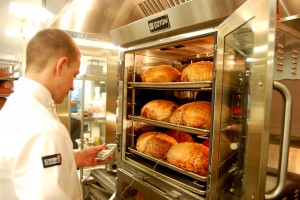 The few tons of goods above is only a partial list of Feed Flagler's achievements. The effort had two other components: a fund-raising drive, which has brought in some $13,000 through dozens of local businesses, churches, schools and individuals (not including at least $850 in an ongoing drive through FlaglerLive), and a food drive that brought in additional tons of food. Those non-perishables have been divided into 400 books of a week's worth of food each. Each box will be handed out to a family in need during Wednesday's Thanksgiving feasts. What remains will be transferred to two food pantries, which have also already received hundreds of pounds of food.
The feasts all begin Wednesday at 3 p.m. and will run until 6 p.m., with musical groups at each location. Everyone is welcome: Holland intends the day of feasting to be primarily a communal event.
The locations are as follows:
Buddy Taylor Middle School, 4500 Belle Terre Parkway, Palm Coast
Bunnell First United Methodist Church, 205 Pine Street, Bunnell
Hidden Trails Community Center, 6108 Mahogany Blvd, Daytona North
Wickline Center, 800 S.Daytona Ave., Flagler Beach
Mt. Calvary Baptist Church, 75 Pine Lakes Parkway South, Palm Coast
Espanola Community Center, 3055 C.R. 13, Espanola
Pellicer Community Center, 1380 C.R. 2007, West Flagler County
St. James Missionary Baptist Church, 609 State Street (U.S. 1) Bunnell
First Baptist Church, 5328 Oceanshore Blvd (S.R. A1A), the Hammock
First AME Church of Palm Coast, 91 Old Kings Road North, Palm Coast
If you need transportation to a site, call Flagler County Transportation at 386/313-4100 or email: [email protected].
You can still make food donations at the United Methodist Church in Bunnell every week day from 9 a.m. to 2 p.m. or at the Grace Community Food Pantry behind Flagler Palm Coast High School, where you can call at 386/586-2653.