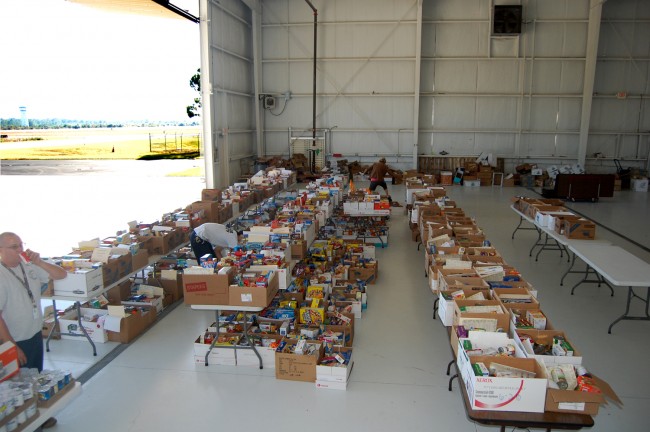 Note: A photo caption in today's News-Journal about Feed Flagler mistakenly directs people to the Flagler County Airport to pick up food donations. Feed Flagler used the airport location only to prepare 400 boxes of food packages to be distributed next Wednesday at 10 locations around the county. The News-Journal won't get around to cleaning up its error until tomorrow.


It's a feeding frenzy of the best kind: Flagler County—under the banner of Feed Flagler and the leadership of the county commission and commissioner Milissa Holland—has rallied in a matter of weeks to bring together a countywide Thanksgiving celebration that will serve 2,000 free meals at 10 locations for anyone who wishes to be there—the rich, the poor, the neighborly, the hungry, and anyone else who wants to have a few servings of expertly prepared turkey and fixings, community warmth, companionship, and plenty of music: there will be entertainment at every one of the 10 locations.
"There's nowhere that I've been in the last few weeks where there isn't someone talking about Team Feed Flagler," Holland said.
Expect delicious food: The cooking of 100 turkeys is the work of Hammock Dunes Club's Marc Ray and his chef, Jason Hall.
The Thanksgiving celebration takes place Wednesday, Nov. 24, from 3 to 6 p.m. at the 10 locations listed at the bottom of this article. The effort has been coordinated by hundreds of volunteers in every local government agency and school, numerous churches, civic groups, businesses and just people wanting to help.
And of course it's about a lot more than just one Thanksgiving dinner. Feed Flagler featured two parallel races: groups and individuals were challenged to raise the most money and the most non-perishable amounts of food, with two goals in mind: first, to underwrite the Feed Flagler celebration itself. Buying 100 turkeys and fixings doesn't come cheap. Second, and even more important than the first: To build up a big bank of food for distribution to those in need, and for stocking at the county's food pantries.
Both efforts have exceeded expectations.
At the weekly gathering of Feed Flagler's organizers and coordinators—which has taken place every Friday morning at Bunnell's government building since October—Holland this morning announced cash donations approaching $13,000, and food donations adding up to many thousands of pounds. The local group Chicks with Cans alone won the non-perishable food challenge by raising 4,000 pounds of food.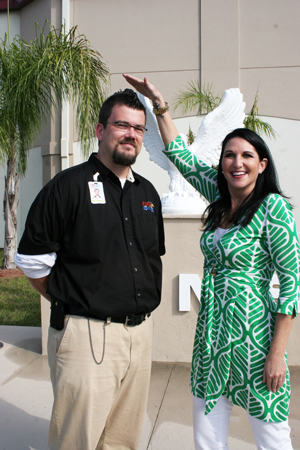 In the schools, Rymfire Elementary, which has the highest proportion of students on free and reduced lunch, raised the most food. But Buddy Taylor Middle School, which has 62 percent of its students on free and reduced lunch, raised $162 in cash. The school decided to make its challenge fun by getting the faculty member who raised the most money to submit to a Mohawk-style haircut. The winner: Nathan Lovelette, an assistant principal.
In the cash category, there really was no doubt who would win from the start: Tax Collector Suzanne Johnston, who had jars set out at all her counters in town so customers could drop change and dollar bills. It piled up quickly–to $3,400. The total Holland announced was $12,700 so far, but that does not include at least $600 from FlaglerLive, where the fund-raising continues.
On Thursday at the Flagler County Airport, Microhose, the new company in town planning to develop an innovative garden hose, turned over the hangar it's leasing to Team Feed Flagler so that thousands of pounds of food could be sorted and divided into 400 boxes. Each box contains about a week's worth of non-perishable food, including rice, pasta, soups and other staples. The work of some 12 volunteers was done by the middle of Thursday afternoon, under the supervision of Joe Mayer, the county's human resources director who put his military specialty—logistics—back to work. He was in the Army for 23 years in logistics and recruitment. The boxes will all be distributed to the 10 dinner sites on Monday and Tuesday.
---
$880 and Counting:
FlaglerLive is hoping to raise $1,000 for its part in Feed Flagler. We're more than half-way there. Every donor is recognized by name in the LiveWire every day. We still need your help. If you haven't contributed, please do your part and help us get to $1,000. If you'd like your donation to remain anonymous, we'll honor that request (send us an email here).

---
---
Team Feed Flagler was in a celebratory mood at its weekly meeting this morning, but there was a reason Holland used an old truism as the inspirational quote of the week—"when the going gets tough, the tough get going": the hardest part is still ahead as all the coordinating work, especially the cooking, the distribution of the food at the right temperature, the coordination of the music at each location, the transportation that goes with it all, and the continued communications for the effort, reach their peak in the next several days.
The organizers are also intent on ensuring that this becomes an annual food drive. In other words, it doesn't end on Thanksgiving. Hunger and need are now part of Flagler County's social landscape. That's not about to change, or to be cured by a day's feast. The feast is merely the wake-up call to rolling action.
Below are the 10 locations of the free feasts on Wednesday, Nov. 24, from 3 to 6 p.m.
If you need transportation to a site, call Flagler County Transportation at 386/313-4100 or email: [email protected].
You can still make food donations at the United Methodist Church in Bunnell every week day from 9 a.m. to 2 p.m. or at the Grace Community Food Pantry behind Flagler Palm Coast High School, where you can call at 386/586-2653.
The dinner locations:
Buddy Taylor Middle School, 4500 Belle Terre Parkway, Palm Coast
Bunnell First United Methodist Church, 205 Pine Street, Bunnell
Hidden Trails Community Center, 6108 Mahogany Blvd, Daytona North
Wickline Center, 800 S.Daytona Ave., Flagler Beach
Mt. Calvary Baptist Church, 75 Pine Lakes Parkway South, Palm Coast
Espanola Community Center, 3055 C.R. 13, Espanola
Pellicer Community Center, 1380 C.R. 2007, West Flagler County
St. James Missionary Baptist Church, 609 State Street (U.S. 1) Bunnell
First Baptist Church, 5328 Oceanshore Blvd (S.R. A1A), the Hammock
First AME Church of Palm Coast, 91 Old Kings Road North, Palm Coast