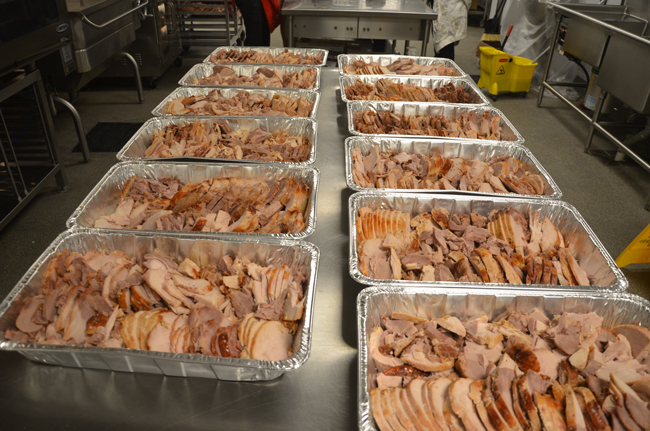 Team Feed Flagler, the annual community Thanksgiving meal and food drive led and chiefly sponsored by Flagler County government, kicked off its fundraising and non-perishable food collection effort with a public event at the Grace Community Food Bank in Bunnell in late July.
This year's theme for the drive is "focusing on families." Team Feed Flagler has scheduled several public appearances to help get the word out to the public.
"Feed Flagler is one of the most important annual events in our community," County Commission Chairman Nate McLaughlin said. He is spearheading this year's Team Feed Flagler effort, which for the first time will be led by someone other than Milissa Holland, the former commissioner who created the event and chaired it for four years. "We are getting an early start this year to even further increase the event's visibility and reach more families than ever before," McLaughlin said.
Team Feed Flagler is a coalition of Flagler County staff and community volunteers that organizes the annual Feed Flagler Community Thanksgiving Celebration. The team is already in the process of planning and organizing this year's event, which culminates with some free meal at several locations across the county, the day before Thanksgiving. (The event will be scaled down from previous years, which featured 2,000 free meals at nine or 10 locations. An earlier version of this story had incorrectly noted that last year's approach would be repeated.)
Look for representatives from Team Feed Flagler – wearing their familiar orange t-shirts – at the following events where you can show your support by donating either funds or non-perishable canned goods:
Team Feed Flagler Food Donation Drive
| Event | Location | Date |
| --- | --- | --- |
| Food Truck Tuesday | Palm Coast Town Center/Central Park | Aug. 20 |
| First Friday | Flagler Beach/Veterans Park | Sept. 6 |
| 9/11 Ceremony and Motorcycle Ride | Flagler County Government Services Complex | Sept. 8 |
| Food Truck Tuesday | Palm Coast Town Center/Central Park | Sept. 17 |
| First Friday | Flagler Beach/Veterans Park | Oct. 4 |
| Food Truck Tuesday | Palm Coast Town Center/Central Park | Oct. 15 |
| First Friday | Flagler Beach/Veterans Park | Nov. 1 |
| Heroes Ride & Gala | Flagler County Government Services Complex | Nov. 9 |
| Food Truck Tuesday | Palm Coast Town Center/Central Park | Nov. 19 |