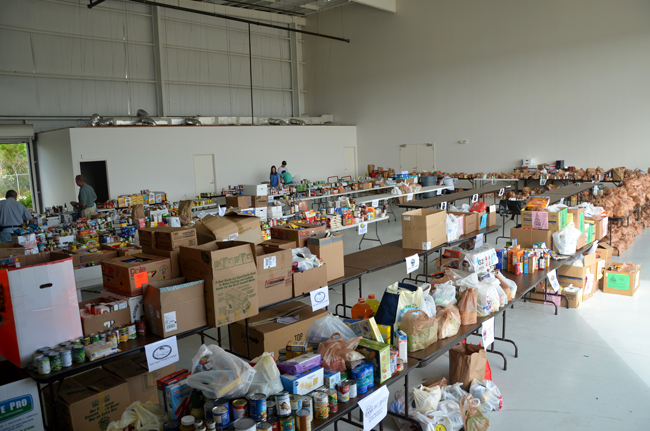 There was a good deal of celebration and mutual applause this morning at the final organizational meeting of Team Feed Flagler before next Wednesday's community-wide Thanksgiving feast, when up to 4,000 free meals will be served at 11 locations. It's not just for the needy, though they're the inspiration and priority. It's for anyone who'd like to be part of a communal feast.
It takes an enormous effort to put together an enterprise of that size, and it's done entirely by volunteers and donated time, donated money, donated food, donated venues. No other event during the year joins so many local governments and government agencies, civic and non-profit organizations, private businesses and innumerable individuals toward the same goal, and with the apparent seamlessness of an assembly line that would make Willy Wonka envious. But let's not kid ourselves: the lead agency and coordinator is county government–ah, yes, government skeptics of the world: this wouldn't be happening so efficiently without all these local governments around you–and the lead organizer is Milissa Holland, the county commissioner, whose idea this was three years ago. Back then the whole thing started as a Thanksgiving food drive and free Thanksgiving meals for 2,000 people at just two sites, and through door-to-door deliveries.
Last year the locations grew to 10. This year, there will be 11 locations (see the list below) and 4,000 meals will be prepared. Last year Team Feed Flagler raised $15,222 to pay for it all, and had $7,680 left over to split between two local food pantries. This year that sum will very likely and very generously be exceeded.
The money is raised by various businesses and governments through donations. Last year's money-raising winner was Tax Collector Suzanne Johnston, who managed to raise $3,400 and earned a trophy for her efforts. She wants to keep that trophy. This year, the Flagler County Sheriff's Office jumped in to challenge Johnston for the trophy, and immediately threw in $5,000 from its crime-prevention fund.
Holland at this morning's meeting said both the sheriff and the tax collector are keeping their amounts secret, to not tip off the other, though David O'Brien, the under-sheriff,w as sitting around the table and did let out that the amounts raised by his department was nearing $6,000. Moments later, we met up with Johnston, the tax collector, and applied a little FlaglerLive pressure to make her talk. She did: The amount raised as of 10 a.m. today was $6,175.
"Are you going to put that in there?" Johnston protested. "The sheriff is going to read that and try to beat me." She then summoned a staffer and told her: "The sheriff has over $6,000. Go tell everybody to get busy." And then, with her trademark smile, she assured us: "This number will definitely change by Tuesday," meaning the amount she's raised. "It will change by noon." Don;t be surprised if the sheriff will respond with a BOLO of his own–be on the look-out for any donations. Tuesday is the deadline for fund-raising.
(FlaglerLive is in on it too; our goal was $1,500. We're at $1,455, thanks in large part to a $1,000 donation from Dom Marini, the physician and head of the Palm Coast Cardiovascular Institute. You can make your donations here.)
The fund-raising is only one part of the effort, and a relatively minor part compared to what others are doing, such as what has turned into a United Nations-worthy food drive: some 60,000 pounds–that's 27 tons–of non-perishable food has been gathered by 24 teams.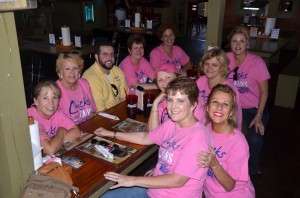 The winner, not surprisingly, is last year's winner: Chicks With Cans, led by Sandy Mullen, president of the United Way Women's Initiative of Flagler. The team raised 19,000 pounds, including 16,000 it was able to buy through the Second Harvest Food Bank with a pair of grants totaling $1,100, and additional tonnage it bought with $700 in cash that was able to buy twice that value thanks to magic with coupons. "They've mastered the art of couponing," Holland said this morning, "and if anyone wants to take a class, Sandy said she's ready." The Chicks With Cans team, clad in its pink shirts, dropped off the food at the Flagler County Airport hangar converted into a staging area for the non-perishables earlier this week.
"The community gave. That's what's fabulous. We were the worker bees," Mullen said. "It's not the public sector's complete responsibility to take care of our families. It's the private as well. It shows we can do it."
"They came with a giant Penske truck and kept unloading and unloading. It was incredible," said Joe Mayer, the county's human services director and head of logistics for that segment of the operation (Mayer was in logistics and recruitment in his 23 years for the military). Like last year, when the numbers weren't nearly that impressive, the hangar was overtaken by food piles arranged on long stretches of tables, and would all be organized in 1,000 batches, each with a week's worth of groceries, in time for next week's distributions. Last year 400 packages were prepared.
And so they gathered this morning at a school district conference room, the more than two dozen coordinating volunteers representing various agencies and businesses–and responsibilities for next Wednesday's celebration: logistics, transportation, public information, food management, volunteers, donations, entertainment (every one of the 11 locations will have live music). The food this year, like last year, will again be prepared, beginning at 5 a.m., by the staff of Hammock Dunes Club, led by Marc Ray, with help this year from members of the Matanzas High School culinary class. There'll be a few more turkeys in ovens this time around. Entertainment is being coordinated by Lisa McDevitt, the director of the Flagler Auditorium. Volunteers are being coordinated by Suzy Rutherford and Jean MacAllister of Flagler Volunteer Services.
It was an indication of this year's extensive preparations that this morning's meeting served mostly to go over who's doing what, when and where, as everything else appears to be in place. It's all over but the celebrating–keeping in mind that it is a celebration only up to a point. The inspiration behind all this–poverty or neediness of any kind, loneliness included–is still nothing to celebrate.

Below is the list of Wednesday's hosting locations for the meals, as well as contact numbers for volunteers and others involved in the effort.
Volunteers, please call 386/597.2950. For information visit the county's website or call 386.313.4001
The 11 locations where Thanksgiving meals will be served from 3 to 6 p.m. on Wednesday, Nov. 23 are as follows:
Bunnell Elementary School, 305 N. Palmetto, Bunnell.
Hidden Trails Community Center, 6108 Mahogany Blvd. in Bunnell, hosted by Grace Tabernacle Ministries.
Pellicer Community Center, 1380 County Road 2007 in Bunnell, hosted by Westside Baptist Church.
Espanola Community Center, 3055 County Road 13 in Bunnell, hosted by St. Paul Missionary Baptist Church.
First United Methodist Church, 205 Pine Street in Bunnell, co-hosted by God's Family Church and the Church of Jesus Christ of Latter Day Saints.
Buddy Taylor Middle School, 4500 Belle Terre Parkway in Palm Coast, hosted by the school district.
St. James Missionary Baptist Church, 609 State Street (U.S.1), Bunnell.
Hammock First Baptist Church, 5382 Oceanshore Blvd. (State Road A1A), in the Hammock.
Mt. Calvary Baptist Church, 75 Pine Lakes Parkway South in Palm Coast.
Wickline Center, 800 S. Daytona Avenue in Flagler Beach.
First AME Church of Palm Coast, 91 Old Kings Road North, Palm Coast.
And to help, click the button.
Feed Flagler 2011 Drive



Donors

Amount

Suzanne Johnston
$25
LaVerne & Jim Guines
$100
Karen Duffy
$50
Nancy Nally
$10
Christina Blume
$20
Kendall Clark
$25
FlaglerLive
$100
Cheryl & Pierre
$100
Dom Marini
$1,000
Joan Spitz
$25
Lloyd Umbarger
$20
James Wallace
$45
Caren Umbarger
$25
Anonymous
$50
Linda Provencher

$25
Anonymous
$100
Anonymous
$500