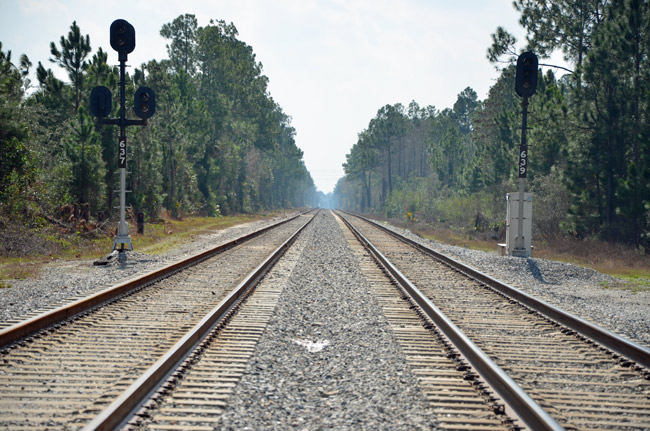 Pushing to get an east-coast rail line that would cross Flagler County back on track, proponents say their venture would complement plans for privately operated high-speed passenger service between Miami and Orlando.
Meeting in Daytona Beach on Friday, about 75 municipal representatives heard officials from the Florida Department of Transportation and Amtrak discuss resurrecting a coastal run between Jacksonville and Miami.
The Florida Legislature gave the project an important push forward this year when it reduced Amtrak's liability. Lawmakers did that by adding the rail line to the state's $200 million insurance policy at no cost to Amtrak.
The next big step will be for FDOT, Amtrak and Florida East Coast Railway, which owns the tracks, to draw up an operating agreement for the project.
But without any firm estimates or commitments from Amtrak, the timetable remains fuzzy.
Called FEC-Amtrak or the Flagler Line in honor of industrialist Henry Flagler's trailblazing rail service a century ago, a train revival has long been a dream of urban planners along Florida's east coast. Coastal passenger service between West Palm Beach and Jacksonville ended in 1968.
The restored 350-mile route running through 11 coastal counties would add eight city stops: St. Augustine, Daytona Beach, Titusville, Cocoa, Melbourne, Vero Beach, Fort Pierce and Stuart. Bunnell tried hard to have its own stop along the line, but the effort fell short.
The trip between Jacksonville and Miami would run about 6 1/2 hours, with trains hitting a top speed of 80 mph.
Current Amtrak service takes an inland route between Jacksonville and West Palm Beach, serving Orlando and a handful of small towns in Central Florida.
Another venture in the mix is FEC's newly announced plan to operate a 100 mph passenger train between Miami and Orlando.
Though FEC's "All Aboard Florida" high-speed train would use the same tracks from Miami to Cocoa, officials say there is no conflict with the longer and somewhat slower Flagler line that would extend to Jacksonville.
"Nothing precludes the introduction of Amtrak-FEC service," said Fred Wise of FDOT. "Amtrak just needs to determine there will be ridership and that [the Flagler service] will not be a financial drain on the system.
"And that's what they're likely to find. A congressionally mandated study has shown this is one of the more attractive corridors for development," Wise noted.
While the Flagler Line would serve several coastal communities, FEC's shorter line would zip through four counties and nearly 200 miles of the central east coast without making any intermediate stops north of West Palm Beach.
Wise called the FEC's $1 billion Miami-Orlando venture "premium service."

To upgrade the existing FEC freight tracks for passenger use, FDOT has earmarked $118 million in its five-year budget. But efforts to secure federal money have failed.
Speaking of the Flagler Line, House Transportation and Infrastructure Committee Chairman John Mica, R-Orlando, said recently: "Unless the ridership is there, I don't want the state and local governments losing money."
Amtrak said it is updating its 2-year-old ridership study, but did not indicate how long that process would take, and declined further comment.
To streamline the process and fight a tighter budget, proponents have scaled back the Flagler Line.
Initially, trains were to run at 90 mph between stations, but that required more costly track improvements.
An original plan to run two daily round trips has been reduced to one.
Advocates say some costs could be covered, and revenues generated, by enlisting private businesses partners. The Daytona Beach News-Journal reported on one proposal that calls for businesses to donate money in exchange for having their names advertised on signs at stations.
Kim Delaney, of the Treasure Coast Regional Planning Council, told Sunshine State News that Friday's meeting was a clarion call for East Coast communities to get to work.
"There's a laundry list of local actions to advance the economic potential of stations along the corridor. There's a lot of work that can be done at the local level, and the time is now to pick up the pace," she said.
"I am very confident it will happen," said Jim Cameron, senior vice president of government relations for the Daytona Regional Chamber of Commerce. "The chamber here will make every resource it has available to make sure it happens."
–Kenric Ward, Sunshine State News