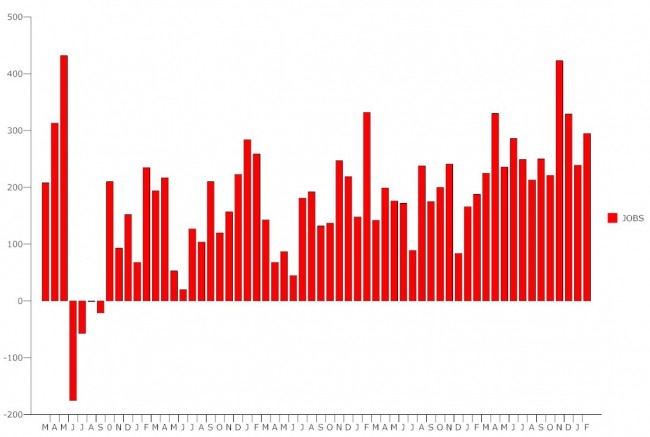 The American economy continued to outperform expectations in February, adding 295,000 jobs and lowering the unemployment rate by two decimal points, to 5.5 percent. In Europe, only Austria, Denmark, Norway and Switzerland have healthier unemployment rates, with Britain's almost equal to that of the United States. Wages in the United States, however, continue to sag, growing by just 3 cents over the month, and just 2 percent over the past year, not enough to overcome inflation, let alone give workers a sense that they're getting ahead.
The February jobs report represents the 60th consecutive month of private-sector job growth, 53 consecutive months of job growth overall, adding 12 million jobs over the stretch, and 12 straight months of job creation exceeding 200,000, the longest such streak in 20 years, the Labor Department reported. Another encouraging quirk: for the first time in 30 years, every single state reported falling unemployment in February.
"But this isn't a moment to take a victory lap or spike the football," Labor Secretary Thomas Perez said in a statement. "We're doing very well, but we can do even better, especially with so many working families still not being lifted by the rising tide.
The number of part-time workers remains high, at 19.5 million, some 800,000 more than a year ago. But the more closely-watched indicator of people working part-time because they can't find full-time work, or because their hours have been cut back–the involuntary part-time workers–has improved, falling from 7.2 million a year ago to to 6.6 million in February, in seasonally adjusted numbers. Over the year, the total number of people employed has increased by almost 4 million, with the increase entirely in the private sector. Some 20.5 million people are employed by government, but that number remained unchanged over the year.
The alternative, or U-6, unemployment rate, which takes into account underemployment as well as unemployment and discouraged workers who have fallen out of the workforce, has fallen significantly in the past 12 months, from 12.6 percent last February to 11 percent last month. In Florida, however, that rate remains among the highest in the country, at 12.8 percent. Florida's job growth has primarily taken place in the service sector, with low-wage jobs accounting for most gains.