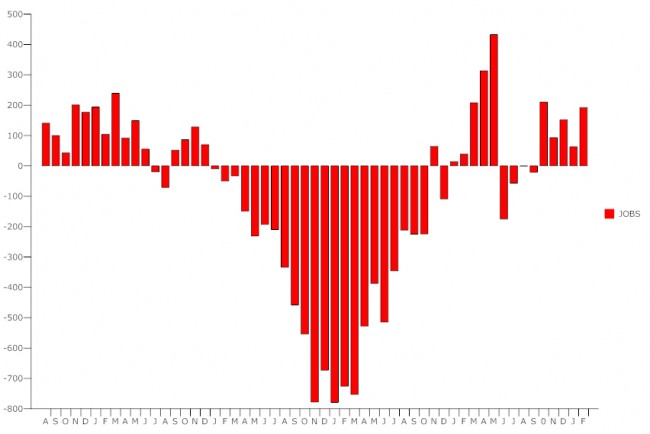 The U.S. economy added 192,000 jobs in February, the strongest private-sector job gain in two years, and the unemployment rate fell below 9 percent for the first time since April 2009, when it was at 8.9 percent and rising.
Job gains for December and January were revised upward by 58,000 for the two months. The combined, three-month total in net new jobs is 407,000, and 1.3 million since February 2010, for an average monthly job gain of 106,000. The economy needs to add about 125,000 per month just to stay evening with normal growth in the labor force. The labor force didn't grow much in February, thus enabling the unemployment rate to dip.
The job-creation pace is accelerating. But it's still not enough to return the unemployment rate back to its pre-recession levels. When the unemployment rate was below 5 percent, the economy was creating between 300,000 and 400,000 jobs a month.
The number of unemployed persons remained at 13.7 million, and the number of long-term unemployed (those jobless for 27 weeks or more) was 6 million, accounting for 43.9 percent of the unemployed.
February Job gains by sector: Manufacturing picked up 33,000 jobs, especially in durable goods industries, machinery and metal works. Manufacturing has added 195,000 jobs since its most recent trough in December 2009. Construction grew by a relatively healthy 33,000 after declining 22,000 in January. Most of the job growth was in specialty trade contracting, not in the sort of housing construction Florida depended on.
Service jobs also expanded, with 47,000 new jobs in professional and business services. Employment services added 29,000 jobs, management and technical consulting added 7,000. But temp jobs also went up. There are 8.3 million people employed part-time–not by choice, but because their hours were cut or because they've been unable to find full-time work.
Health care employment also continued to increase in February, by 34,000.
There were job losses ins some sectors, too, led by state and local governments. The Local government sector alone has lost 377,000 jobs since its peak in September 2008. Despite some positive signs, the Wall Street Journal reports, the Federal Reserve "still expects unemployment to range from 7.5 percent to 8 percent at the end of 2012 as the economy only slowly regains the 8.75 million jobs lost in 2008 and 2009. Businesses remain cautious, often increasing hours worked by existing employees rather than hiring new workers."
"Economic recoveries can be like a snowball rolling down a hill, in that it takes time to get some momentum," John Ryding, chief economist at RDQ Economics, told The Times this morning. "People hesitate until they feel that the recovery's durable enough, and then they have a tendency to jump in. Maybe we're finally getting to that jumping-in moment."
The average workweek for all employees on private nonfarm payrolls was unchanged at 34.2 hours in February. The manufacturing workweek for all employees rose by 0.1 hour to 40.5 hours. Factory overtime rose by 0.2 hour to 3.3 hours. The average work- week for production and nonsupervisory employees on private nonfarm payrolls increased by 0.1 hour to 33.5 hours. Average hourly earnings for all employees on private nonfarm payrolls increased by 1 cent to $22.87. Over the past 12 months, average hourly earnings have increased by 1.7 percent, not quite even with inflation. In February, average hourly earnings of private-sector production and nonsupervisory employees were unchanged at $19.33.